CE Port Harcourt Zone 3: 🌍 Starting Today! Your Loveworld on KingsChat Web
🌍 Starting Today! Your Loveworld Specials Season 3 Phase 6 with our dear Man of God, Pastor Chris! Time:7pm GMT+1 Showing on all Loveworld Networks, CEFLIX, LIVE TV Mobile App and social media platforms. Invite everyone! Set up your viewing center. Spread the news everywhere. #YourLoveworld #CEPHZONE3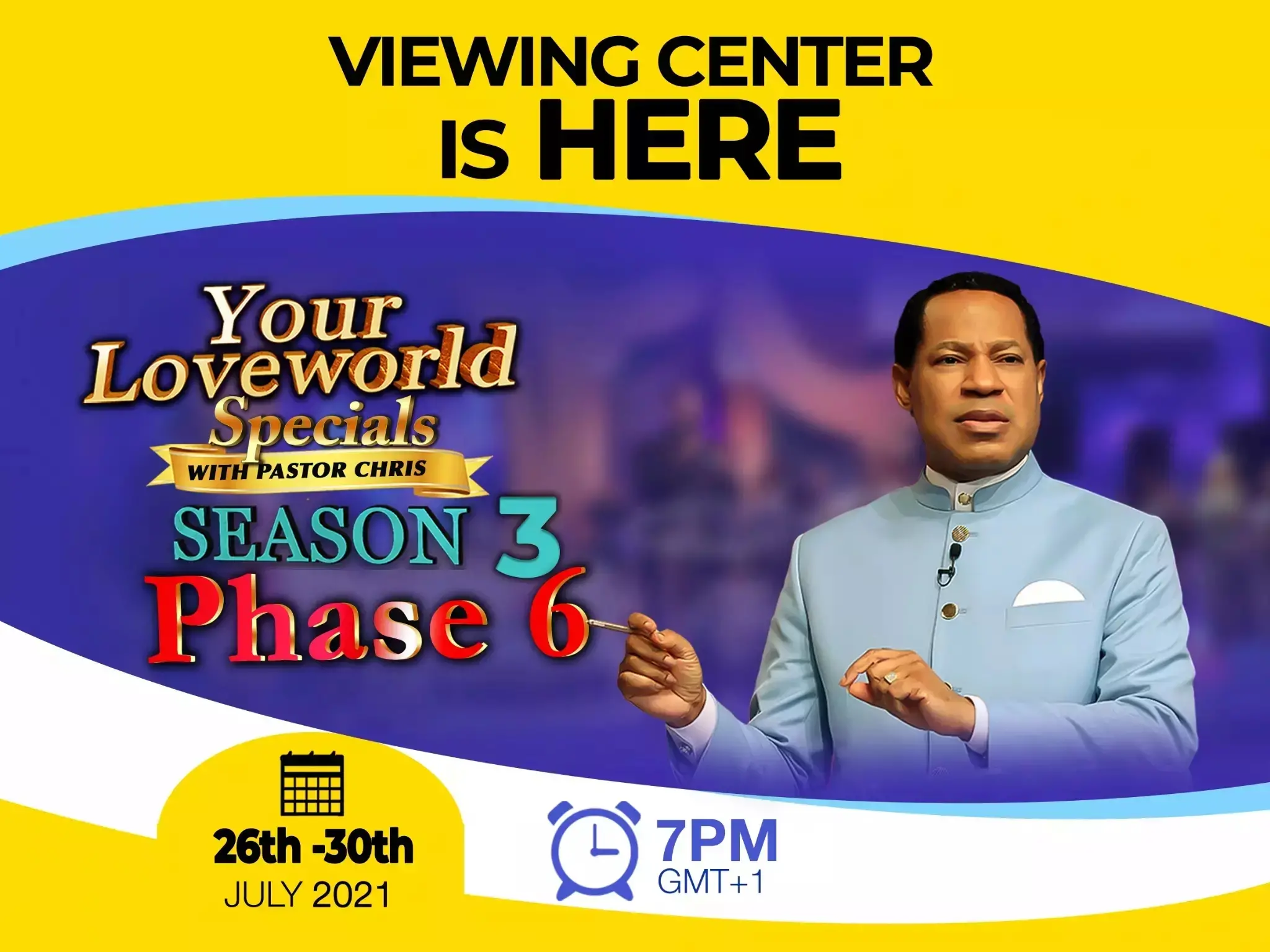 Akando
commented:
If you have bank account or coins wallet, I can teach you how to earn $5000+ with minimum start up amount of $500 just 7DAYS without sending money to me 100%percent legit profit secure, fast widraw with out no delay Ask me how....hity me up on WhatsApp+1 (678) 834-9786 and let's start winning... remember you're not paying any money to me, I only own 10% of your profits recoverd...
Anna Figueira
commented:
🙏🙌God men God 🙌amne 💖you in all God amne God spite men God amne
Celebration continues Happy birthday Pastor Stuart Osifihor #CEKWALE #CESEZ2
MONDAY 26 WALKING IN BLESSINGS Whenever God looks at you, all He sees is a success, a victor, an excellent person. However, it's one thing to be called to inherit a blessing, and a completely different thing to actually walk in it. To walk in God's blessings, you have to recognize that you're blessed. You have to see yourself the way God sees you and call yourself what He calls you. Your affirmation of blessings establishes them in your life. You have to declare that you're the righteousness of God, even if you're feeling condemned. You have to declare that you have and live in divine health, even if you're feeling a pain in your body. #CeAccraGhanaZone #kingschatrecommends #organicpavilionshf #lovinaproducts
#CMDPH29 #manofinsightandgrace It's holy ghost Party🎉🎊
𝐻𝑎𝑝𝑝𝑦 𝐵𝑖𝑟𝑡𝒉𝑑𝑎𝑦 𝐸𝑠𝑡𝑒𝑒𝑚𝑒𝑑 𝑆𝑖𝑠.𝑂𝑏𝑦, 𝑖𝑛 𝑡𝒉𝑖𝑠 𝑠𝑝𝑒𝑐𝑖𝑎𝑙 𝑚𝑜𝑛𝑡𝒉 𝑜𝑓 𝐽𝑜𝑦, 𝑦𝑜𝑢 𝑎𝑟𝑒 𝑎 𝑏𝑙𝑒𝑠𝑠𝑖𝑛𝑔 𝑡𝑜 𝑡𝒉𝑒 𝐵𝑜𝑑𝑦 𝑜𝑓 𝐶𝒉𝑟𝑖𝑠𝑡, 𝑘𝑒𝑒𝑝 𝑏𝑎𝑠𝑘𝑖𝑛𝑔 𝑖𝑛 𝐺𝑜𝑑'𝑠 𝑔𝑙𝑜𝑟𝑦.
Be our guest this Saturday at Christ Embassy St. Mary's Church #Agbarhogroup #ministrycentrewarri
Celebration continues Happy birthday Pastor Stuart Osifihor #CEKWALE #CESEZ2
Today we are celebrating excellence🔥 Happy birthday to my brother who's also my colleague. Your faith & your commitment inspires me daily❤️
🇮🇳🌍TODAY IS THE DAY❗❗❗ ARE YOU EXPECTANT TO HEAR FROM GOD❓❓ ➡️➡️Get ready for Your Loveworld Specials ( Season 3,Phase 6) with our Man of God, Pastor Chris from tonight, the 26th July to 30th July at 11:30 pm(IST). You can participate right here at www.lbntv.org. Do tell your family and friends!!! You will surely be upgraded to your next level.♥️♥️♥️ #loveworldnetworks #lwindia #yearofopreparation #monthofjoy