Breaking News!!! WE'RE PILGRIMS IN THE EARTH!! We're ambassadors of Christ, sent from the heavenly Kingdom for the salvation of souls in the earth. What great news from today's messenger angel you shouldn't miss. Hurry now 👇🏾👇🏾👇🏾 For free download of the all new Rhapsody 3.0 app, to stay connected, informed and read daily breaking news and many other oven fresh goodies, click 👇🏾👇🏾👇🏾 https://bit.ly/343HhdB Join us in the 1 million Rhapsody outreach campaign today using this unique link 👇🏾👇🏾👇🏾 https://bit.ly/3a7YROS #rhapsodyofrealities #eneczone #SEregion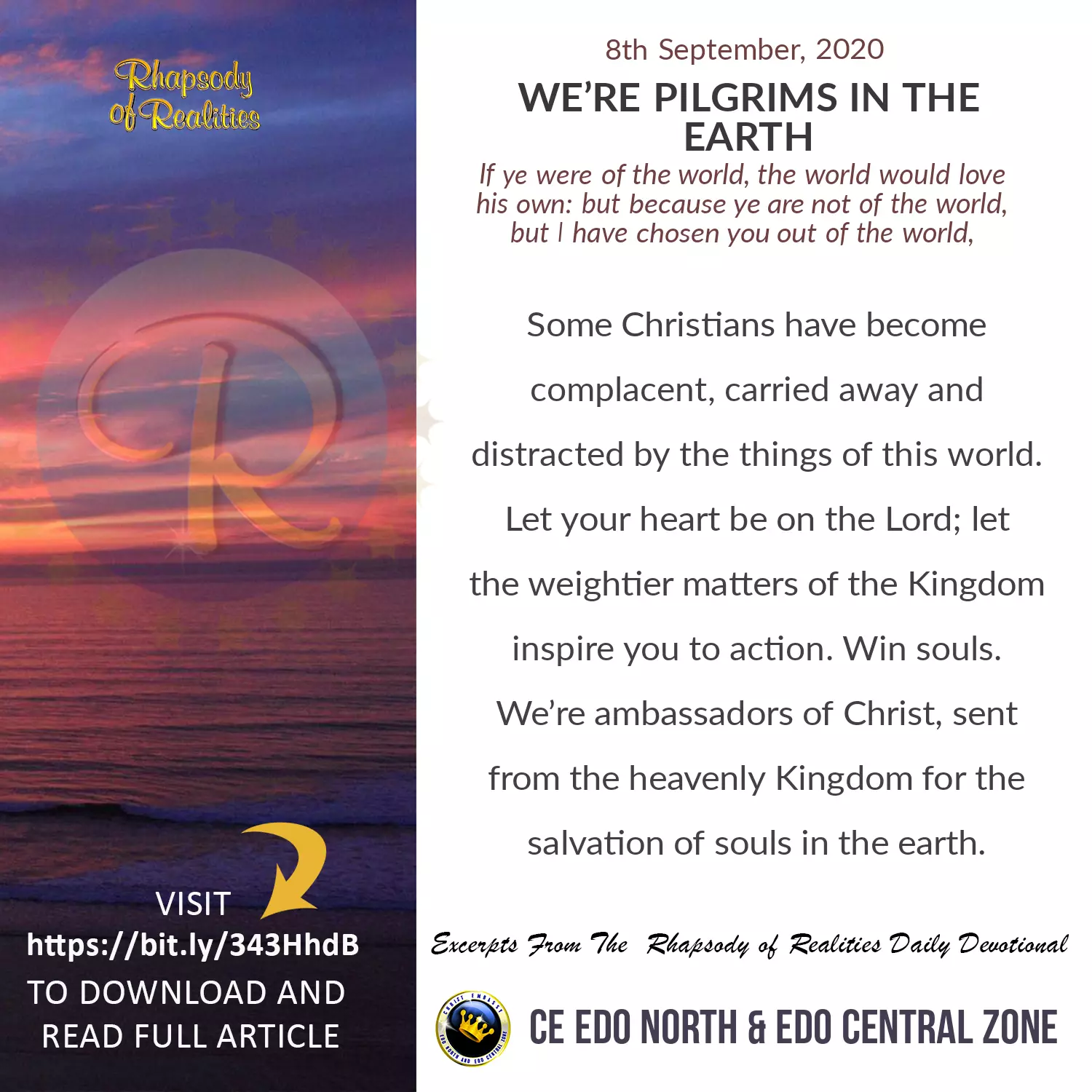 Joy
commented:
Am an ambassador of Christ
#DivineHealthConfessions #THEGREAT28
Dívíɳҽ 卄ealtɧ Cσnfҽssiσɳs September 8th, 2020 The power of Christ fills me through and through. I can do all things through Christ who energizes me from within! I am conscious of the supernatural ability of the Spirit that's at work in me mightily. My spirit, soul, and body were designed for the manifestation of God's glory, and they show forth His perfection every day, in Jesus' Name. Amen. #healingtothenations
I am ready. #LLN #LLNINAUGURALMEETING #ceoguola #cemidwestzone
#LOVEWORLDLADIESNETWORK #CEHONGKONG #SUNNINGHILLGROUP #SAZONE2
Beauty, Divinity and supernatural intellect. #LLN #llninauguralmeeting #ceoguola #silukomodelgrp #cemidwestzone
And in the 5TH POSITION, Top 10 outstanding ZONES/MINISTRY CENTERS with the highest sponsorship and distribution of the TeeVo Bible in the month of August 2020. Give it up for CHRIST EMBASSY LAGOS VIRTUAL ZONE!!! Thank you Esteemed Pastor Yemisi Kudehinbu and the members of Christ Embassy Lagos Virtual Zone for your outstanding sponsorship and distribution of the TeeVo Bible. We love you dearly Ma. #teevolution #everyteenagerateevobible
WHY ASIA AT THIS TIME? Asia has the largest number of idol worshippers. With over 2.4 billion men and women bowing to lifeless gods and spirits with so much commitment. Asia is in urgent need of salvation, and we must set up Loveworld Asia to change this narrative! Join us today!
THIS FRIDAY: 4PM GMT+1 SATURDAY(morning session): 8AM GMT+1 SATURDAY (evening session): 4:30PM GMT+1 #LGGC #GlobalConnect #LGNRules #NetworkingSuccess #LNGZambiaCenter www.lwgraduatenetwork.com