BLW UKZONE2: HAPPY BIRTHDAY PASTOR FRANCIS EBOSELE! on KingsChat Web
HAPPY BIRTHDAY PASTOR FRANCIS EBOSELE! LoveWorld UK Zone 2 celebrates a blessed minister of the Gospel, a man of honour, grace and humility. Happy Birthday Pastor Francis. You are a treasure and vessel of honour in UK Zone 2. Thank you for your labour of love and your great care for the Kingdom of God. We love you! #ukzone2 #OuryearofPerfection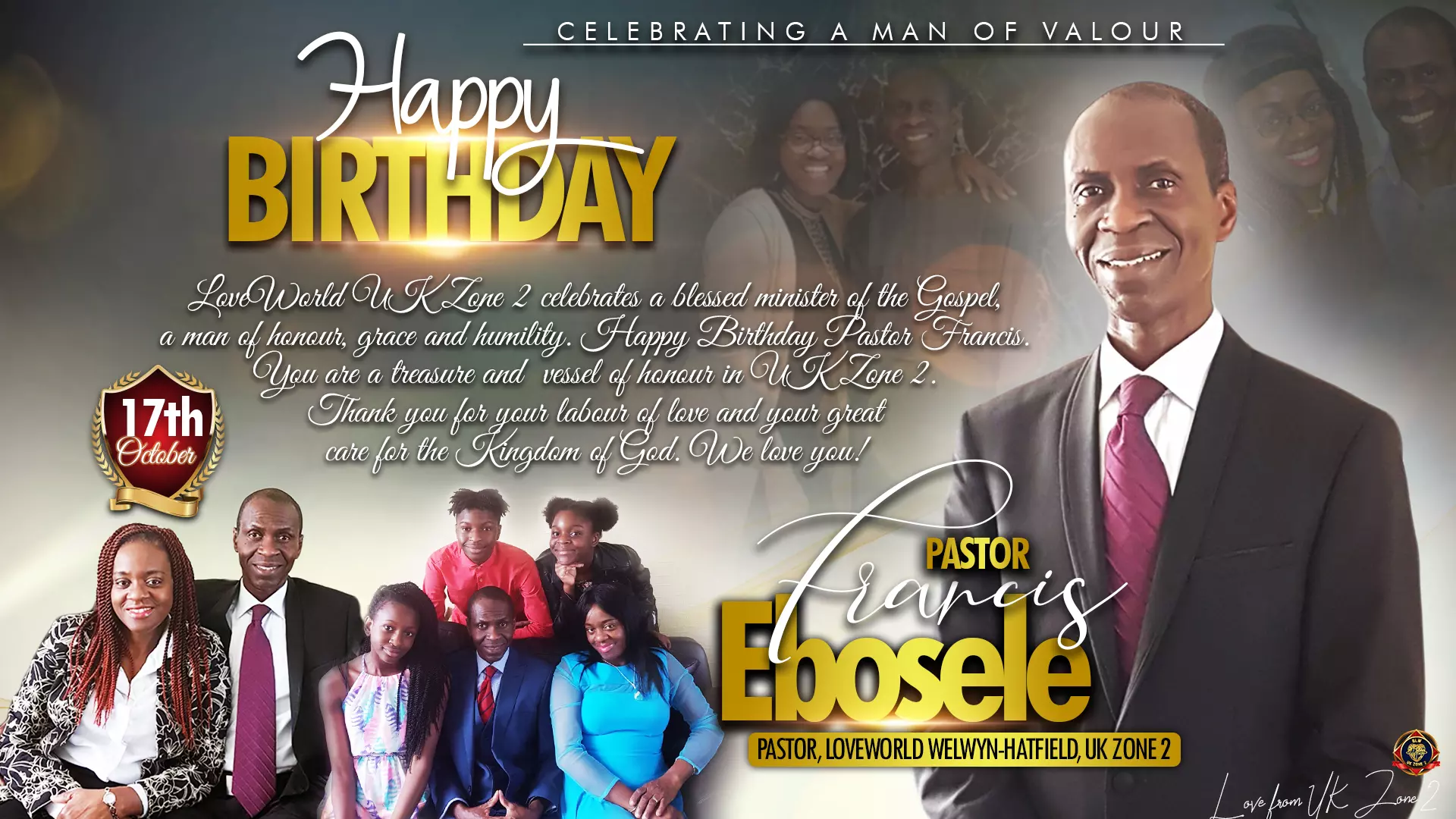 Happy Birthday to MUA. It's been a story of grace and it's endless. Gloryyyy!!!!
Still celebrating you Dear Esteemed Sister Ibinabo. Your commitment and your consistant partnership with us is great. Thank you for your labour of love. Happy glorious birthday. #CECANADA #CEOTTAWA #RORTHANKYOU
LOVEWORLD SONS OF MINISTRY presents the RHAPSODY VIBES FIESTA 💃🏽💃🏽💃🏽💃🏽💥💥💥💥💥 Join us to spread the gospel all over the world as we sponsor copies of our messenger angel 😇
(Contd.) - Full Possession: The believer is a possessor of eternal life (of eternal verities)...Christ is my redemption (my riddance - disburdening, unburdening..)...I'm rid of every evil and burden and no more condemnation.. #WordFest2 #WordatWork #cemidwestzone #megagroup
Happy Birthday Dear Esteemed Brother Jerry. You are a burning and shining light. Thank you for your partnership with us. Keep shining. We love you #CECANADA #CEOTTAWA #RORTHANKYOU
Happy Birthday Sir #celebratingGod'sgeneral #financialgiant #gracepersonified #billionbreaker #p.soft
We are Fully Equipped & Replete &Trained with Information on How to be Successful SoulWinners. Conscious of Eternal Life, Righteousness, Justification, Divine Health. Our Faith is the Victory that Overcomes the World. #WordFest2 #WordAtWork #UKZONE2 🇬🇧 #PCDLTV2020
RON distribution you didn't join, organize Prayer Outreaches during Global Day of Prayer 'you no do' now you're roaming the street and flooding timeline with borrowed data #EndingSars. *Why are you like this?* You're a prayer point honestly!