CELVZ: WednesdayServiceNuggets 📌EFFECTUAL FERVENT PRAYE on KingsChat Web
WednesdayServiceNuggets 📌EFFECTUAL FERVENT PRAYER 👉 www.celvz.org It's important that you meditate on the Word of God; and you can't live beyond the revelation of God that you have - Pastor Yemisi Kudehinbu What Does It Mean To Be Effectual? Our Highly Esteemed Zonal Director Asked At Service Yesterday. Now You Know But Let's Refresh With A Few Nuggets: 👉Your prayer must produce results for it to be effectual: 🌟 It must produce the desired results 🌟 It must be sufficient to produce the desired and intended results 🌟It is capable of producing the desired results 👉If you're praying less than you ought to pray you may give up at the wrong time 👉Some Words to describe Effective: Successful, Efficient, Constructive, Cogent, Powerful, Productive... 👉 Important Factors To Ensure That Your Prayers Are Effectual: 🌟 Understanding Your Righteousness 🌟 The consciousness and understanding of your right to be heard 🌟 Praying the right kind of prayer 🌟 Understanding your mind involvement in prayer. Your mind is the doorway to your spirit and it controls your emotions 🌟Your right attitude and involvement in prayer Certainly Your Prayer Times Have Taken The Upward & Forward Turn. #CELVZ #TheMonthOfJoy #WednesdayServiceWithPastoryemisi #TheYearOfPreparation #Operation926 #FollowMeToChurchOnSunday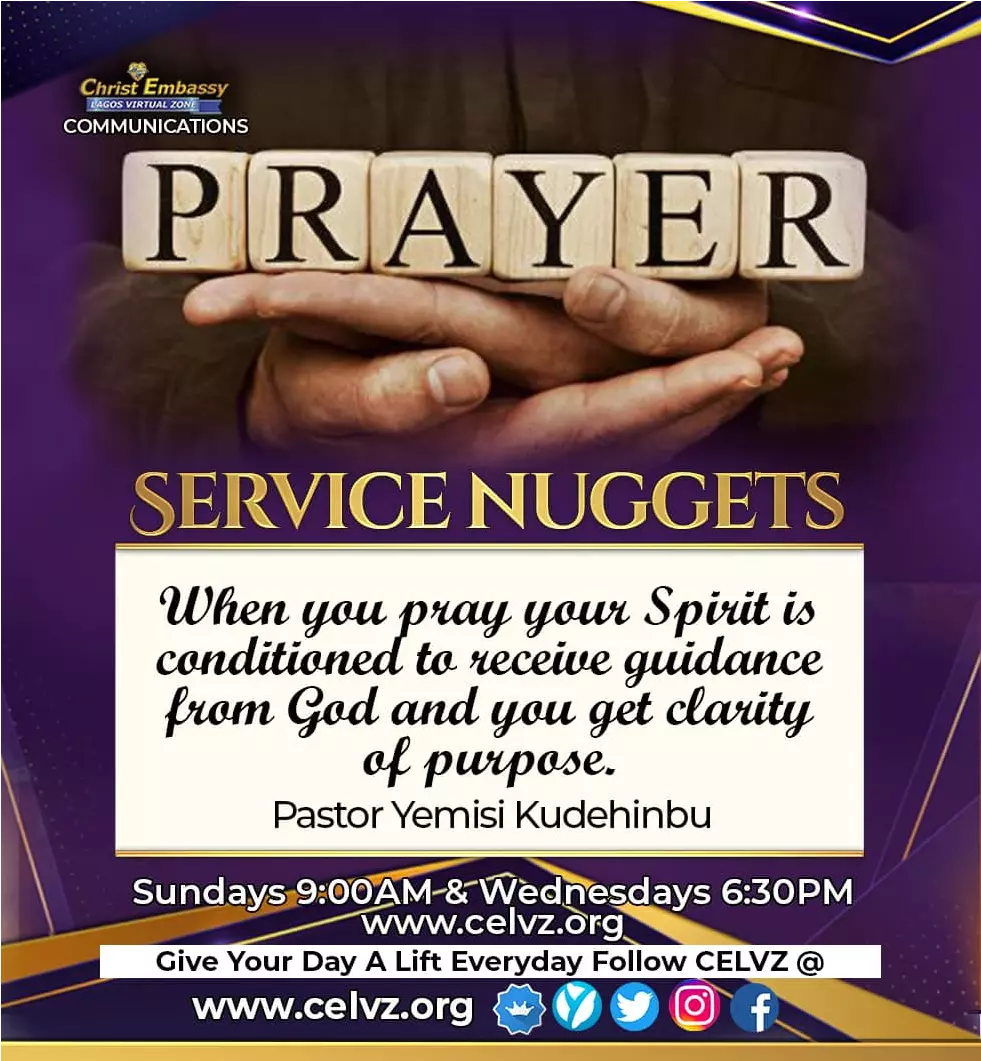 Olaolu Olumuye
commented:
🎼📖🌍🌎🌏 #celvz #themonthofjoy #wednesdayservicewithpastoryemisi #theyearofpreparation #operation926 #followmetochurchonsunday Thank you Highly Esteemed commander Pastor Yemisi, you've done a good job!
You: Praying now #prayingnow #monthofjoy #yearofpreparation #prayingwithpastorchris #uae #abudhabi #ceabudhabi #MEASIA #priestinoffice
PHOTO HIGHLIGHTS 📸 - PRIZE GIVING DAY AT THE INNERCITY MISSION SCHOOL! 🎖🏆🏅🏆🥇 Best performing pupils in creative arts from basic 1 - 5… _ To sponsor a child in the new academic year, click – https://icm.ngo/donations #EndChildPovertyNow #everychildisyourchild
I'm ready to pray and excited to cause changes. Praise God!!!
#PRAY-A-THON2021 #PRAYINGNOW #PrayingWithPstChris@10pm.Uae.22ndJuly🇦🇪 #Ps 95:1-7 #CEAbuDhabi-1🇦🇪 #Ce🇵🇭 #CEUAE #MEASIA🇦🇪🇪🇬🇮🇳🇮🇷🇮🇶🇮🇱🇰🇼🇱🇧🇲🇾🇲🇦🇵🇰🇵🇸🇵🇭🇶🇦🇸🇦🇸🇾🇹🇳🇪🇭🇩🇿🇹🇷🇧🇭🇴🇲 #JOY #AGELESSNESS #DEALTHLESSNESS #FEARLESSNESS #WANTLESSNESS
YOUR LOVEWORLD SEASON 3 PHASE 6 WITH PASTOR CHRIS! Comes up from Monday 26th - Friday 30th July 2021 @ 7pm GMT+1 daily. LIVE TRANSLATIONS AVAILABLE ON cloveworld IN SEVERAL LANGUAGES Download the cloveworld App 👇 https://cloveworld.page.link/loveworld
Celebrating our divine advantage and it's closer than ever! 4 Days to Gooooo 🎉🎉 #POGRocks726 #ExceptionalPOG #OurAdvantage #blwzoneb #TheThrivingChurch #blwcampusministryrocks
#prayathon2021 #prayingnow #CEAbuDhabi-1🇦🇪 #CEUAE🇦🇪 #Measea #IAmAPriestInOffice #MyYearofPreparation2021 #Iamaprayerinfluencer #Permanently-Provoked #IHaveUpperHands #3MillionRORsponsorship #IRecoveredAll #ExcellenceCell #ChosenPCF http://pastorchrislive.org/prayathon/livetv.php
📌 HEALING STREAMS FESTIVAL OF MIRACLES! ✨www.healingstreams.tv 📞LIVE CALL FROM THE NETHERLANDS 💥💥💥Rita and her husband testify of the healing power of God! She received healing for a fractured bone in her knee; she was unable to walk and had to depend on crutches for mobility. Thank God for the Healing Streams Live Healing Services with Pastor Chris, RITA CAN WALK AGAIN! 💯💯💯It's indeed a festival of miracles! Join us tomorrow by 4pm (GMT+1) via www.healingstreams.tv ,the Healing School mobile app, and on any of the Loveworld Networks by 4pm (GMT+1). God bless you! #healingstreams #healingtothenations #livehealingserviceswithPastorChris #healingstreamstv
3 DAYS TO GO!! Time to be positioned in the place of Soul winning, soul retainership and soul grooming. #cecanada #cebramptonwest