LTM NETWORKS: CHRIST EMBASSY LAGOS ZONE 5 on KingsChat Web
CHRIST EMBASSY LAGOS ZONE 5 CO-SPONSORS THE LIMA AWARDS WITH PASTOR CHRIS ON NTA NETWORK, NIGERIA. Thank you for taking the Message of our Music & the Music of our Message to the ends of the earth!!! To Be a part of this sponsorship, please call us on +234 81 2344 5783 or send an email to ltmpartnership@loveworld360.com #LTMNetworks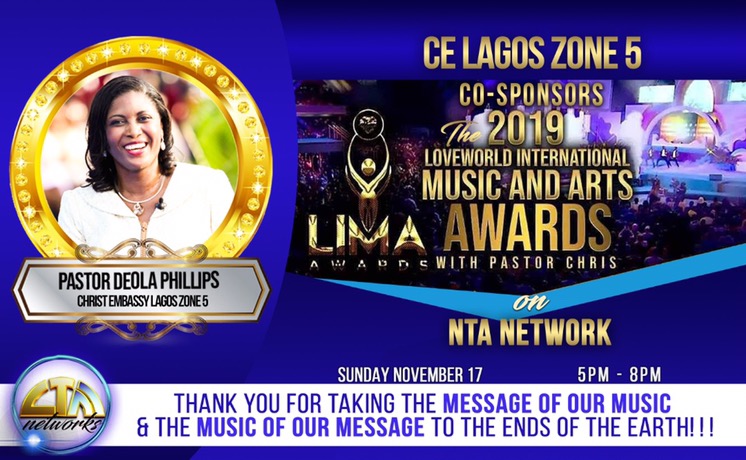 IPPC2019... Glorious things are spoken of me. It's a new level.
"So when I say to a wicked person, 'You're about to die,' if you don't warn or instruct that wicked person that his behavior is wicked so he can live, that wicked person will die in his sin, but I'll hold you responsible for his death. #cesazone5 #cebelvedere
Happy birthday Pst Ose ma.. it's an honour and great privilege to celebrate a woman full of Grace and Love. Thk you ma for all you do for our LoveWorld Nation and for ur Live for our man of God. #Happybirthdaypstose.
Congratulations Esteemed Pastor Sir, Pastor Ma on the several awards. It's sure a perpetual VICTORY parade. We are provoked unto good works. Thank you Pastor Sir Pastor Ma. #celagoszone2
CHRIST EMBASSY PORT HARCOURT ZONE 1 SPONSORS THE LIMA AWARDS WITH PASTOR CHRIS ON SILVERBIRD NETWORK, NIGERIA. Thank you for taking the Message of our Music & the Music of our Message to the ends of the earth!!! To Be a part of this sponsorship, please call us on +234 81 2344 5783 or send an email to ltmpartnership@loveworld360.com #LTMNetworks
Mandakabaya oooh jalamande. Thank you Pastor Ma for lifting us Higher and a million thank to our Father our Life Coach for the beautiful gift he has given us. Thank Pastor Sir for our Pastor Pastor Sally. #blwcameroongroup2 #blwcampusministryrocks #mediatechbuea
CHRIST EMBASSY LAGOS ZONE 1 CO-SPONSORS THE LIMA AWARDS WITH PASTOR CHRIS ON NTA NETWORK, NIGERIA. Thank you for taking the Message of our Music & the Music of our Message to the ends of the earth!!! To Be a part of this sponsorship, please call us on +234 81 2344 5783 or send an email to ltmpartnership@loveworld360.com