C E Abuja Zone: FROM THE PASTORS, LEADERS AND on KingsChat Web
FROM THE PASTORS, LEADERS AND MEMBERS OF CE JABI(ABUJA ZONAL CHURCH) Now, there's no adjective perfect enough to qualify Pastor's commitment to the gospel. This commitment has made Us who we are. This commitment birthed Us. Pastor Sir, you are just so sensational. Your Affluence And Influence Is Unstoppable & Never-ending. We Love You Continuously. Thank you Sir for saying YES! We say HAPPY BIRTHDAY SIR! #Dec7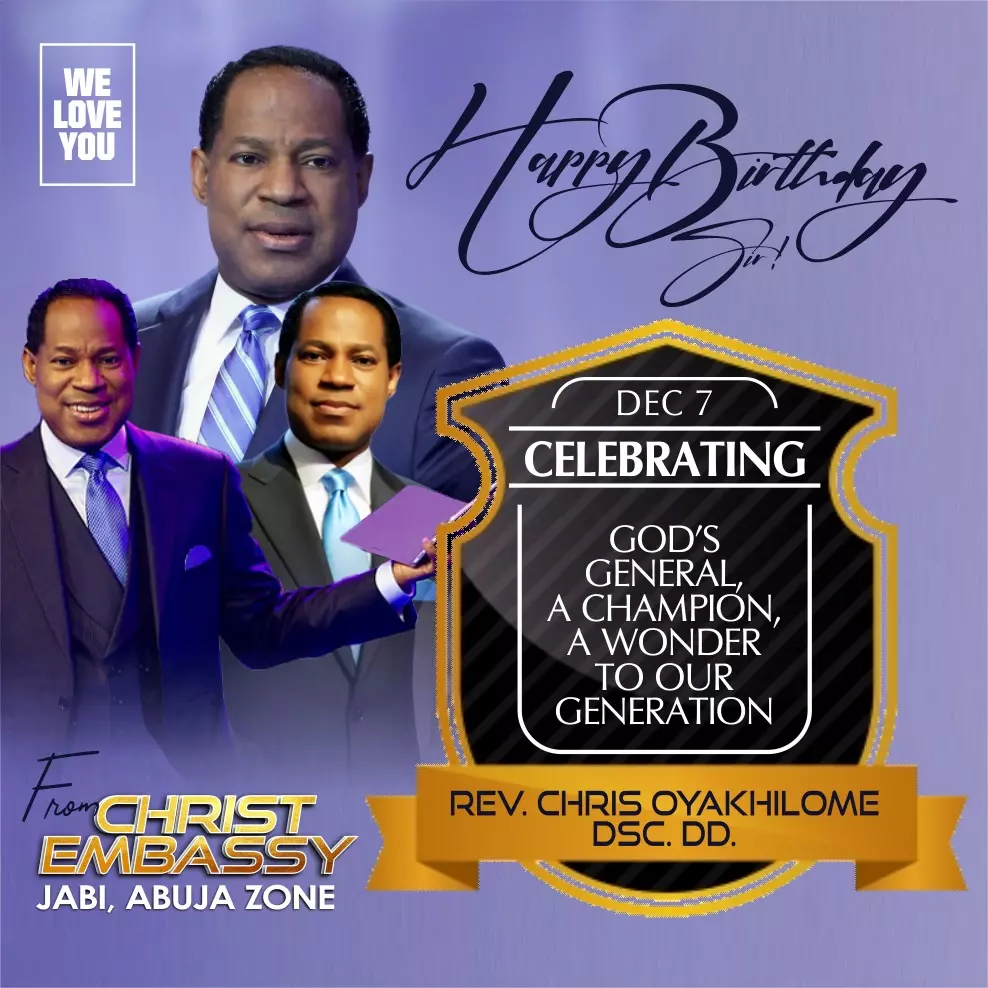 Gloryyy!! Hbd pasteur Chris OYAKHILOME dsc. DD. Vous êtes le meilleur enseignant, le bon berger, le meilleur pasteur, le prophète de notre génération, mon mentor, mon coach de vie.Je t'aime cp pastor #Offer7 #Dec7 #PastorChrisBirthday #CEbeninrepublique #CEAbattoirs
"For though ye have ten thousand instructors in Christ, yet have ye not many fathers: for in Christ Jesus I have begotten you through the gospel." 1 Corinthians 4:15 Happy birthday to a father indeed! Giving lives meaning since 19..! I love you. All the saints salute you, sir.
Happy birthday a man sent from God, Pastor Chris Oyakhilome Dsc.DD. may God continue to use, bless, guide, lead and protect you... hallelujah! @ Christ Embassy Reggio, Italy.
DEC 7!!!! The blessed gift to the world! Thank you Dad for pouring so much into us as you receive from the Holy Spirit. Thank you for nurturing, teaching, instructing, guiding, correcting, reproving, cheering and above all loving us the way you do.
Gloryyy! Hbd pasteur Chris OYAKHILOME dsc. DD. Vous êtes le meilleur enseignant, le bon berger, le meilleur pasteur, le prophète de notre génération, mon mentor, mon coach de vie.Je t'aime cp pastor #Offer7 #Dec7 #PastorChrisBirthday #CEbeninrepublique #CEAbattoirs
HAPPY BIRTHDAY TO MY LIFE COACH, MY MENTOR, MY TEACHER, MY HERO, MY SPIRITUAL FATHER, THANK YOU FOR ALL THAT YOU'VE DONE IN MY LIFE IN ALL THE YEARS AND FOR GIVING MY LIFE A MEANING THROUGH YOUR TEACHING... I LOVE YOU SO PASSIONATELY #Rangersoflights #offer7 #pastorchrislive