Affirmation Train: #AFFIRMATIONTRAIN 22ND JANUARY. I affirm on KingsChat Web
#AFFIRMATIONTRAIN 22ND JANUARY. I affirm that the Word is a light unto me; it clears the darkness from my path and enriches me daily. It is the supreme authority by which I live and conduct all my affairs. I know without any reservation, that the story of my life is one of God's grace, favour, and love because I live by the Word. My way is paved by the Lord, thus, I am being led in the paths of success, victory, and rest by the Holy Spirit. I've been raised in rank, in character, and in status. My spirit, soul, and body are in sync with the will of the Father. God has perfected my understanding and perception of the Gospel of Christ. He has granted me insight, enlightenment, and understanding through the Holy Spirit to know and live by the greater truths of the Gospel. The wisdom of God is at work in me and I am confident that I'll consistently make progress and walk in victory. I have no consciousness of need, because Christ is in me, and He is my all! With Him, I have everything. My life is one of ever-increasing glory as I live in, and by, the Word. I am a child of God and a joint heir with Christ. The lines are fallen unto me in pleasant places, and I have a goodly heritage. I am conscious of my glorious heritage in Christ, and through meditation on the Word, and fellowship with the Spirit, I get to know more and enjoy my inheritance in Christ. Glory to God! SPEAK IN OTHER TONGUES NOW • Be bold to say the same things that God has said concerning you in His Word. That is what takes you beyond salvation, to enjoy the benefits of salvation ~ Pastor Chris Oyakhilome. You can now reach us on: • info@affirmation-train.org • www.affirmation-train.org God bless you. #goodnews #greatness #lights #illumination #leadership #revelations #empowerment #signs #wonders #prosperity #peace #rest #on #everyside #winning #talkingsession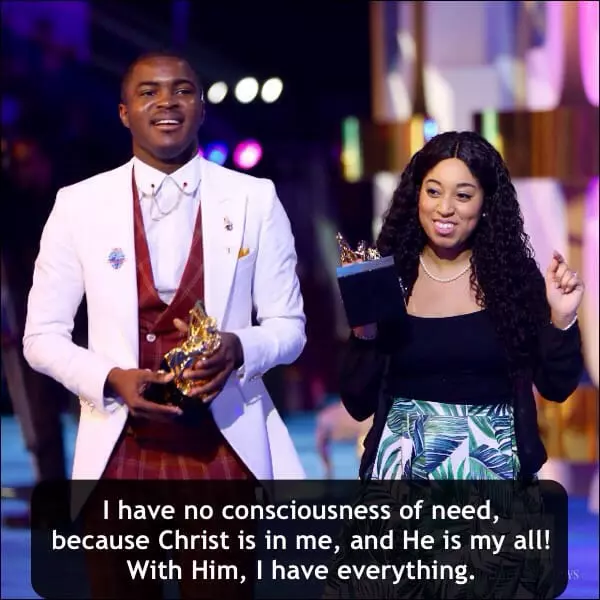 HAPPY WEDDING ANNIVERSARY TO MY HIGHLY ESTEEMED REGIONAL PASTOR
Happy Silver Celebrations to Highly Esteemed Pastor Ambrose and Dee Isesele. Your union is the perfect description of love, friendship, singleness of heart and oneness. Thank you for remaining such an example to us all. God bless you sir and Ma. We love you!!!
https://ceflix.org/videos/watch/1848608
Happy Silver wedding anniversary Sir and MA. We love you so dearly.
BLW Campus Ministry #morethanasociety #ItsAFraternity #ItsABrotherhood
#AFFIRMATIONTRAIN 22ND JANUARY. I affirm that the Word is a light unto me; it clears the darkness from my path and enriches me daily. It is the supreme authority by which I live and conduct all my affairs. I know without any reservation, that the story of my life is one of God's grace, favour, and love because I live by the Word. My way is paved by the Lord, thus, I am being led in the paths of success, victory, and rest by the Holy Spirit. I've been raised in rank, in character, and in status. My spirit, soul, and body are in sync with the will of the Father. God has perfected my understanding and perception of the Gospel of Christ. He has granted me insight, enlightenment, and understanding through the Holy Spirit to know and live by the greater truths of the Gospel. The wisdom of God is at work in me and I am confident that I'll consistently make progress and walk in victory. I have no consciousness of need, because Christ is in me, and He is my all! With Him, I have everything. My life is one of ever-increasing glory as I live in, and by, the Word. I am a child of God and a joint heir with Christ. The lines are fallen unto me in pleasant places, and I have a goodly heritage. I am conscious of my glorious heritage in Christ, and through meditation on the Word, and fellowship with the Spirit, I get to know more and enjoy my inheritance in Christ. Glory to God! SPEAK IN OTHER TONGUES NOW • Be bold to say the same things that God has said concerning you in His Word. That is what takes you beyond salvation, to enjoy the benefits of salvation ~ Pastor Chris Oyakhilome. You can now reach us on: • info@affirmation-train.org • www.affirmation-train.org God bless you. #goodnews #greatness #lights #illumination #leadership #revelations #empowerment #signs #wonders #prosperity #peace #rest #on #everyside #winning #talkingsession
Happy birthday to our dearest amiable Sis Yvonne. Tnk u so much 4 ur outstanding participation in ministry, love & diligence. He who began a good work in u will perform it until d day of Jesus Christ. Promotion & increase is urs, & this year will be 10 times greater. I love you.