CALABAR MINISTRY CENTRE : 🎊🎊🎊🎊🎊🎊🎊🎊🎊🎊🎊🎊 HAPPY PERFECT BIRTHDAY DA on KingsChat Web
🎊🎊🎊🎊🎊🎊🎊🎊🎊🎊🎊🎊 HAPPY PERFECT BIRTHDAY DAD!!!! Today we celebrate Gods general, A Pastor after Gods heart to us A cynosure of excellence, A sagacious father! A valiant soldier! a teacher extraordinaire... Gods complete and perfect gift to us . We say..... Thank you Dad for raising us victors, Yes we are ever more audacious. Thank you Dad for raising us exceptional soul winners, Thank you Dad for raising us models Thank you Dad for raising us consummate partners, You have delivered to us a mindset of absolute possibilities. There are not enough words to express what we have become as a result of your teachings. We have made tremendous progress.... You set us to sail on the tides of the spirit. You have given us the right ingredients to flourish in season and out of seasons. And yes! We see differently, we talk differently, we act differently. Thank you Dad for manifesting divinity in totality. With joy in our hearts, we celebrate our Father, Our Teacher, Prophet, Gods word alive. We love you so dearly Dad. FROM PLEROMA SENIOR CELL.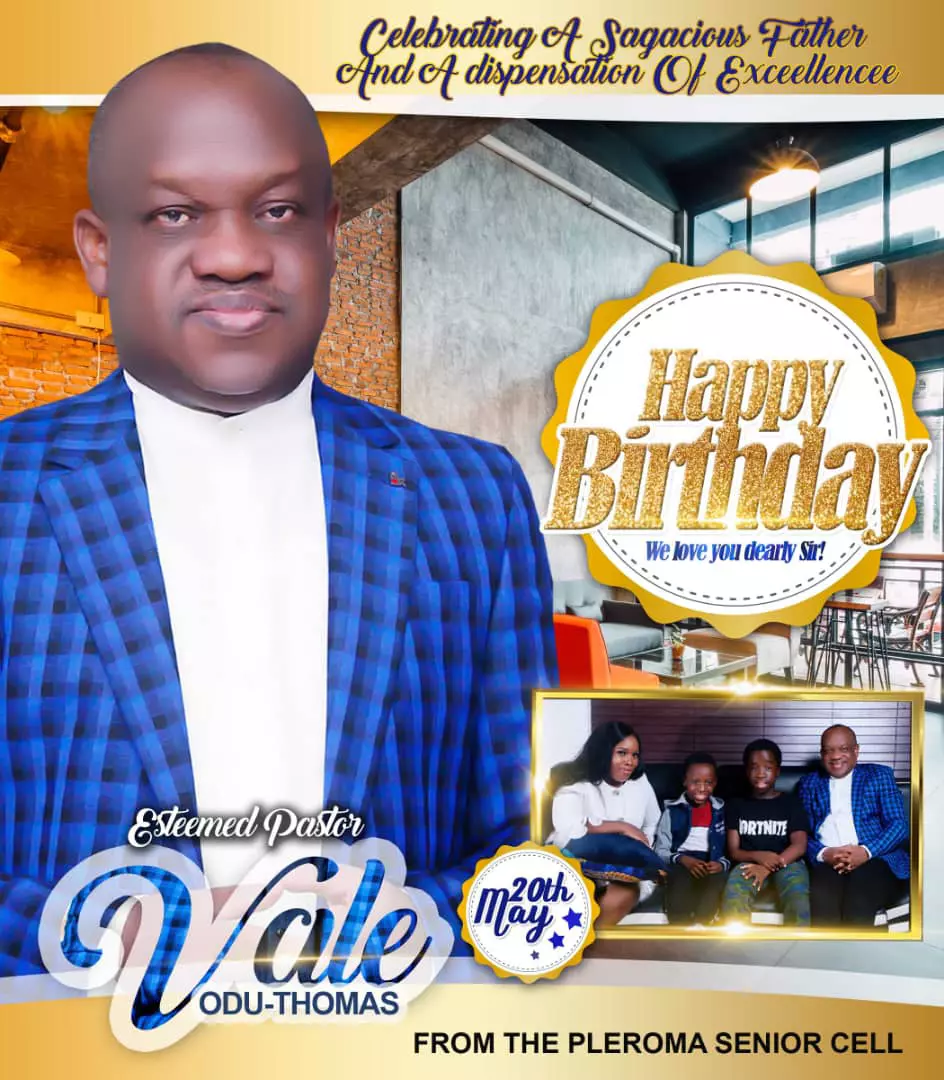 Happy Birthday to our treasured bundle of joy, beauty,and grace,just as your name inferred, "EVELYN-ZOE" which means LIGHT, LIFE or LIFE-GIVER, THE GIFT OF GOD, and ETERNAL LIFE, All these you are experiencing in your sojourn here on earth and in the life hereafter with the Lord.
May your fellowship time with the Holy Spirit mean more than this world to you. #THESPIRITWORD #IT'SYOURMOVE #MAKEYOURMOVE
Please join me SPREAD FAITH ALL OVER THE WORLD 🌍 with THE HEALING TO THE NATIONS MAGAZINE May Magazine download link: https://bit.ly/3dcWuwp #iSpreadFaith #HealingToTheNations
Happy birthday Esteemed Pastor Ma, we celebrate you today. Thank you ma for all you do in Ministry and the giant stripes you take. It is a glorious year ahead with abundance of testimonies. We love you Ma
HAPPY SPECIAL BIRTHDAY DEAR SISTER JOYCE UGHULU. 🕺🏽💃🏽💃🏽🕺🏽🎉🎉🎈🎈 HERE IS WISHING YOU MANY MORE YEARS AHEAD AND WE PRAY GOD'S BLESSINGS CONTINUE TO INCREASE IN YOUR LIFE. GOD BLESS YOU!
Happy birthday Sir, thank you for being a great inspiration. You've been very consistent through the years and see what the Lord has done with you. Thank you Sir, for blessing Children with the RORK Bible in commemoration of your birthday. I love you Sir.
#Wordfest2020 #WordFest #WordatWork #BLWCampusMinistryRocks #BLWUKZoneA #SubgroupE
#Wordfest2020 #WordFest #WordatWork #BLWCampusMinistryRocks #BLWUKZoneA #SubgroupE
#Wordfest2020 #WordFest #WordatWork #BLWCampusMinistryRocks #BLWUKZoneA #SubgroupE