Dr Masha Maharaj: MR WHY & MRS HOW on KingsChat Web
MR WHY & MRS HOW 👩🏽‍🤝‍👨🏼 Some visitors should be stopped at the door 🚪🚫😂🤣 #Jesus #TheWord #FortressofZion😎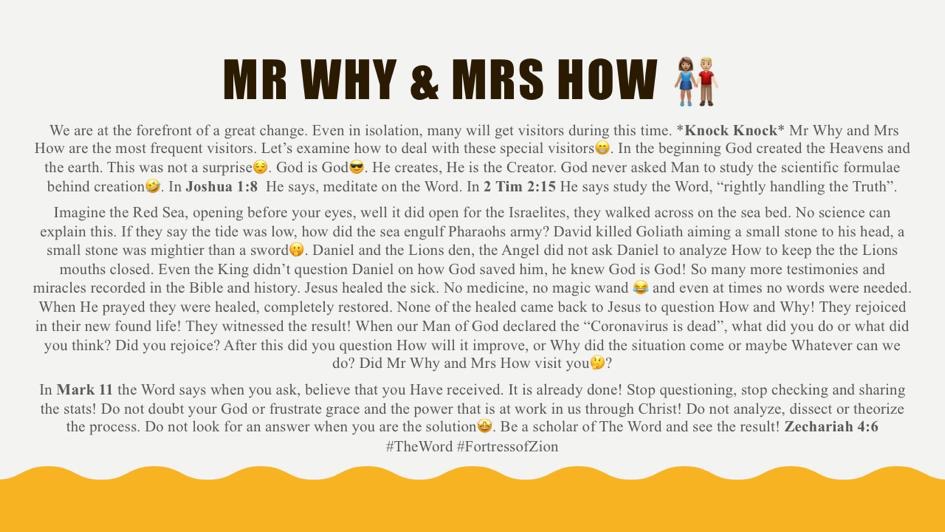 Natasha Naidoo
commented:
This is powerful! It's time to DO THE WORD without question 🙏
While you have your liberty to serve Jesus, it is the right opportunity to pray for others.
If you don't know the origin of a thing, you can't completely solve it.
Opposing voices are being silenced.
Many people support things they don't have a clue about.
Tonight was litly lit thank you Pastor sir, for the great anf awesome opportunity to be a part of this sir. My life will never remain the same
#GlobalWeekOfPrayer #PrayingNow #MyTimeSlot @pastorchrislive
GYLF Ambassador from Costa Rica participating live at Your Loveworld With Pastor Chris Log unto www.gytv.tv to participate and share the link with your contacts, family and friends. #gylf
FALA Ambassador Maame Yaa Ada participated all the way from Ghana 🇬🇭 Join the rebroadcast tomorrow with the link below👇 http://futureafricaleadersfoundation.org/globaldayofprayer/ #Futureafricaleadersfoundation #FALF #Yourloveworld
GYLF Ambassador from Ecuador participating live at Your Loveworld With Pastor Chris Log unto www.gytv.tv to participate and share the link with your contacts, family and friends. #gylf