LOVEWORLD UKZONE 4: Celebrating an amazing, dynamic and on KingsChat Web
Celebrating an amazing, dynamic and passionate helper of the war! Happy Birthday Esteemed Dcns Eliora Uduoise! You are a city set upon a hill, that cannot be hidden. Thank you for being a blessing to us in Loveworld UK Zone 4. We love you! #LoveworldUKZone4 #LoveworldSheffield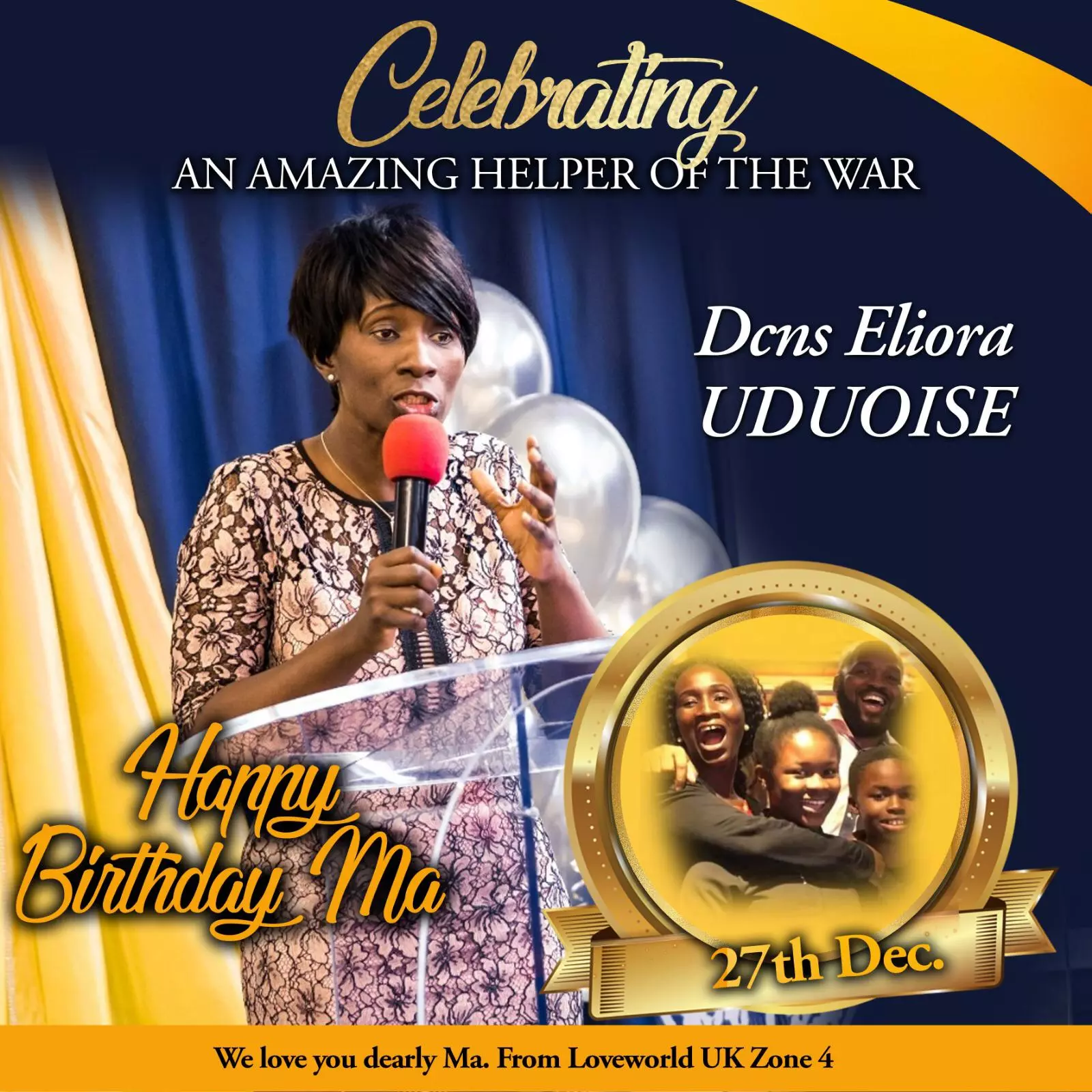 Deacon Chris ojay
commented:
Happy birthday dear Dcns Eliora. Glorious days ahead of you in Jesus name Amen
Dcns Ify Stephanie Ifebueme
commented:
Happy birthday dearest sister and friend! Cheers to more gloriois years of impact! Keep glowing from grace to grace, victory to victoy, glory to glory! I love you so dearly 😘
Join us on the Friday edition of your favorite entertainment show, Dedications! You can call to request for a music video of your choice. Call : +234 803 111 8975. SMS Only: +234 816 672 2359. www.loveworldplus.tv/watch Download Loveworld Plus Mobile App Today (available on Google Play Store, Apple App Store and on the Windows Phone Store ) #loveworldplusshines #pastorchris
Today we said a temporary goodbye to our dear and precious Daddy Adedeji. Till we meet again at Jesus' feet. #restingintheLord #Mainlandchoir #CEAkilo
Complete this sentence made by Pastor in the CHRISTMAS WITH PASTOR CHRIS package and win an amazing prize. Tag your friends to join in the quiz too.
"If You want to rear sharks, You don't build a swimming pool" -Pastor Amaechi Udeaku @peeayforever #2020inView #Windexpressions #SharkTale
Prayer Festival & Communion with Pastor Chris Seriously on my mind. #CELZ1Rocks #CEMafolukuisrich
Photospeaks #1 #IDS2019 #december7 #LWinternationalDayOfService #dec7 #cesazone5 #cewaterfalls
CEB YOUR RICHES ARE THE RANSOM FOR YOUR LIFE The ransom of a man's life are his riches.." Prov 13:8 The material/financial riches Lord blesses you with aren't just for you /your family. They are also to provide you with the seeds to sow to ransom your life from evil JOIN US
This is our I celebrate my Saviour King of Kings Lord of Lords Born Day #Christmas #Cemanchester #Blwzone4 #Zone4
CEB YOUR RICHES ARE THE RANSOM FOR YOUR LIFE The ransom of a man's life are his riches.." Prov 13:8 The material/financial riches Lord blesses you with aren't just for you /your family. They are also to provide you with the seeds to sow to ransom your life from evil JOIN US
CEB YOUR RICHES ARE THE RANSOM FOR YOUR LIFE The ransom of a man's life are his riches.." Prov 13:8 The material/financial riches Lord blesses you with aren't just for you /your family. They are also to provide you with the seeds to sow to ransom your life from evil JOIN US