CELEBRATING GOD'S PERFECT GIFTS TO US - MOTHERS. How important it is to celebrate mothers and celebrate them with great gifts. Gift copies of "The Seven Spirits of God" to mothers in your neighborhood, in hospitals and also organise outreaches to women in different fields of endeavor. You can purchase print and electronic copies of "The Seven Spirits of God" on the LoveWorld Books website: www.loveworldbooks.org or e-copies on the Rhapsody App. Also available on Amazon Kindle, Rakuten Kobo, Smashwords, Barns&Noble and Scribd Date: March 22nd To place your orders, call: 🇳🇬Nigeria: +2348086656497, +2348086656533,+2348086656547 🇬🇭Ghana:  +233 548951736, +233 548951799, +233 548951800 🇿🇦South Africa: +27 113260971 🇬🇧United Kingdom: +44 1708 556 604, +44 (0) 8001310604 🇺🇸United States: +1-281-829-4443, +1-281-372-8100 #LWPM #mothersday #monthofknowledge #LWPM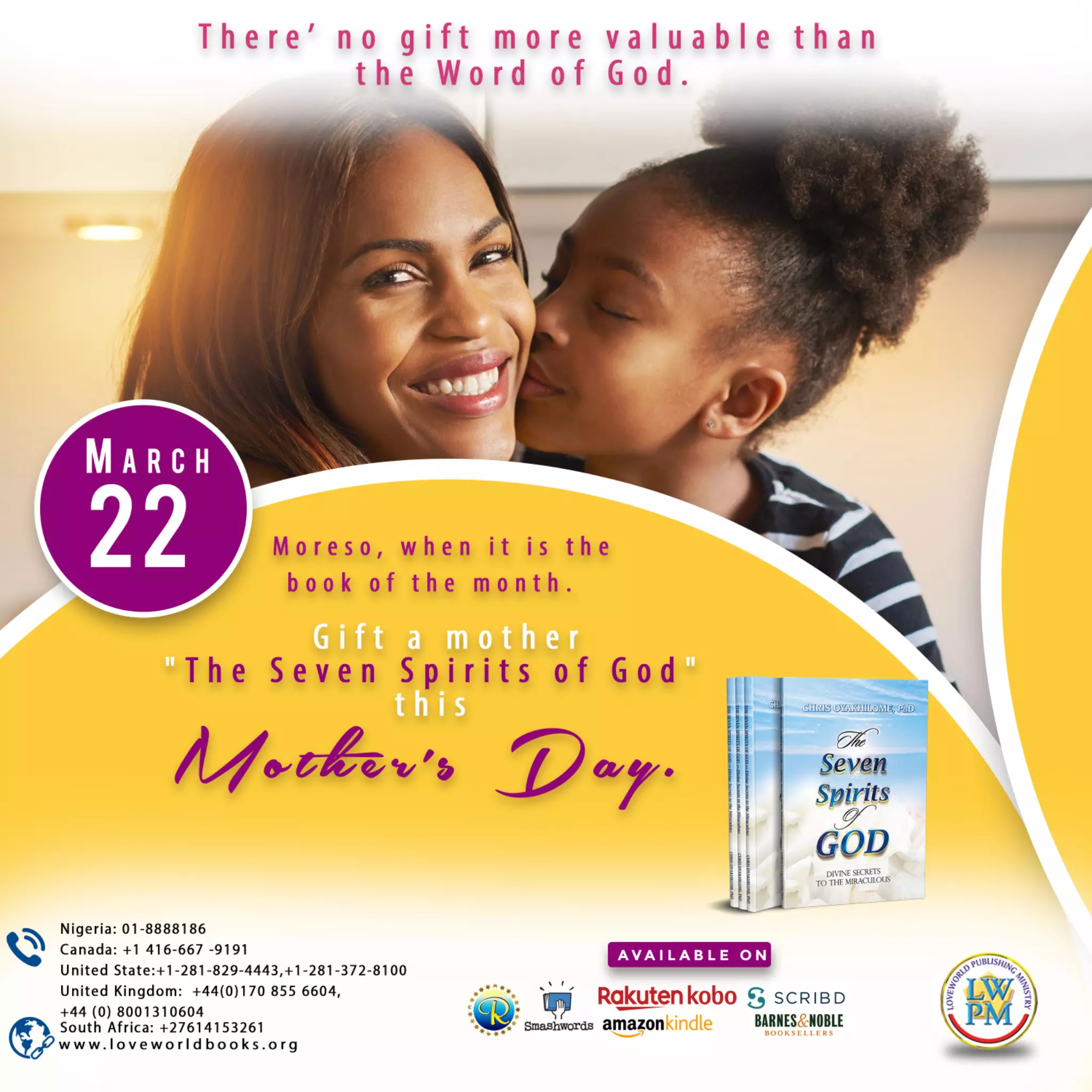 Distribution of 50 million meals in multiple locations is possible with me https://fooddrive.theinnercitymission.ngo #icmglobalfooddrivep #zerohunger #globalfooddrive
Happy birthday pastor paul,you are indeed a son of consolation ,an expression of our message .I love you dearly.
The land of Port Harcourt will never remain the same again. It's Jesus over everything Plan to attend and also invite someone
I have the Glory of the Lord upon my life 😊❤, I keep shining...I mean look at my smile 😂😁
CELEBRATING GOD'S PERFECT GIFTS TO US - MOTHERS. How important it is to celebrate mothers and celebrate them with great gifts. Gift copies of "The Seven Spirits of God" to mothers in your neighborhood, in hospitals and also organise outreaches to women in different fields of endeavor. You can purchase print and electronic copies of "The Seven Spirits of God" on the LoveWorld Books website: www.loveworldbooks.org or e-copies on the Rhapsody App. Also available on Amazon Kindle, Rakuten Kobo, Smashwords, Barns&Noble and Scribd Date: March 22nd To place your orders, call: 🇳🇬Nigeria: +2348086656497, +2348086656533,+2348086656547 🇬🇭Ghana:  +233 548951736, +233 548951799, +233 548951800 🇿🇦South Africa: +27 113260971 🇬🇧United Kingdom: +44 1708 556 604, +44 (0) 8001310604 🇺🇸United States: +1-281-829-4443, +1-281-372-8100 #LWPM #mothersday #monthofknowledge #LWPM
One meeting, multiple locations, an avalanche of impact.
#IMC2020 #IMCWITHPASTORJOE #IPAJAMIRACLECRUSADE