CE Kano: *RHAPSODY OF REALITIES DAILY DEVOTIONAL* on KingsChat Web
*RHAPSODY OF REALITIES DAILY DEVOTIONAL* *BE CONSCIOUS OF THE SPIRIT.* _Saturday, March 28th._ *Pastor Chris* _*If we live in the Spirit, let us also walk in the Spirit (Galatians 5:25).*_ _There's a spirit world that's greater than this physical world. The physical world is a region or part of the spirit world. The Bible says God is a Spirit, and He created all things; meaning that there's a spirit connection to everything that God made. Nothing is detached from Him. In the realm of the spirit, He created a region for the physical man, even though man himself is a spirit being_. _God gave man a physical body to live in, while in the physical region of His spiritual world. The earth isn't a separate entity from God's realm. Remember, in Genesis 1:2, the Bible says the Spirit of God moved upon the face of the waters. The Spirit of God incubated over the chaotic mass, which means the earth was within the coverage or reach of the Spirit, and governed by the Spirit. Many, because they don't realise this, and because they haven't understood the importance of it, limit their lives to the earthly region of this world. They don't realise that there's a greater play in the spirit world._ _For every one of us that's born again, the Bible tells us to walk in the Spirit. How do you walk in the Spirit? It's walking in the light of God's Word; walking according to Kingdom principles. Become conscious that you live in, and are from another realm, a heavenly realm that's greater than this world. That consciousness will put you over the elements, failures, frustrations, darkness and corruption in this physical world_. _Life is spiritual, and we live in two worlds. But most people, every day, are only conscious of the physical realm. This is why many go through pain and affliction; victims of incurable diseases, because they're unable to control life from the spirit. The Bible says you're in the world, but not of the world. You're born after Christ, the man from heaven; you bear the image of the heavenly. You're from the Kingdom of God's Love Son. Hallelujah! And in that Kingdom, we play by divine principles; the strategies and weapons of our warfare are not of this world (2 Corinthians 10:4). We reign by grace through righteousness, and we prevail with, and through the Word. Hallelujah!_ *CONFESSION* *The eyes of my understanding are enlightened to recognise my divine abilities in Christ, and to comprehend and apprehend the spiritual realities of the heavenly Kingdom to which I belong, in Jesus' Name. Amen.* *FURTHER STUDY:* *||* *Romans 8:9-10 NIV* _You, however, are not in the realm of the flesh but are in the realm of the Spirit, if indeed the Spirit of God lives in you. And if anyone does not have the Spirit of Christ, they do not belong to Christ. 10 But if Christ is in you, then even though your body is subject to death because of sin, the Spirit gives life because of righteousness_. *||* *||* *Romans 8:13-14* _For if ye live after the flesh, ye shall die: but if ye through the Spirit do mortify the deeds of the body, ye shall live. 14 For as many as are led by the Spirit of God, they are the sons of God_. *||* *DAILY SCRIPTURE READING* *1-Year Bible Reading Plan=>* Luke 7:36-50 & Joshua 1-2 *2-Year Bible Reading Plan=>* Romans 3:26-31 & Psalm 98-100 #cekano #nnwz2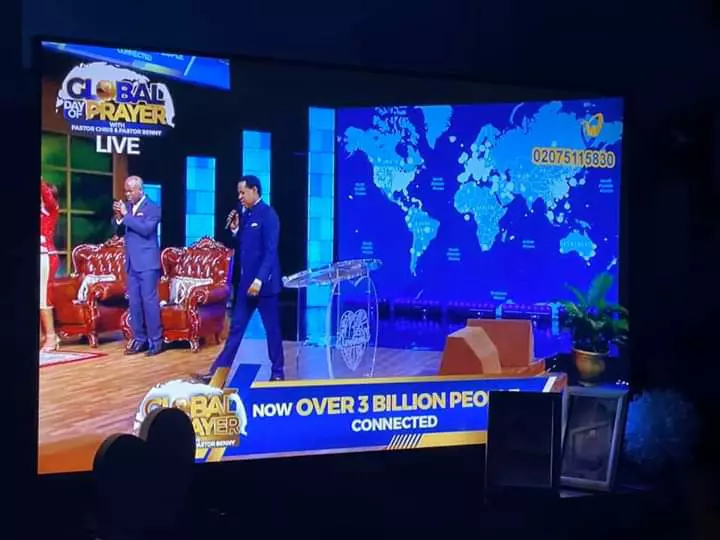 Thank you Lord for blessing me with my man of God. Thank you Pastor Sir for saying Yes. Thank you Sir for all you have taught us and still teaching us. Oh where would I have been today if I wasn't born in Christ embassy. What a privilege! What an honour!
#GLOBALDAYOFPRAYER #CEACCRAGHANAZONE #CEBOLGATANGA #MASTERBUILDERSCELL3
IMMEDIATE REBROADCAST OF THE GLOBAL DAY OF PRAYER ON ALL WEBSITES AND LOVEWORLD NETWORKS Relive the moments right away with the full rebroadcast of the Global Day of Prayer with Pastor Chros and Pastor Benny Hinn from12 am GMT+1 March 28th 2020 (right now!) Please spread the word.
Wow! What an impactful time of prayer we had with our man of God, Pastor Chris and Pastor Benny Hinn. Glorryyyyyy💃💃💃 CORONAVIRUS IS DEAD. Remember!!! 1. The prayer broadcast continues tomorrow till next Week Friday, April 3rd, same time 7pm GMT+1 2. We are adding Fasting to our prayers every day from tomorrow till Friday 3rd of April 6am to 6pm. 3. Choose two 15minutes slots to pray on your own and send that time to prayer@yourloveworld.org 4. Follow up on everyone you invited to know if they joined the broadcast today, if not tell them about tomorrow and the rest of the week. 5. Rejoice.💃💃💃 #ceeuropeperfection
Thank you Lord for blessing the world with a man with the word in pastor Chris, pastor Emeka Eze. I was indeed blessed. I enjoyed the bliss and the blessing is following me for life. Hallelujah 🙌
LIVE ON CONNECT FM #GlobalDayOfPrayer #CeAccraGhanaZone #CeTakoradi 1 #Reonghana
Did you hear? CORONAVIRUS IS DEAD. Who killed it? Our man of God, Pastor Chris, Pastor Benny Hinn and the Church, the body of Christ, the saints of God. Glorryyyyyy💃💃💃 Remember!!! 1. The prayer broadcast continues tomorrow till next Week Friday, April 3rd, same time 7pm GMT+1 (6pm UK time) 2. We are adding Fasting to our prayers every day from tomorrow till Friday 3rd of April 6am to 6pm. 3. Choose two 15minutes slots to pray on your own and send that time to prayer@yourloveworld.org 4. Follow up on everyone you invited to know if they joined the broadcast today, if not tell them about tomorrow and the rest of the week. 5. Rejoice.💃💃💃 #ukregion2perfection