EWCA Region: Happy Birthday dear Esteemed Pastor on KingsChat Web
Happy Birthday dear Esteemed Pastor Louis Sir. Today we celebrate a beacon of light. A leader per excellence A trailblazer extraordinaire Thank you Sir for your exploits of faith in the EWCA Region. Thank you for your passion for the gospel of our Lord Jesus Christ. Thank you for your commitment to the vision of our Man of God Pastor Chris. We love and appreciate you dearly Sir.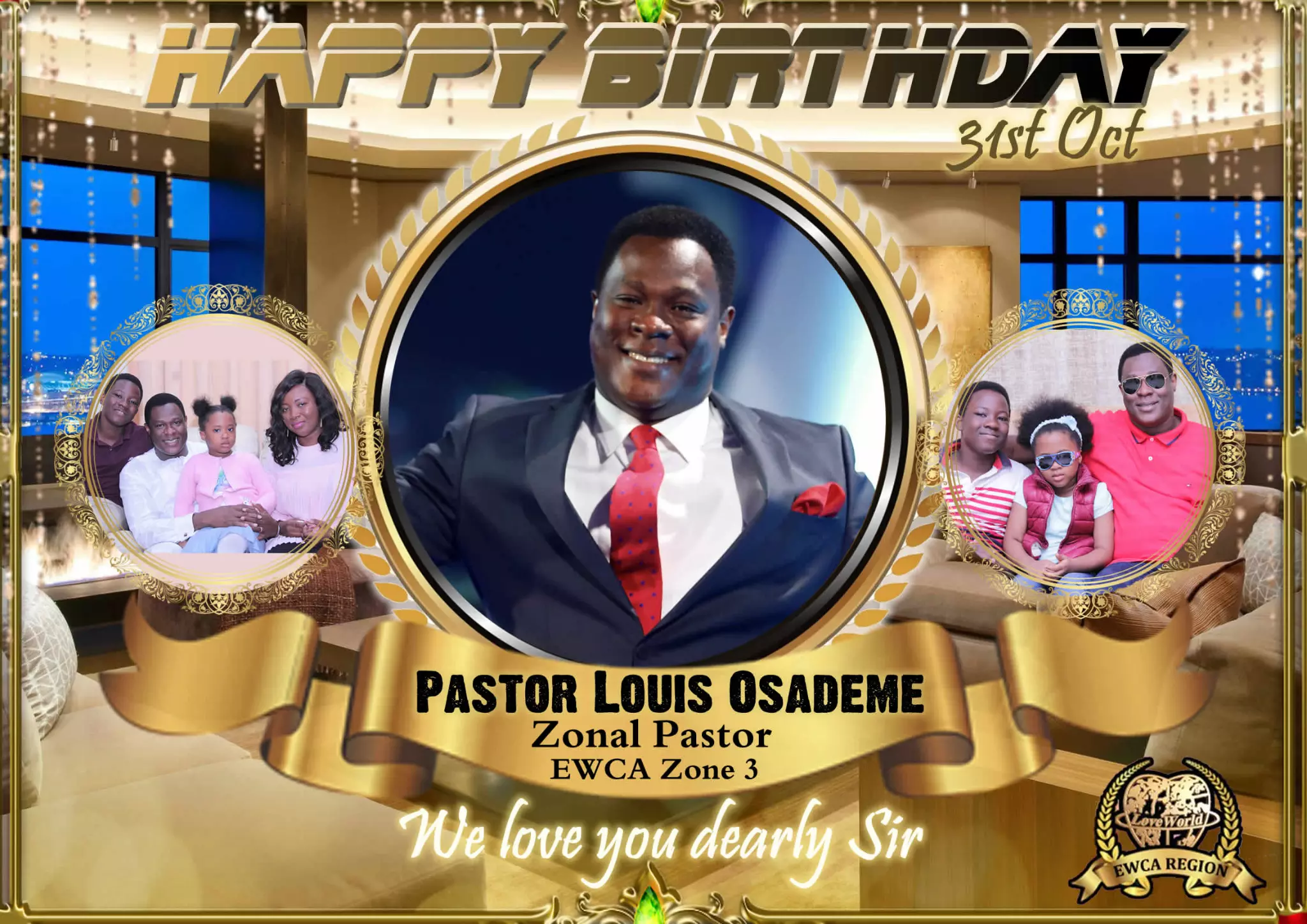 Yesterday, Pastor said DON'T FORGET HOW YOU RECEIVED SALVATION... YES SIR!!!!! #Pflow1031 #G4G1031 #cecelebrationchurch #graceforgreatness1031
My prosperity is a settled deal... I am guarded by the holy ghost Yes, am like a fire building in every circumstances. Gloryyyy
https://theinnercitymission.ngo/endchildpovertynow/zion/ #ENDCHILDPOVERTYNOW
Happy birthday Pastor Louis Osademe.
https://theinnercitymission.ngo/endchildpovertynow/zion/ #ENDCHILDPOVERTYNOW
Celebrating Our Highly Esteemed Pastor Sarah Wealth, Your impact Of the Words has been Notable in Our Life.. And Truly Your Grace we are Partakes. Happy Birthday pastor.. Love you ma #PSWO #Weath1031 #CelebratingGreaterImpart #CewarriDsc #WarriMinisteryCenter
Happy birthday Pastor Sir .You have made our life beautiful through your teachings you have made the word of God simple and exciting .
My Esteemed Pastor Sir, @pstlouiso I want to specially celebrate you today on this very special occasion of your birthday! And to express my gratitude to you for raising me to be a student of the Word & a follower of Pastor Chris. I love you so much Sir! #plo3110 #cewandegeya
#monthofministry #howicarryoutministry #aminoffice #ministryinprogress Sir.A widow worked tirelessly to build th house she's living now, finished th building & just lost herself, mope at people,always indoors. I led her to Christ received the Holy Spirit. Commanded th demon out
#pstflow1031 #G4G1031 #Inspiringpstflow Happy Birthday Highly Esteemed Assistant Secretary General of our Nation, My Zonal Pastor, My Boss and My Father. It is a great privilege to have you as a father and I am grateful to God for this. I love you sir!