Day 2 is here and we have learnt so much .. Glory to God! Book Title: When God Visits You! Highlights from yesterdays session: *When God Visits you, the first thing you will discover is a desire for change." Today we move on to Chapter 2. Time: 3pm - 6pm. See you soon!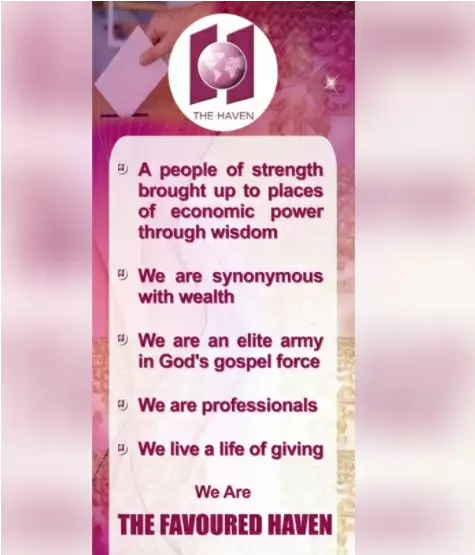 Catherine
commented:
Invest $350 into bitcoins and earn $3,400 in 1 week directly to your bank account, add me to learn now, Whatsap +13252445331
Kate Ita Udok TFH ZA5
commented:
Glory to God!!! Yes we have the desire to effect and see the change in all areas of our lives. It is time!
Congratulations To Our 4th Runnerup; Zone E7 For Their Attendance In The Haven Daily Global Prayers today. #TheHavenNation
Happy birthday highly esteemed Pastor Ma. We love and appreciate you dearly Ma. Congratulations.
Our precious Father I thank you for adding another glorious year to my initial. Faithful God I worship you. You are too consistent to fail me. It's going to be 10 in 1 .Love you dear Lord Jesus . #midwestzone #warrisouth #cebowen #Iyaraoutreach
*Celebrating Grace and Excellence* Happy Birthday Esteemed Sis Joanna Okwor. Celebrating you today and always for being God's blessing to us in Manchester and beyond. Thank you for your unrelentless passion and commitment to the work of the ministry over the years. Thank you for being a tremendous helper of war in propagating the gospel of our Lord Jesus Christ. Indeed of your increase in relevance, influence and affluence, there shall be no end. Your testimony is from faith to faith, grace to grace and glory to glory! He that has began a good work in you will perfect it until the day of our Lord Jesus Christ. We love and appreciate you dearly! #LoveworldCentralChurchManchester #LoveworldUKZone4 #UKZN4
TEENS ADVANCE PARTNERS CAMPAIGN Celebrating our TAP AMBASSADOR Thank you esteemed SIS JESLYN WEALTH for your Partnership with the Teens Ministry. We love you dearly #lwteensministry #TAP #cebayelsa #TLB #TLBSON
Congratulations To Our 3rd Runnerup; Zone B1 For Their Attendance In The Haven Daily Global Prayers today. #TheHavenNation
ABOUT EASTER IN CEPH ZONE 1 This Easter came like a spring board that launched us into a more glorious phase of unending opportunities and possibilities. We have moved in capacity, ability, function, grace and every wise by the Spirit of God, hallelujah! From GFMC 2021 into the Easter Sunday "Something To Shout About" and with a bang on the "Thronos 2" live production, its been from glory to glory. #cephzone1 #gfmc2021 #healingbalm  #eastersunday21 #peeayforever