CE Port Harcourt Zone 3: #StartingNow Your Loveworld Specials & on KingsChat Web
#StartingNow Your Loveworld Specials & Praise-A-Thon with Pastor Chris and Pastor Benny Hinn - Day 3 Tonight's edition promises to far supercede all we have ever witnessed on Your Loveworld!! Watch it live on all Loveworld Networks, CEFLIX, LIVE TV Mobile App and Online Ministry Platforms. Invite your friends and loved ones to be a part of it. #Livenow #Yourloveworld #CEPHZONE3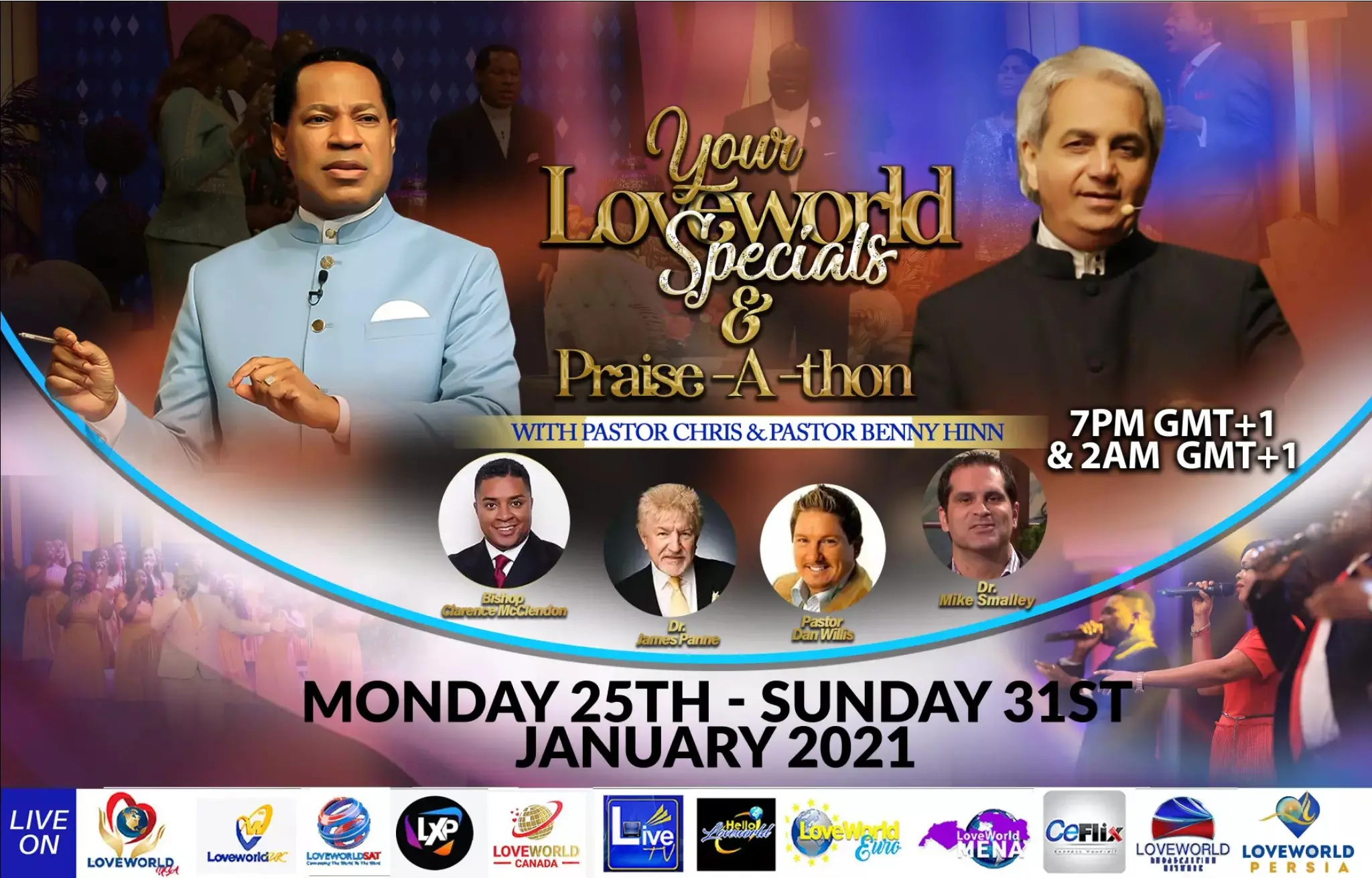 It's Cell Ministry Outreach Week! ! Get ready to bring in the sheaves as we celebrate every soul won in this month. Win a soul today...
WE ARE LIVE!! Tune in to www.pcdl.tv now to watch the Day 3 of Your LoveWorld Specials featuring Praise a Thon with Pastor Chris and Pastor Benny Hinn Its another time of refreshing #watchliveonpcdltv #pastorchris #yourloveworld
Check out my inspiring post on Yookos!
LIVE ON CETUNES! YOUR LOVEWORLD SPECIALS WITH PASTOR CHRIS & PASTOR BENNY DAY 3!!! Participation link 👇 https://cetunes.org/events?id=Your%20Loveworld Also Available live Translations in French, Spanish, Urdu,Portuguese, Swahili, Arabic, Hindi, Italian, Yoruba, Chichewa, Igbo, Swahili, Russia, Polish, Hausa, Lingala, Telegu and lots more!!! @ www.cetunes.org Download the CeTunes Mobile app Via link below👇 https://cetunes.page.link/CIC
Blessed are my ears which hears these words in such a time like this Thank you Man of God Pastor Chris Sir. I love you dearly
Happy Birthday Esteemed Sister Lizzy. I admire your sweet spirit. Thank you for all you do in Ministry. God has increased His Grace on your life. I love you dearly 🥰
WE ARE LIVE http://cloveworld.org/news?v=600e78d01a982rmgcef1xvn3d
YOUR LOVEWORLD SPECIALS WITH PASTOR CHRIS & PASTOR BENNY (DAY 3) LIVE IN HAUSA LANGUAGE translating from CHRIST EMBASSY JOS It's another session of upgrade with the Word on Your Loveworld Specials With Pastor Chris & Pastor Benny at 7pm (GMT+1). Watch it live in HAUSA LANGUAGE VIA https://ceflix.org/videos/watch/1852303 Remind everyone you've invited #Yourloveworld #CEJOS #CEGOMBE #CEMINNA #GOH #NCZ1