CE UK Zone 3: 1 DAY TO GO: THE on KingsChat Web
1 DAY TO GO: THE HEALING SCHOOL ONLINE PRAYER CONFERENCE 💯 Register: https://prayer.enterthehealingschool.org/reg/UKZ3  Get excited because it's your moment of change as we pray for 24 hours non-stop at the Online Prayer Conference. It's time to break records and set new ones as we exercise our authority in the name of Jesus. Yes! That change is possible! DATE & TIME: 6pm (GMT+1) on Friday, 4th June to 9pm (GMT+1) on Saturday, 5th June 2021. HOW TO PARTICIPATE ✅Register and invite your loved ones to do the same @ https://prayer.enterthehealingschool.org/reg/UKZ3 ✅Send your Prayer requests and that of your loved ones to prayerrequests@enterthehealingschool.org ✅You can also set up prayer centres (both onsite and virtual) using these links:  www.healingstreams.tv/virtual www.healingstreams.tv/vc/HC  God bless you.  #hspc  #healingtothenations  #iSpreadFaith  #SpreadFaithCampaign  #healingstreams #healingstreamstv  #livehealingserviceswithpastorchris #DSPUKZone3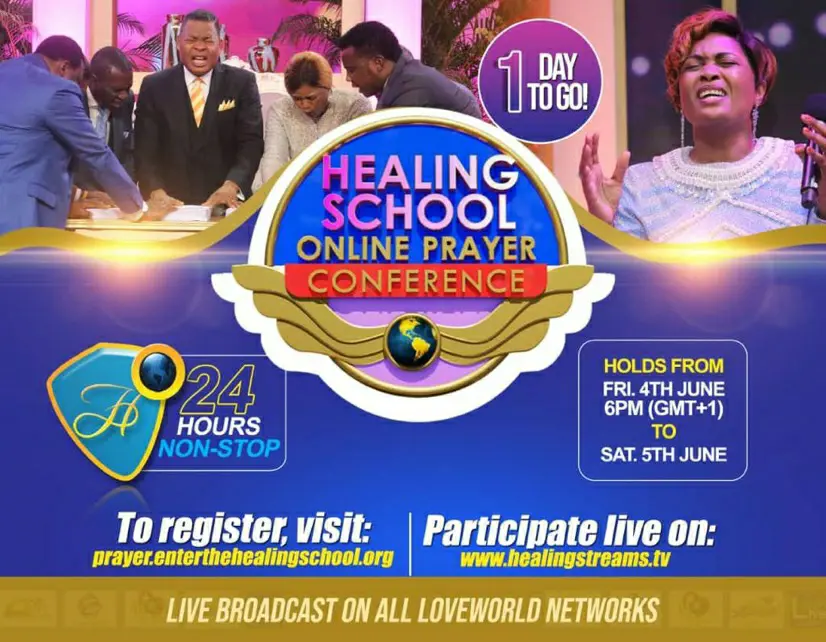 Happy birthday ma. #PSA #cemidwestzone #cenewbenin
Happy birthday to our very special Sister Ola. Thank you for all you do for LWPM. May you continue to increase in God's grace and favour. Congratulations!!!
Brother Patrick from CE Mukono 3, EAVZ participating in the Blood Donation exercise. We are winning today🤸‍♀️🤸‍♀️🤸‍♀️🤸‍♀️
Happy Birthday sis Eunice ❤️❤️🥁🥁 I love you so specially
💠PROCLAMATION TIME!!! DIVINE HEALTH CONFESSIONS💠 #SAYITOUTLOUD 🗣️#3RDJUNE2021 #dhconfessions #healingtothenations #CESAZone1
Happy Birthday Dcns Ma! I love you specially.
Good morning Dear Members from Group If you want monthly via email receive PDF ROR and ROR TeeVo in Russia and Ukraine Language. Plz let me know by contacting me in Whatsapp, Kingschat or Telegram +41787093762 Together reaching people in Ukraine and beyond. God bless you
This is something to shout about. 💃📢📢📢📢🎉🎉🎉EDO MUSIC CARNIVAL (Phase 1 Reloading). 🏃 🏃 🏃 🏃 Is Less than 48 Hours Away! 💃 💃 💃 💃 💃 💃 Get your Dancing Shoes on!👟 Its all about Jesus. #cebeninzone1 #EMC2021
This is something to shout about. 💃📢📢📢📢🎉🎉🎉EDO MUSIC CARNIVAL (Phase 1 Reloading). 🏃 🏃 🏃 🏃 Is Less than 48 Hours Away! 💃 💃 💃 💃 💃 💃 Get your Dancing Shoes on!👟 Its all about Jesus. #cebeninzone1 #EMC2021
This is something to shout about. 💃📢📢📢📢🎉🎉🎉EDO MUSIC CARNIVAL (Phase 1 Reloading). 🏃 🏃 🏃 🏃 Is Less than 48 Hours Away! 💃 💃 💃 💃 💃 💃 Get your Dancing Shoes on!👟 Its all about Jesus. #cebeninzone1 #EMC2021