CELEBRATING THE CHIEF EXECUTIVE OFFICER, LOVEWORLD INC. The Chris Oyakhilome Foundation International and it's Member Agencies heartily celebrate the Esteemed C.E.O. Pastor Deola Phillips. "There are many Humanitarian Organizations doing things for the needy and helping people, but the difference between what we do and others is that we do it in the Name of Jesus"- Pastor Deola Phillips. Thank you for impacting Individuals, Communities and Nations around the world with the Gospel of our Lord Jesus Christ! Follow our superuser@COFI for latest news and updates on our Global Missions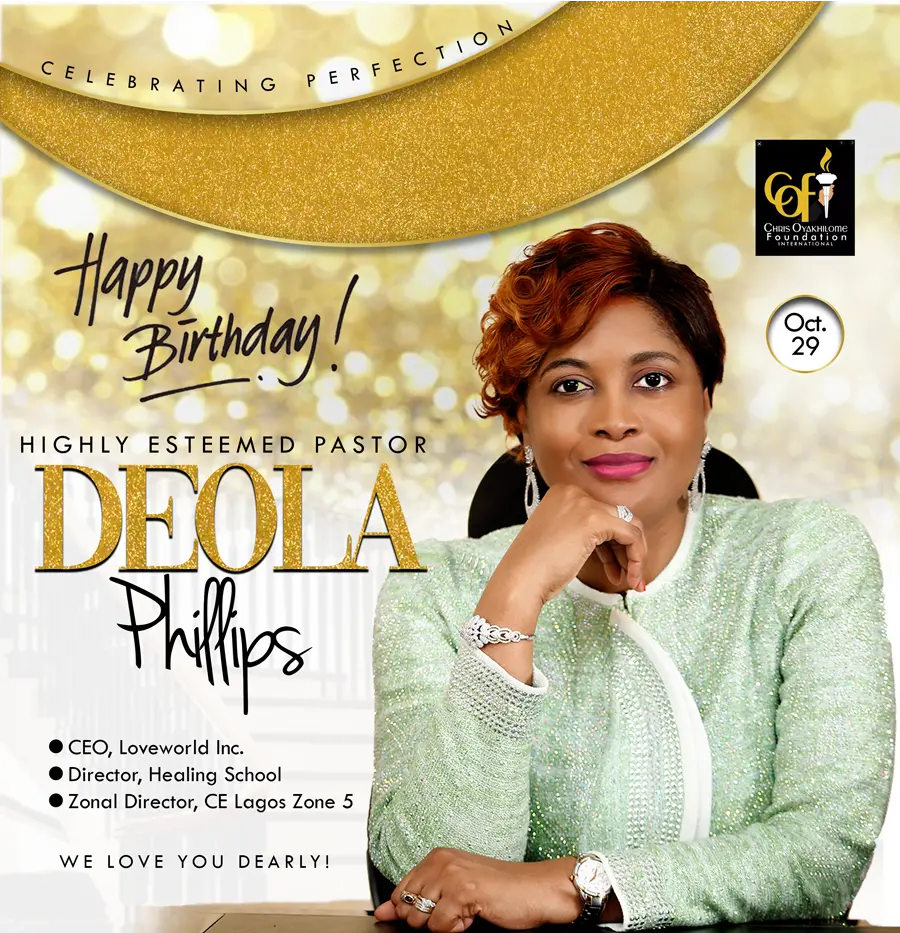 Happy birthday dear Highly Esteemed CEO, Pastor Deola Philips. Thank you Ma for all you do for our Ministry. Listening to you is always so inspiring and refreshing. God bless you Ma.
Happy birthday to our highly esteemed CEO Pst. Dr. Deola Philip. Thank u for blessing us with ur inspirational leadership & ur indefatigable life of service & dedication to the work of the ministry. We love 💕❤️you dearly ma. #exceptionallyperfect #vmcorps #lmms #tcif #vmctxzone2
Thank you for being the BEST BOSS💝💖 We love you so much ma #ExceptionallyPerfect #celebratingourceo #oceo
Celebrating Perfection in our Esteemed CEO.. Happy birthday Ma.
Airing now on www.pcdl.tv is Being Led By The Spirit on Topical Teaching Highlights on THE MINISTRY OF THE HOLY SPIRIT #PastorChris #watchonpcdltv
It just A Day to #WordFestextravaganza and Day 23 on #WordFest2 airing today's message: Every Tree A Forest now on www.pcdl.tv🌳🌳🌳🌳🌳🌳🌳🌳🌳Now 17 Days To #IMCC2020💎💎💎💎💎 #wordatwork #watchonpcdltv