LIVE HEALING SERVICES PRAYER GUIDE 🙇‍♂️🙇‍♀️ IMPACT OF OUR MESSAGE THROUGH THE LIVE HEALING SERVICES (WEDNESDAY 3RD MARCH) 📖 Romans 15:19, "Through mighty signs and wonders, by the power of the Spirit of God; so that from Jerusalem, and round about unto Illyricum, I have fully preached the gospel of Christ." ☑️ Pray that like never before, that through the Live Healing Services the message of our ministry gains mighty access into every strata of life in the nations of the world, and more and more people in authority are being influenced by our message, causing only righteous laws and decisions that favour Christ's purpose to be made in the nations of the world. 📖 Matthew 24:14, "And this gospel of the kingdom shall be preached in all the world for a witness unto all nations; and then shall the end come." ☑️ Pray that the light of our glorious Gospel will continue to shine with increased intensity in the nations of the world as a result of this program. Declare that signs and wonders will be a common phenomenon whenever our Gospel is preached, until the knowledge of the glory of our God covers the whole world as the waters cover the sea. God bless you. #livehealingserviceswithpastorchris #healingstreams #healingtothenations #CEJOS #CEGOMBE #CEMINNA #NCZ1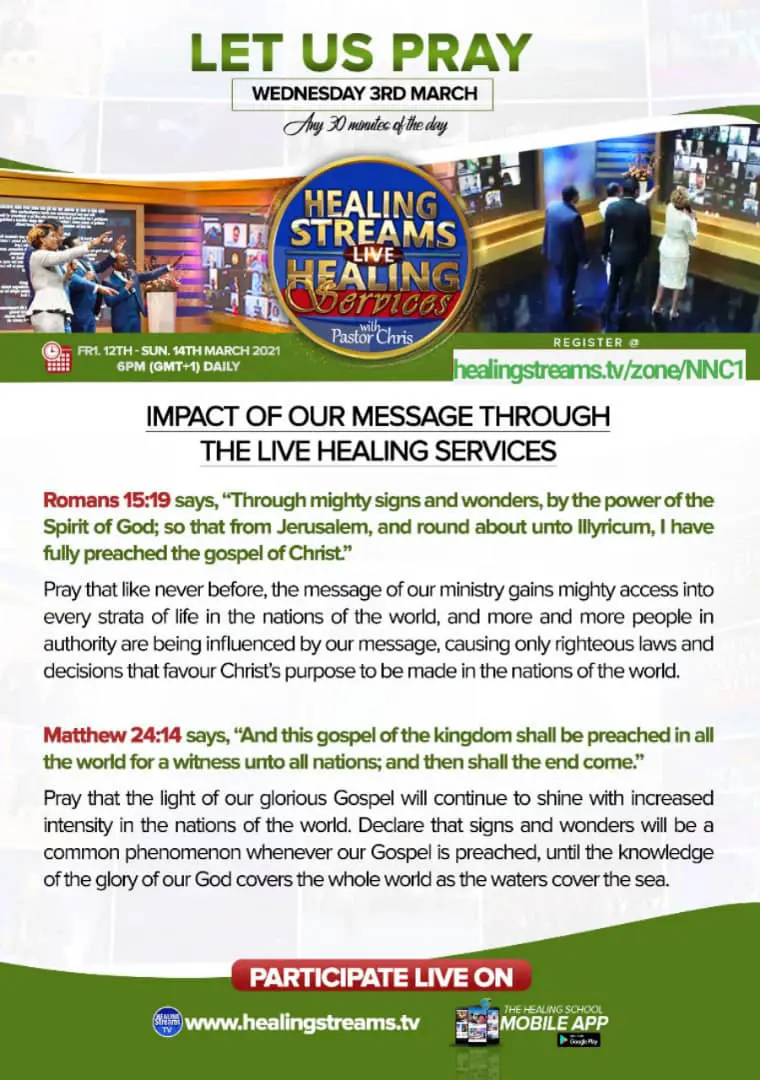 Pastor Elise
commented:
promo...promo...promo... cryptochin...fx trading..Why sleeping why others are making billions of dollars💴💵💶? This is an online investment which help us to earn more profit in a given period of time. by investing amount of money or bitcoin, to be traded on in the international market with the use of Auxiliary computers and software, using strategy to win profits. With the minimum investment of $300 you can get profits of about $3,000+ with my fast and trusted platform ... $300 to get $3,000 weekly. $400 to get $4,000 weekly. $500 to get $5,000 weekly. $600 to get $6,000 weekly. $800 to get $8,000 weekly. $900 to get $9,000 weekly. $1000 to get $10,000 weekly. DM me on WhatsAp.... +1(231) 335-1054 +1(231) 335-1054 for more info if you are interested.
Your excellency sir, May your reign be until the Lord's return. May God unleash on you the special grace required for this next level of reign and domion. May your reign be surrounded by peace and abundance of prosperity.
*I am ready* Are you? Register today - https://healingstreams.tv/zone/BZ1 #cebeninzone1 #Healingstreams #healingtothenations
Pastor Ma, You make difficult things look so seamless #CelebratingPastorOre #POE0303 #CeSapele #WhereGodLives #Cephzone3LMAM
Pastor, you are loved! May the light of the Lord fill your heart as you are celebrated today. Your guidance lights the way for so many on their journeys of faith. My God bless you and keep you always. Happy birthday Sir.
A very Happy birthday to the Highly Esteemed President of the Haven Nation sir. Thank you for your lasting impact in my life. #PE33 #TheHavenNation #PastorEkele #TheHavenZoneB1#AsOneMan
Happy birthday Sir, our highly Esteemed president of the Wealthiest Nation #PEU33 #ZD1 #Onitsha #Asoneman
#PEU33 #PastorEkele #AsOneMan #TheHavenNation #TheHavenNationZD1 #TheHavenZoneD1
Happy Birthday Esteemed President Sir, Thank You for your love for God and the gospel sir, God's Grace upon your life will continue to increase, I love you Sir #PEU33 #PastorEkele #TheHavenNation #AsOneMan #TheHavenNationZoneB1