The Rhapsody of Realities 24-hour prayer network holds on August 31st - September 1st 2018 at 6:00pm (GMT+1) You can connect from anywhere in the world 🌍 Please follow the link below to register. https://prayer.rhapsodyofrealities.org/?track=uk3 SPREAD THE WORD #ropc2018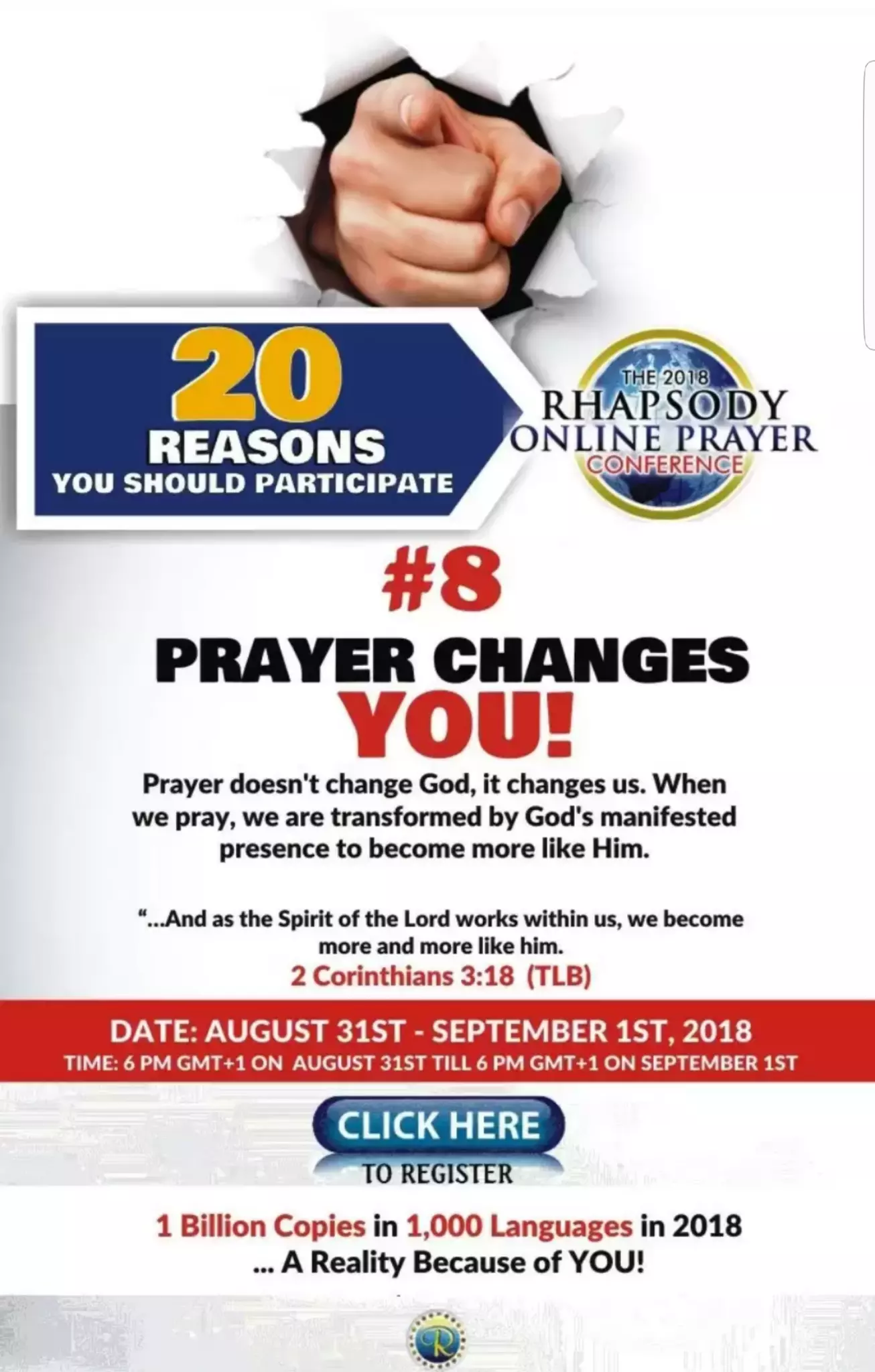 LPC time for upgrade to high levels I won't miss it. #Salpc #Sazone1 #CEPimville
Thank you #SupernaturalPSA for being happy always
Counting up to GDOE (Global Day of Evangelism) on the 1st of September!!! And we are following up with SUPERNATURAL SUNDAY with Pastor Anthony Oseghale on 2nd September 2018! We win & bring them to church! #GlobalDayofEvangelism #WinningSoulsNow #CEEkpanReal #CEMidwestZone
Strengthened and fortified by the Spirit to do all the Lord has us to do in our city Maiduguri. #PSZ #Cemaiduguri #NNWVZ2
....More highlights from the Zonal Staff Chapel Christ Embassy East, West & Central Africa Virtual Zone 6, D.R CONGO !!!!!
Today's Rhapsody of Realities article is just for you. Get your copy, study the article and read this review to enrich your study. Have a blessed day... Don't forget to join our community - MaziTalks Yookos Community here on Kingschat. Love you all!
#icplc #icplc2018 #icplconthego #icplcatmosphere #icplcjustforme #icplcburninghot #icplcshakingtheworld #blwzonej #campusministryrocks
#ICPLC #ZONEL #MORETHANLIFE Jesse william you are on that Global stage!!!!
Happy birthday most beloved Ashley..