ABUJA MINISTRY CENTRE : CELEBRATING OUR BELOVED BRO MAXWELL on KingsChat Web
CELEBRATING OUR BELOVED BRO MAXWELL OKECHUKWU Happy Birthday beloved Bro Maxwell Okechukwu, welcome to the morning of your life. The Lord has set your life on an upward trajectory; higher and higher you go to the praise and glory of His name. Grace is attended to your life and it causes you to succeed where others failed. Happy birthday. We love you.  #CEMCABUJA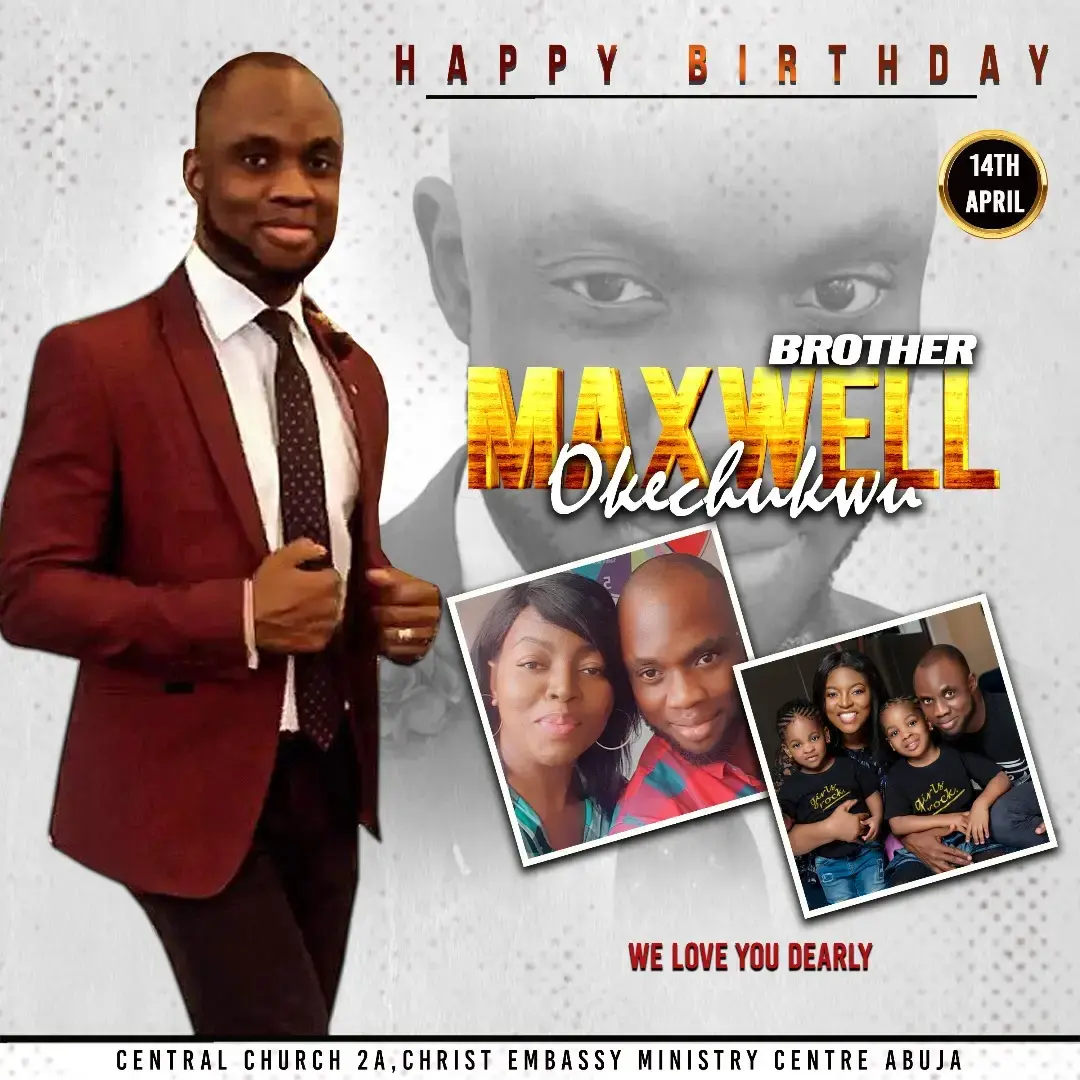 Ugo Harris
commented:
Always a delight to celebrate you dear bro Maxwell. Happy new age. You are treading on the highest platforms of the land. I celebrate you dearly.
It's our Zonal Daddy's Birthdayyyyyy 💃🏽 Thank you for believing in us!!! LGN UK Zone 2 loves you Sir 💝 - - - #PTA #LIFEISEASY #UKZONE2 #LGNUKZONE2
📚 DAY 4 OF OUR EXPOSÉ ON TRUTH 📚 It's been phenomenal learning God's Truth. 📍Today's Message - THE DEW OF HEAVEN 📌 Access and watch today's Message through our unique Zonal Link at https://pastorchrisdigitallibrary.org/exposeontruth/ceukz3dsp  📍Download the Exposé Study Guide to enrich your study. 📍Create your avatars after the Study and post on your Kingschat timeline. #ExposeonTruth  #watchonpcdltv  #MonthofTruth #DSPUKZone3
Francistown visitation : project 100:10...Its always easier with Rhapsody of Realities... #Day1BAC #Blwsazonee
👉👉📍It's Rhapsody Time👏👏👏👏 💥💥💥💥Enjoy today's episode of Kids Love Rhapsody by Sister Lisa Kehinde from CE TORONTO, CANADA ZONE🇨🇦 as she takes us through today's topic💃🕺 TOPIC: THE WORLD IS ALL YOURS! Gloryyyyyy 🙋🙋🙋 Like,Share and Comment 👊 #loveworldchildrensministry #childrenschurchrocks
Celebrating Esteemed Pastor Tony, 10q Sir for loving Pastor the way you do, 10q for making any and every project you handle succeed exceedingly, I am one of the countless people you have affected permanently &I love you so dearly, Happy Birthday Pastor Sir💃🕺😇👌
Happy Birthday Esteemed Dcns ma, thank you for being ever inspiring, Kind and loving. You are always full of Gods word. And an amazing worshiper.. I love you ma🥰🥰🥰🥰🥰 thank you for all you do for the Gospel ma.❤🥳🥳🥳🥳🥳🥳🥳🥳 #TLB #Cebayelsa.
Celebrating our Zonal Daddy's birthday 🎂🥳🎉🎈 #UKZONE2 #PTA1404 #LMAMUKZONE2 #LIFEISEASY
Get ready to move to a new and higher level of grace at the "8 days of glory" hosted by Pastor Eddie Moyo, Zonal Secretary of BLWSA ZONE A. This timely epochal program is scheduled to run from the 18th - 25th of April. It promises to be an avalanche of the miraculous by the spirit of God. GUEST LISTS UNVEILING Highly Esteemed Pastor Mike Bazuaye, Esteemed Pastor Derick Izekor, Estemeed Pastor Emmanuel Uche, Esteemed Pastor Airen Ekhosuehi, Esteemed Pastor Peter Lighthouse & Estemeed Pastor Deji Olubisi. Its truly something to shout about, expectations are lofty & the atmosphere is stirred. #blwsazonea #8daysofglory #rhapsodyofrealities #blwcampusministryrocks