Christ Embassy Tanzania: CELEBRATING A SUPER STAR, OUR on KingsChat Web
CELEBRATING A SUPER STAR, OUR BELOVED CEO AND GRACE PERSONIFIED, HIGHLY ESTEEMED PASTOR DEOLA PHILLIPS. We celebrate you Ma for the immense contribution and endless love you have for our LW Nation. Thank your for your inspiring leadership and exemplary followership of our dear Man of God. We love you so dearly our Highly Esteemed CEO. #CETANZANIA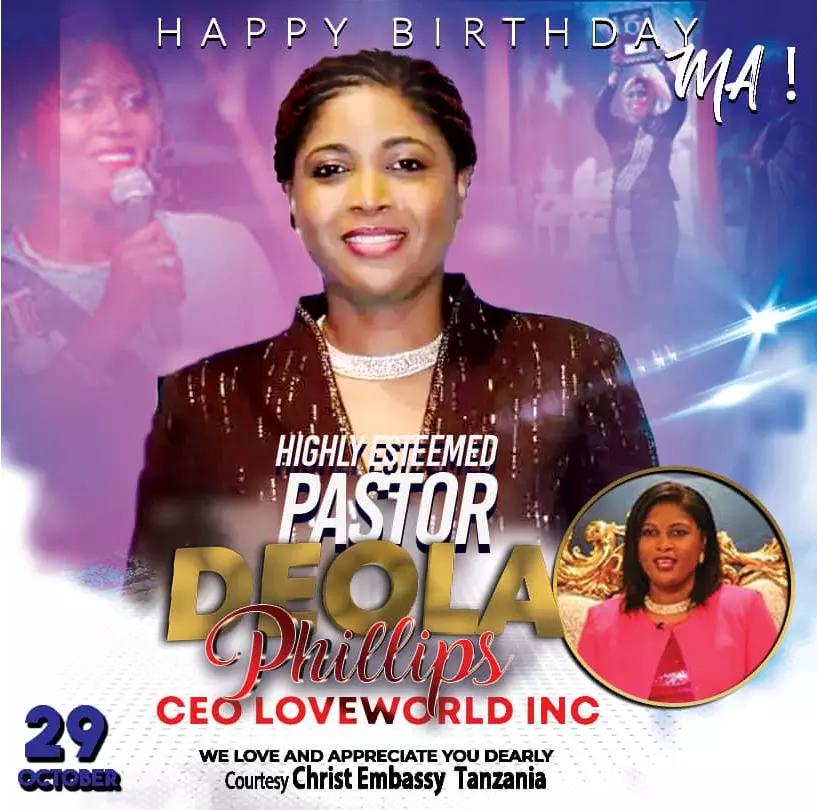 Sister Donata Angelo
commented:
Happy Birthday Highly Esteemed Pastor Ma. Thank you for inspiring us unto good works in Tanzania.
By the power of God's Word on my lips, I declare that my body is fortified against sicknesses and diseases, and my life is beautified daily.
Christ dwells in my heart by faith, and I'm strong in the Lord and in the power of His might, positioned for victory, and energized for the supernatural life. The glory of God is evident in my life, and the influence of His Word is seen in my spirit, soul, and body!
📖🎤GRT IS D LORD&GRTLY2BE PRAISED IN D MONTH OF PRAISE&THOUSAND VISITATNS2020 IN WORDFEST2020 EXTRAVAGANZA WT#PasrotChrisPRAY&PRAISE-A-THON reloaded🚀THEN PROCLAIMS OUR PROPHET PST CHRIS:LET US PRAISE HIM IN D CITY OF OUR GOD&IN D MOUNTAIN OF HIS HOLINESS IN D SIDES OF D NORTH🚀
Gentoo penguins are four species, not one Counting the birds as four species will help conservation efforts, and threats from climate change. https://www.bbc.co.uk/news/science-environment-54817124
DJI Mini 2 release date, price and everything we know about the new beginner drone The DJI Mini 2 has officially landed, but were the leaks about the new beginner drone all correct? Mostly, but not all of them. https://www.techradar.com/news/dji-mini-2-release-date-price-and-everything-we-know-about-the-new-beginner-drone/
Psalm: 9. 1. I will praise thee, O LORD, with my whole heart; I will shew forth all thy marvellous works. #DailyMeditation
ZONAL ALL MEMBERS MORNING PRAYERS: 5am-5:30am Thurs 5th Nov Psalm 9:1-2 says, 'I will praise thee,O LORD, with my whole heart; I will show forth all thy marvellous works.I will be glad and rejoice in thee: I will sing praise to thy name, 0 thou most High. Read 2 chronicles 20:1-24. At our prayer times today, we'll pray fervently in tongues of the Spirit; and also praise the Lord for His marvellous works,for His mercy endures forever. As His mighty army,we march on from victory to victory. Glory to God forever. #prayingnow #prayathon2020 #PCLprayathon2020 #Iamapriestinoffice #eneczone #SEregion
#ceusaregion2teenschurch #lwteensministry #teevoweekly
🎉HIGHLIGHTS🎉: Mid-week service at CE Baltimore. "For we are His workmanship, created in Christ Jesus for good works, which God prepared beforehand that we should walk in them." Ephesians‬ ‭2:10‬ ‭ "Locate yourself in the plan and purpose of God and live it out."~ Pst Bunmi