SPECIAL APPRECIATION!!! Great is the Lord and greatly to be praised. I want to express my gratitude to God for His ever increasing grace and glory in my life. Thank you Lord! With a deep sense of humility, I express my profound appreciation to my dear Man of God, Rev. (Dr.) Chris Oyakhilome, for this appointment and the special privilege and honour to be the Chief Executive Officer of our great Loveworld Nation for a tenure of 4 years! Thank you Pastor Sir for your investments of the word in my life over the years, and for giving me the opportunity of service to God in the ministry. Thank you sir for always believing in me and giving me platforms to express my love for the Lord. I wish to appreciate the highly esteemed members of the CEC for this superlative endorsement and for their unflinching support and prayers always. Thank you sirs for the confidence reposed in me, and for your love for me. I specially appreciate our wonderful Pastors, Leaders and Brethren all around the world. You are indeed the best family. Thank you for the loving congratulatory messages to me since yesterday. The word has gone forth and WE HAVE MOVED! We have moved in ranks, addresses, abilities, functions and we are 1000x greater. Indeed, the years ahead will be much more glorious and filled with ear tingling achievements that are humanly inexplicable. By the Spirit, we will forge new frontiers to advance the course of the Gospel with even greater speed and impact. I am excited at what the Lord has purposed for us at this time. I trust that with your support and prayers, we will fulfil all that He has planned for us to do and even more. Warm regards, Pastor Deola Phillips Chief Executive Officer, Loveworld Nation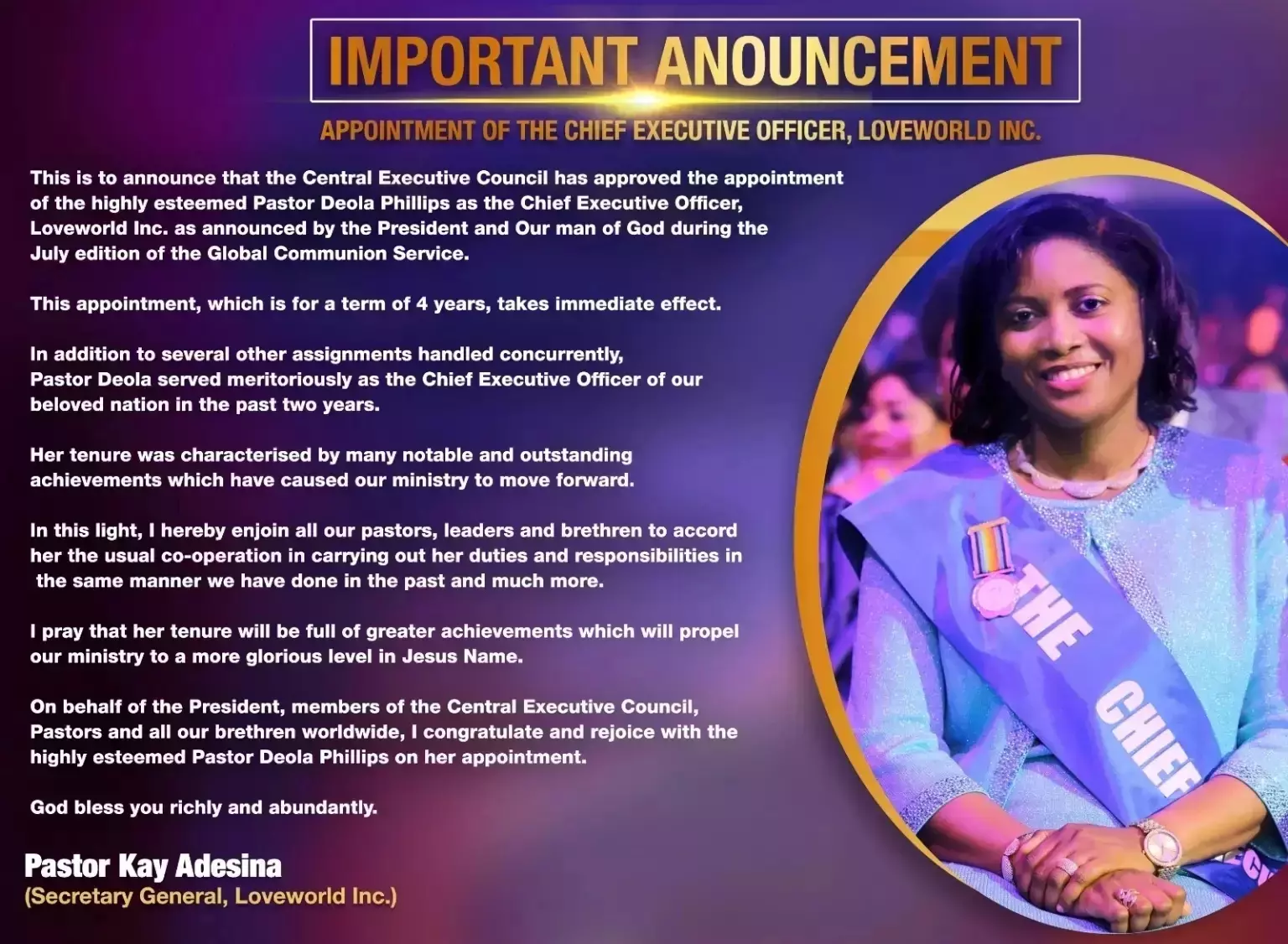 Congratulations to our highly esteemed CEO Pastor Deola Phillips. Onward and forward to the glory and praise of the living God.
I Look Good! Wow https://linktr.ee/ZoeSpokenWord
#prayingnowonpastorchrislive #EWCAZ4 #CAMEROON #CENDOBO / DOUALA #prayingnow
CHRIST EMBASSY PORT HARCOURT ZONE 3 HEARTILY CONGRATULATES THE HIGHLY ESTEEMED PASTOR DEOLA PHILLIPS ON HER APPOINTMENT AS THE CHIEF EXECUTIVE OFFICER (CEO) OF OUR GREAT LOVEWORLD NATION, FOR ANOTHER 4 YEARS. GLORY TO GOD! We love you dearly Ma. #CEPHZONE3
It's thanksgiving month 💃🏽 There's so much to be grateful for : Eveything that has already taken place and for everything that will take place. ☀️ #CEKemptonPark #Loveworldteensministry #Thanksgivingmonth #CESAZONE2
IF GOD CAN BE FOR ME WHO CAN BE AGAINST ME NOBODY!!! SONG FROM #CELEYON TITLED #IWILLRISE
Congratulations to the esteemed Chief Executive Office, Loveworld Inc.