THANK YOU FOR YOUR VALUABLE PARTNERSHIP THIS MONTH OF JANUARY! Thank you, esteemed Prophet Uebert Angel of Good News Church, United Kingdom, for your unrelenting partnership with the International School of Ministry. Through your giving, millions of ministers of the Gospel and ministries around the world are transformed daily. It is our prayer that God will multiply the seed you have sown, so that the harvest of your generosity will continue to grow. May you be abundantly enriched in all things, as you have enriched others. Amen. We love and appreciate you greatly! #ism #thankyou #perfection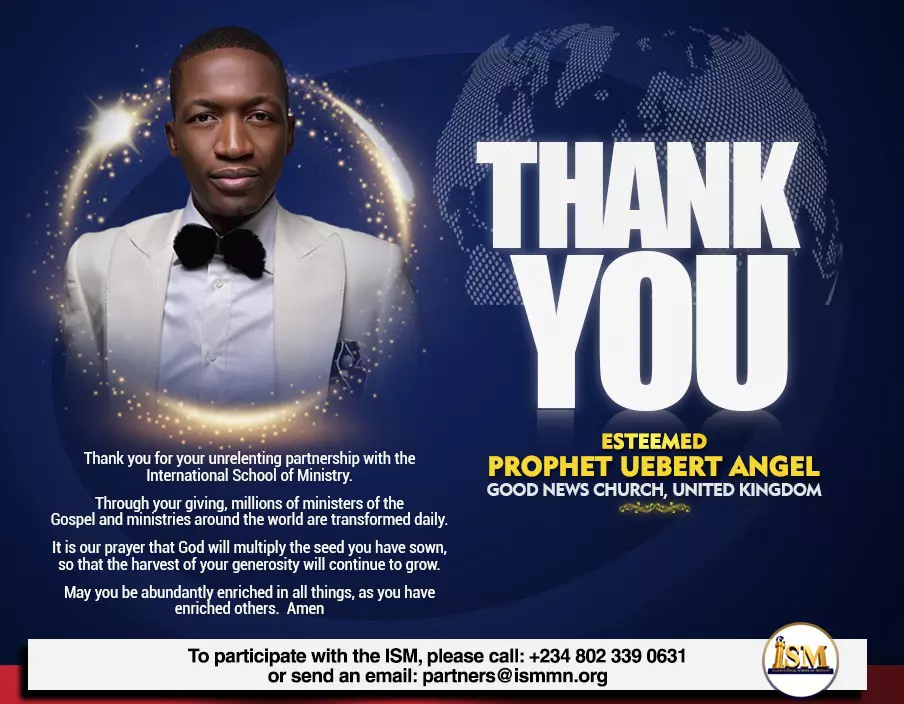 Amanda Khumalo
commented:
Congratulations Prophet sir May God bless you for saying yes to the vision
Evelyn Abotsi
commented:
Congratulations Sir! May the Lord greatly increase your seed sown. Amen!
We increase by the numbers of firsttimers we win to church. #perfectingsoulwinning #calmc #teamcalabarrocks
SPECIAL HAPPY BIRTHDAY TO YOU BROTHER USEN USEN. MAY GOD'S FAVOR AND GRACE CONTINUE TO FLOW YOUR WAY AND MAY HIS MANIFOLD WISDOM BE MANIFESTED IN ALL YOUR ENDEAVORS. GOD BLESS YOU.
: #prayingnow, #PCLprayathon2020;  #prayathon2020, #Iamapriestinoffice, #CE Barking, #UK2Z4, #UK.
Wow what an Honor, Pastor victor Egoh and members of Garki Group church celebrated and honoured the esteem Bro Desmond Utowen the Amiable Haven Gov thanks for all u Do for the Kingdom.we luv u .....
Brie and Nikki Bella both pregnant http://www.contactmusic.com/brie-bella/news/brie-and-nikki-bella-both-pregnant_6300972
Super Bowl LIV score predictions: Who wins 49ers-Chiefs? Which team wins on Sunday? What's the final score? ESPN's pro football brain trust predicts 49ers-Chiefs. http://www.espn.com/nfl/story/_/id/28576384/super-bowl-liv-score-predictions-espn-experts-pick-49ers-chiefs
Happy birthday sis Tessy. You are beautiful inside & out. You are a light to your world and you are shining so brightly. I celebrate you because it's a new level of God's glory upon your life. Enjoy your new age. We love you dearly.