Influencer TV+: THEY SAID WE WOULD NEVER on KingsChat Web
THEY SAID WE WOULD NEVER GATHER AGAIN TO WORSHIP OUR GOD, BUT THEY LIED. Now they are saying we must all carry Digital ID👈👉through FORCED VACCINATION👈 this also is a FIASCO ! raaabbakkeeetbrakaa!!! 👈Only Holy Communion will enter this body. Only the wise will understand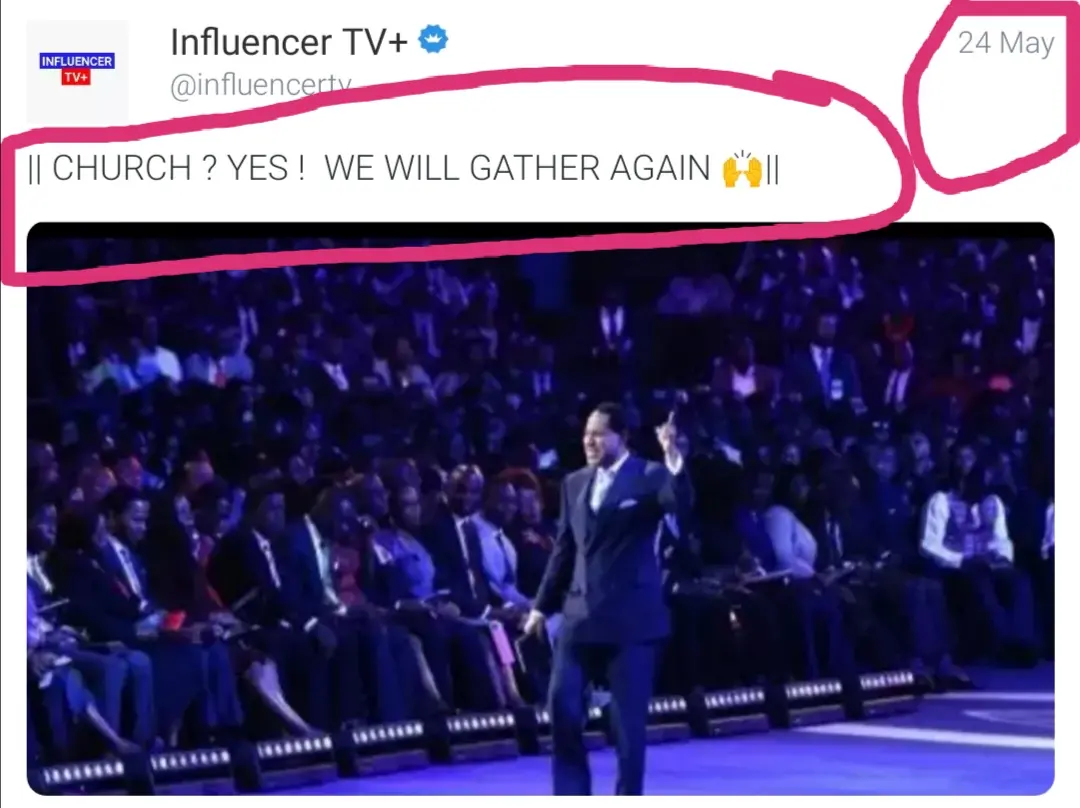 Happy Birthday esteemed Pastor Funmi. Thank you for several years of friendship with us. You are love personified. We love you dearly.
Rhapsodie-Impuls vom 21. November 2020. Rhapsodie-Impuls. [Pastor Chris, Everything Is Subject To Christ, culled from: RHAPSODY OF REALITIES 11/21 (2020), pg.52-53]
Happy birthday to a special someone... My very own fine Pastor😚☺️ Thanks for your pleasant disposition at all times. You're such a fun to be with. Very grateful for your help at Asese 🤭🙏 and of course for all your inspiring work in ministry. Thanks for your friendship.🥰🥳😘💞
Happy Birthday Pastor ma. Thank you for your beautiful life and warmth with which you receive all. Ever joyful and loving. I love you mwaaaah!!!
Pregnant UK woman miscarries after iPhone thief kicks her in stomach A pregnant British woman had a miscarriage after a thief kicked her in the stomach while stealing her smartphone, according to cops. http://feeds.foxnews.com/~r/foxnews/world/~3/YZZtC1v3LcE/pregnant-woman-miscarries-iphone-thief-assault
WHO needs 'more than press release' on Oxford jab, says vaccines chief The World Health Organisation (WHO) has said it needs "more than a press release" about the Oxford/AstraZeneca vaccine in order to evaluate trial results. http://news.sky.com/story/covid-19-world-health-organisation-needs-more-than-a-press-release-on-oxfordastrazeneca-vaccine-trial-12144352
Chelsea vs Tottenham on Sky: Pulisic in line for return Team news, stats and prediction ahead of Chelsea vs Tottenham in the Premier League on Sunday, live on Sky Sports (kick-off 4.30pm). https://www.skysports.com/football/chelsea-vs-tottenham/preview/428929
Crystal Palace vs Newcastle team news LIVE! https://www.skysports.com/football/c-palace-vs-newcastle/live/428930