South East Region: Antichrist means two things: 1. on KingsChat Web
Antichrist means two things: 1. Anti-Christ, meaning against Christ 2. Instead of Christ or in place of Christ In the writings of John the Apostle, particularly the Book of Revelation, you will begin to see the manifestations of the antichrist. Remember, he is a person. When you study the books of Daniel and Ezekiel, the Word tells us about this man and what he would do. There are various descriptions about him (a horn, etc). The spirit that works with him has been here before. The things he does are not entirely new. Examples are: the government, economy and religion. Those are the things the antichrist will use to control the world. This is not something new. Think about this: when you look at history, you will see the kind of power people we have voted for have. In the bible, we see that nations will give the antichrist their authority, just like citizens give to someone they vote for to make him or her a president. Furthermore, we see from scriptures that Satan will give that same antichrist power too. Nations will submit themselves to the antichrist. Have you every thought it would come to a point where streets are clean like they are now? If you go through history, this is something that has been happening over and over again. When such things happened, friends metamorphosed into enemies. Social distancing? Well, it has been there before, it just has a new reason, which is "so you don't infect others." There is always a name for enemies. These things are not new, they are just happening at different levels. There has been a lot of evil and killings before. The difference might be that there were visible people who were responsible before, but now it is an invisible person behind the killing now. Although the killer is invisible, there are various key players now. Thank God we know how to deal with these kind of situations. #CEOWERRI #SEREGION #YOURLOVEWORLD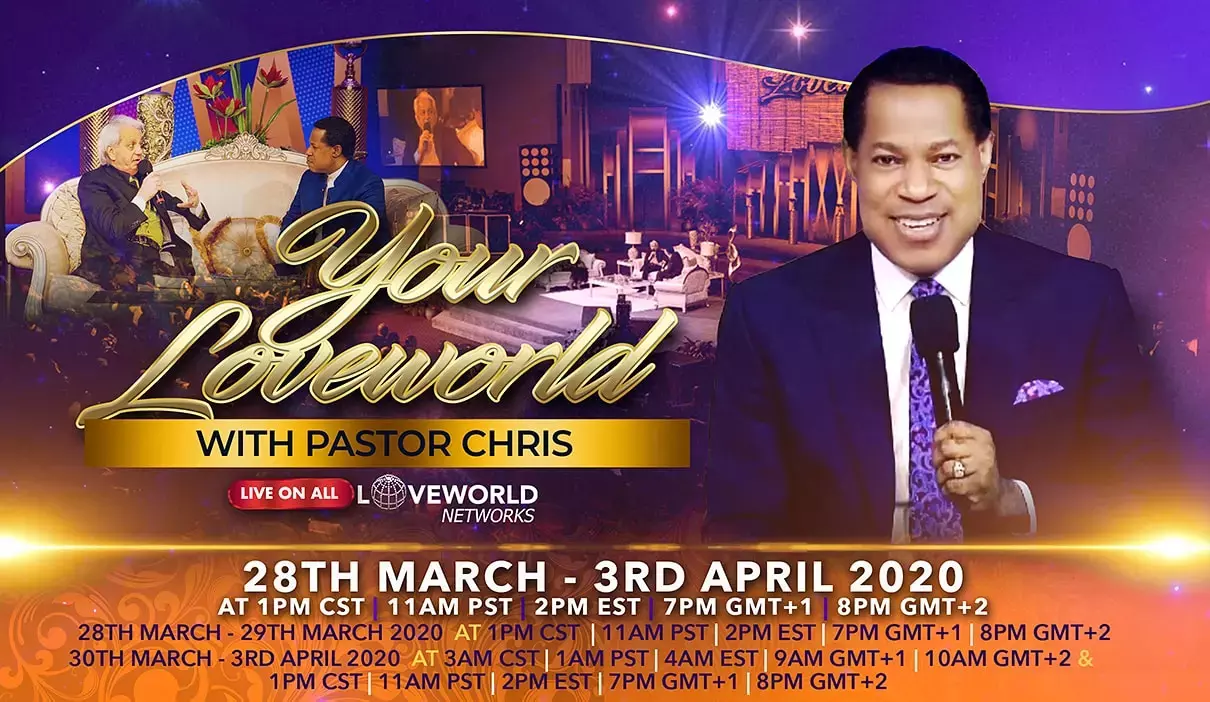 Pst Ben
commented:
The church can't be stopped, hallelujah
Dorah
commented:
Glory to God, we are aware and we cant be Lord over by any government, economy nor religion, it's is our time, until we are gone with Christ, the Antichrist cannot reign. Glory to God!
Pst Comfort Amenkhienan
commented:
Glory to God! We know how to deal with them!!! The weapons of out warfare are not carnal!!!!
Something to shout📣📣📣 about is a birthday celebration of our woman of God, Pastor Rebecca. We celebrate you Ma and thank you for your love for Master. Thank you for inspiring us with the things you do in the house of the Lord. Your labour of love, giving and service for the Master. Thank you for saying yes to your calling. We love you Ma so much.. happpppyyyyyyyy💃💃❤❤❤🍰🎂🍾 # cesazone1 #happybirthday #PastorRebecca3103
GET "CHARGE" IN THE HOLY GHOST. He that speaketh in an unknown tongue edifieth himself…(1 Corinthians 14:4). One of the synonyms for the Greek word translated "Edify" is to charge, like you would a battery. The rendering in the Amplified Translation is very inspiring; it says, "He who speaks in a [strange] tongue edifies and improves himself…" Moreover, in Jude 1:20 (AMP) the Apostle Paul admonished, "But you, beloved, build yourselves up [founded] on your most holy faith [make progress, rise like an edifice higher and higher], praying in the Holy Spirit." This is how you get charged in the spirit and embolden yourself. Is there any challenge before you that seems insurmountable? Are there projects you want to undertake, and you're somewhat not sure what steps to take? Activate the wisdom and power of God by praying in the Holy Ghost, until you're filled with the Spirit. If someone were timid and began the exercise of speaking in tongues consistently, it won't be long before he becomes bold and sound. For someone who's weak, it's the same thing; he'd become strong! Glory to God! When you speak in other tongues, and your spirit is charged, it takes over your mind! Whereas there was fear in your mind, your spirit will rise like a giant from within and dominate the outward man. Paul said to Timothy, "…Stir up the gift of God that is in you…" (2 Timothy 1:6). One of the ways to do this is speaking in tongues! Some Christians easily fall into temptations because they don't speak in tongues sufficiently; consequently, their spirit is weak. Every little dart from the enemy throws them off balance. Refuse to live an ordinary life. There's power in you; stir it up always. In your privacy, speak in tongues! When you're on the go, speak in tongues! This isn't for a particular Christian denomination; it's for every child of God. Get yourself charged in the Spirit; rise like an edifice, moving from glory to glory! #knowledge #alignment #talkingsession #conference #vision400 #affirmationtrain #Insight #wisdom #healingschool #divine #thankyoupastorchris #greatness #atmophereofmiracles #completeness
Hallelujahhttps://www.kingsch.at/p/SzZlZkx
My heart and soul is flooded with Knowledge & Spiritual Understanding. I fully know Who I Am; an Heir of God & a Joint-Heir with Christ Jesus...My Life is continuously Upward & Forward only, from Glory to Glory, from Faith to Faith, & from Grace to Grace, now & forevermore! Amen.
Something to shout📣📣📣 about is a birthday celebration of our woman of God, Pastor Rebecca. We celebrate you Ma and thank you for your love for Master. Thank you for inspiring us with the things you do in the house of the Lord. Your labour of love, giving and service for the Master. Thank you for saying yes to your calling. We love you Ma so much.. happpppyyyyyyyy💃💃❤❤❤🍰🎂🍾 # cesazone1 #happybirthday #PastorRebecca3103
Happy birthday to you Pastor Ma. Thank you for your love, faith and kindness. Your warmest hugs and smile always so amazing. Thank you for your inspiring leadership. Happieee! Have a an excellent day Ma