Pray-A-Thon 2020 - Среда, 14 Октября У вас есть все, что нужно, чтобы изгонять бесов. Узнайте больше в Рапсодии в эту среду. Псалм 89:13-14 говорит, Крепка мышца Твоя, сильна рука Твоя, высока десница Твоя. Правосудие и правота--основание престола Твоего; милость и истина предходят пред лицем Твоим. Во время молитвы сегодня мы будем горячо молиться на языках Духа, а также молиться в соответствии со стихами Священного Писания выше за господство справедливости во всем мире. Провозласите конец злу нечестивых и запретите тем злым духам тьмы, которые контролируют их разум и заставляют их думать и творить зло. Праведность Бога нашего царствует, аллилуйя! Не оставайтесь в стороне от нашего всемирного молитвенного движения. Это ваша возможность в эти последние дни выполнить одно из самых важных заданий на земле молитву. Присоединяйтесь к Pray-A-Thon каждый день всего за 15 минут вhttp://pastorchrislive.org. Не забудьте посетить сегодня служение в середине недели в церкви, на месте или онлайн. Бог благословит вас.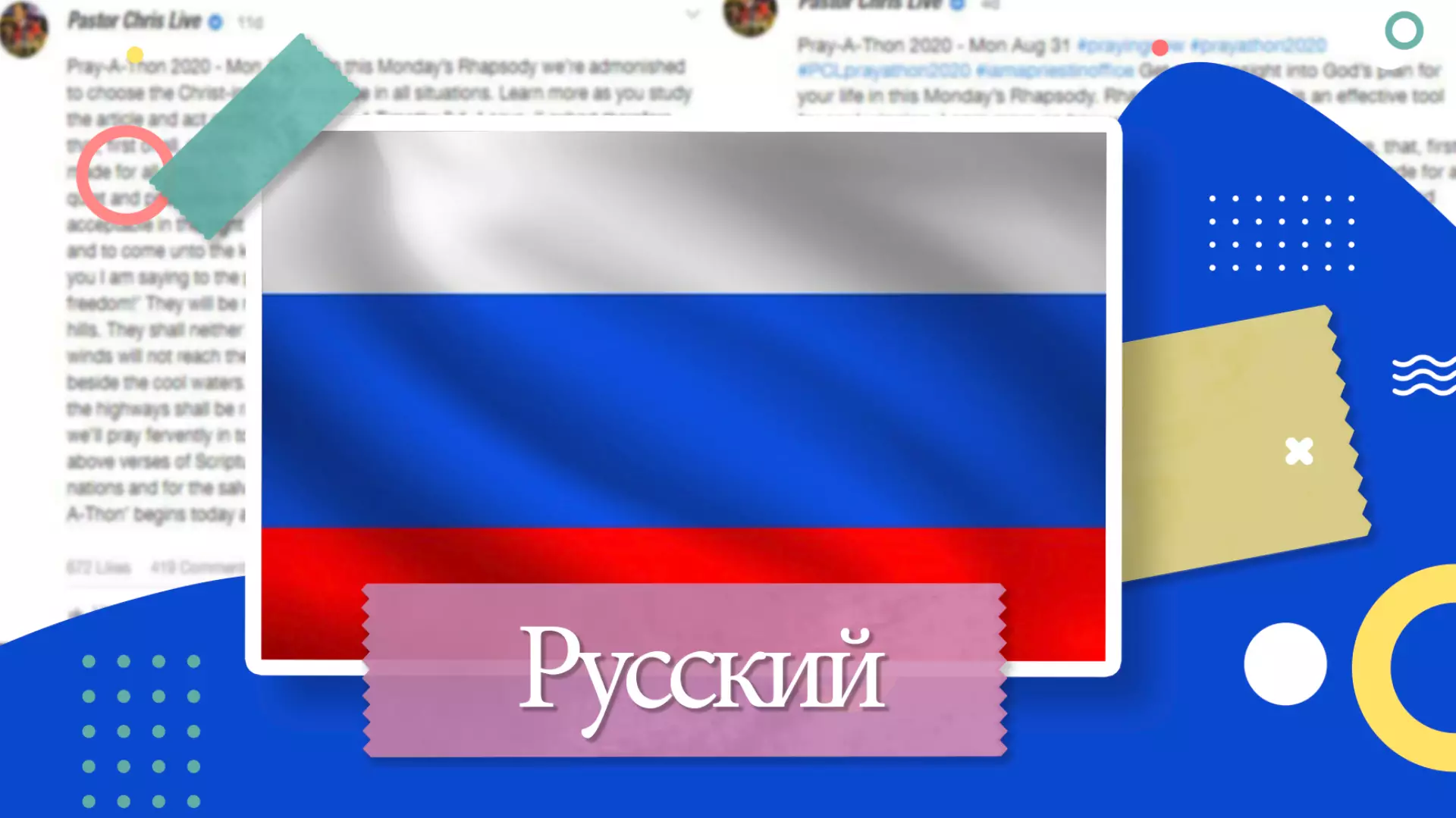 THE BIBLE CONTAINS EVERYTHING NEEDED FOR A MEANINGFUL LIFE! No one should be denied access to a Bible. #thebiblematters #takeastandforthebible #biblecelebration #internationaldayofthebible2020 #rhapsodybible
PROSPERITY IS HAVING ENOUGH TO HELP OTHER PEOPLE. I WALK IN PROSPERITY It's Day 8 on WordFest 2 Substitution Part 1 on www.pcdl.tv #wordfest2 #wordatwork #watchonpcdltv
JESUS GAVE HIMSELF SO I MAY BE FREE TO GO BEFORE GOD🙌🙌🙌🙌🙌🙌🙌 #DAY8 #WORDFEST2 #WORDATWORK #WATCHONPCDLTV
The Message of Substitution brings us Happiness and Joy fulfilling the scriptures Watch Day 8 Study now on www.pcdl.tv #wordfest2 #wordatwork #watchonpcdltv
Oh Hallelujah!!! Glory to Jesus Christ. Thank you Lord Jesus for taking my former nature of sin & giving me your (my actual) nature of Righteousness. #myproclamations #mymonthofproclamation #ewcaz4 #wordfest #wordfest2020 #wordfest2 #cebekoko #cendobo #myyearofperfection
SPREAD FAITH WITH THE HEALING TO THE NATIONS MAGAZINE enterthehealingschool.org/imagazine/HSPI Sign up TODAY to spread faith and minister healing https://enterthehealingschool.org/spreadfaith #SpreadfaithCampaign #healingtothenations #hsinfluencers
#mymonthofproclamations I affirm that the righteousness of God reigns in all Nation's of the world and I declare an end to the wickedness and those evil spirits of darkness controlling people's minds causing them to think and do evil in Jesus Name. Glory to God .
Jesus was the price to be paid for men to become free from sin and all negativities #Day8 on #Wordfest2 #wordatwork #watchonpcdltv
The Holy Spirit was sent to help us walk in the Father's will Learn more from Day 8 on #Wordfest2 with the message: Substitution Part 1 airing on www.pcdl.tv #wordatwork #watchonpcdltv
Jesus didn't die for Christians rather He died for sinners and those who believe in Him become Christians Substitution Part 1 up on www.pcdl.tv #wordfest2 #wordatwork #watchonpcdltv