LoveWorld SAT: RELIVING THE CELEBRATORY MOMENTS OF on KingsChat Web
RELIVING THE CELEBRATORY MOMENTS OF OUR TOP 4-10 PARTNERS IN 2020 😍✨🌍 Thank you once again for your commitment in the spread of the Gospel through the life-transforming message of our man of God, Pastor Chris and for being exemplary in your partnership in the year 2020. We know that the Lord has prepared you for greater exploits in this year 2021, our year of Preparation. We love and appreciate you dearly. God bless you. _ www.loveworldsat.org/live-tv _ #loveworldsattop100 #loveworldsat #loveworldnetworks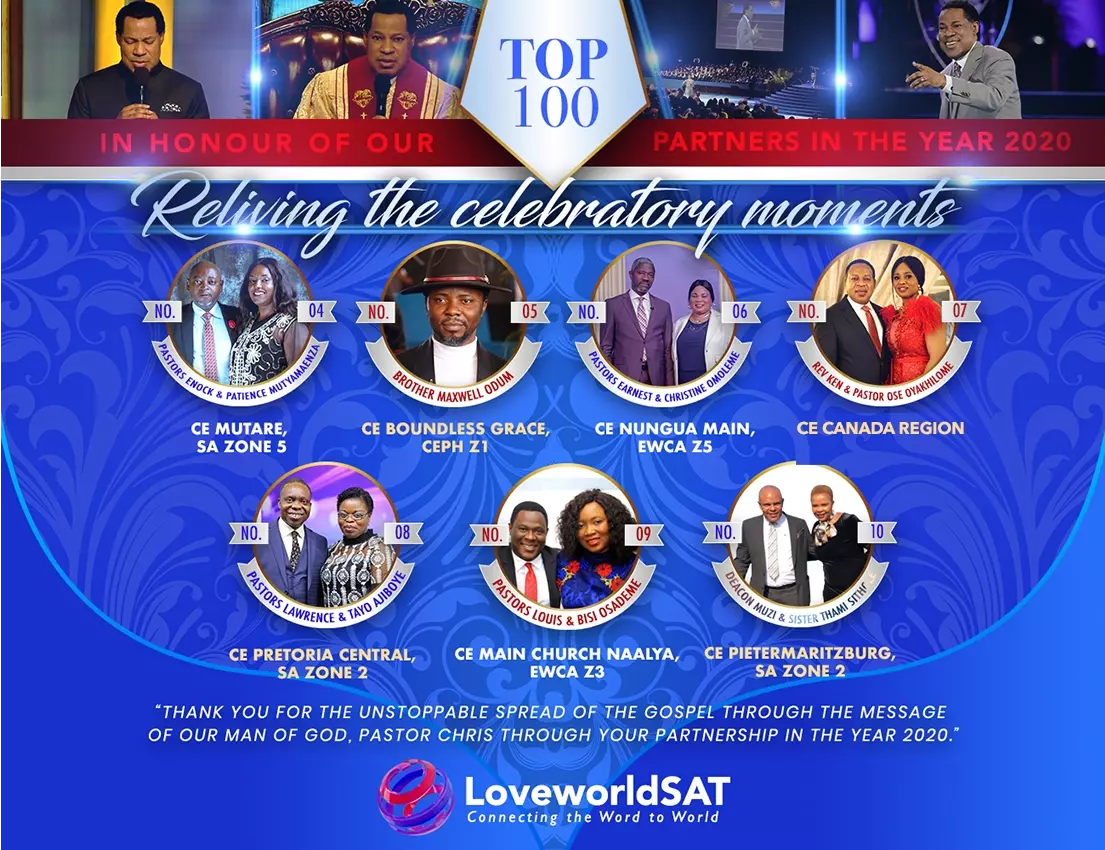 PKO
commented:
Our esteemed Zonal Pastor Sir Glowing at #6. Hearty Congratulations Pastor Sir/Ma.
Cathy Barraq
commented:
Invest $350 into bitcoins and earn $3,400 in 1 week directly to your bank account, add me to learn now, Whatsap +13252445331
*FREEDOM TO BE YOU!* In recent times, we've witnessed an open infringement of universal human rights across the world in many platforms, including on social media. Enough is enough; we choose to keep our freedom and let no man make us bend our belief systems, our values, our voice and our give up our rights. I present to you one of many new platforms that allows you your right to choose, to live and to be. http://nextgram.io/ is a just a click away. I'd be waiting to welcome you on board. Our username is the same @lmamhq See you there.
Happy Birthday highly esteemed Pastor Rudolf Smith! Thank you so much for your passionate commitment to the Healing School. We love you dearly Pastor! #takinghealingtothenations #healingstreamstv #ispreadfaith #projectoasis
The Set Time Is Nowwwww... #PCDL 4
LIVE NOW 6:00PM - 6:30PM : WORLD VIEW WITH YVONNE KATSANDE. 🌍💻🌍💻🌍 Watch today's special episode of World View with Yvonne Katsande as she interviews Nelson Chamisa, a Zimbabwean politician and the current President of the Movement for Democratic Change. Tune in now to watch. _ www.loveworldsat.org/live-tv _ #loveworldsat #loveworldnetworks #worldview
PRAY-A-THON WITH PASTOR CHRIS 2021 DSP UK Zone 3 churches praying from 4-5pm GMT Praying now: Dagenham Group churches #Iamapriestinoffice #Prayingnow #PCLPrayathon2021 #DSPUKZone3
RELIVING THE CELEBRATORY MOMENTS OF OUR TOP 11-19 PARTNERS IN 2020 😍✨🌍 Thank you once again for your commitment in the spread of the Gospel through the life-transforming message of our man of God, Pastor Chris and for being exemplary in your partnership in the year 2020. We know that the Lord has prepared you for greater exploits in this year 2021, our year of Preparation. We love and appreciate you dearly. God bless you. _ www.loveworldsat.org/live-tv _ #loveworldsattop100 #loveworldsat #loveworldnetworks
Amazing! #RZDOP #RhapsodyOfRealities #BLWUKZONEB #BLWCampusMinistryRocksTM
You are Royalty. Pay like a King, get paid like a King. It's called KingsPay! Download App on Google and Apple store. You can also use the web platform - www.kingspayweb.com #digitalpayment #youareroyalty #KingsPay #globalpayment #KingsPayApp #KingsPayWeb #easysafefast
The Lord has made me a Royal Priesthood, here r my Souls of Thanksgiving @ d Loveworld Crusade Grounds Asese Today. How I love you Lord. #HBD#PastorChrisgeneration#ChristConciousness#DivinelyFavoured#CelebrationplusIncreasedGrace#BornofGod#Halleluyah!!Souls-Emma,Ola&Ayo,Esther