Affirmation Train: DON'T SUCCUMB TO PRESSURE BY on KingsChat Web
DON'T SUCCUMB TO PRESSURE BY PASTOR CHRIS OYAKHILOME. For our light affliction, which is but for a moment, worketh for us a far more exceeding and eternal weight of glory; While we look not at the things which are seen, but at the things which are not seen: for the things which are seen are temporal; but the things which are not seen are eternal (2 Corinthians 4:17-18). Why should a Christian read the Scriptures, like our theme verse above and still gripe and moan about challenges? It makes no difference the pressure you face from the adversary; refuse to budge, because the greater One lives in you. Never find yourself wearing a sad look, frustrated, because of the challenges you might be facing. That's what Satan wants; he likes to see that you're under the pressure; but don't give him that luxury. Christ lives in you. Therefore, when you face crises declare, "Greater is He that's in me than all the pressures and challenges that could ever come against me!" Whatever you may be going through is a light affliction; always remember that. Learn to laugh no matter the pressure, because every adversity you face will produce for you a far more exceeding and eternal weight of glory. The Word says so; hence, it's the only outcome to expect. That's why you must rejoice in the face of adversity. The Bible says, "…the joy of the LORD is your strength" (Nehemiah 8:10). Learn to celebrate, and rejoice in the Lord, especially when the squeeze is on. Refuse to focus on the problem. Fix your gaze on God's eternal Word. The Holy Spirit who lives in you will make you triumphant always, and in every situation. CONFESSION I celebrate the Word, its effectiveness in me, and power to put me over all adversities. I'm reigning in righteousness, growing in the grace, wisdom and knowledge of our Lord Jesus Christ. I cause circumstances to align with the perfect will of God for my life through my faith-filled confessions, in Jesus' Name. Amen. #halingschool #wehavemoved #8DOM #completeness #aligment #yourloveworld #affirmationtrain #hspc #themonthofgrace #theyearofpreparation #talkingsession #thankyoupastorchris #8daysofmeditation #rhemafortoday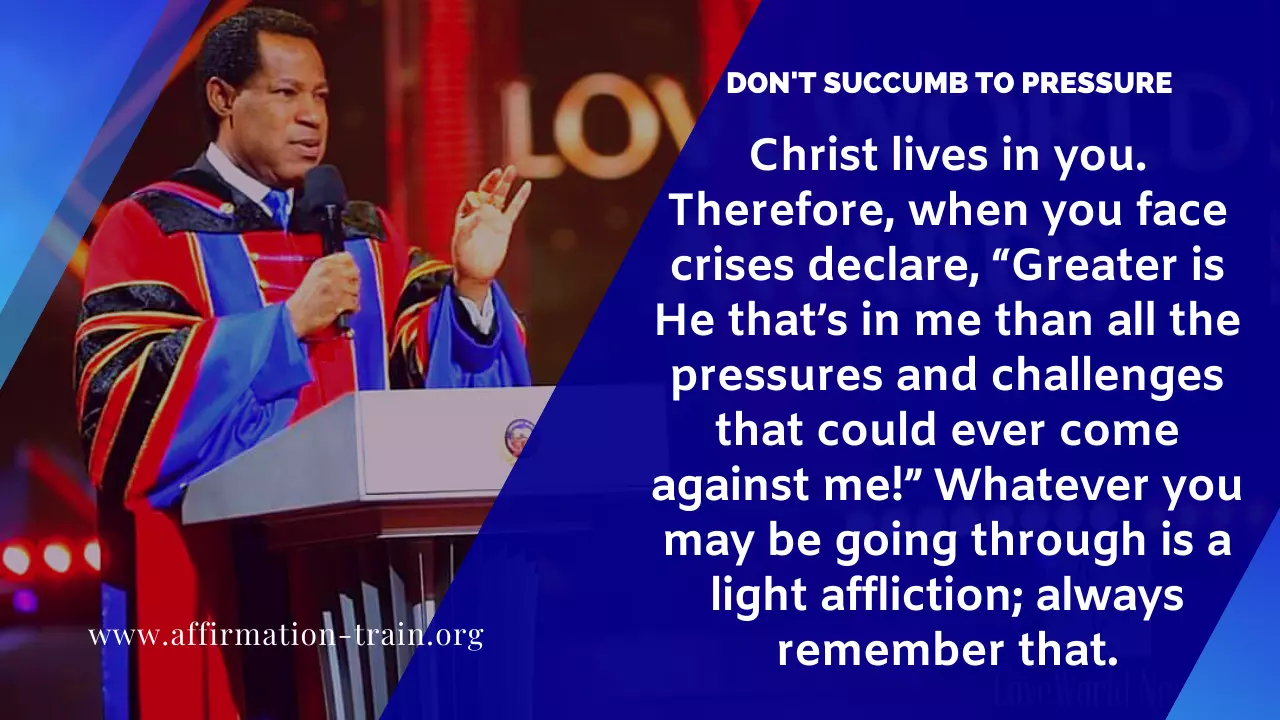 Rhapsody Of Realities READ ALONG SUNDAY, APRIL 4TH 2021 TOPIC- The Proof Of His Love. PART 1 #kingschatrecommends #ceb #usar1z1 #ror #pco #pcl #tni #pcdl #kingschat https://youtu.be/8i3G5aJ5pCo
DHCONFESSIONS 4TH APRIL 2021 🗣️💯 Visit https://enterthehealingschool.org to listen to our daily divine health confession podcast. Christ is your life! In Him you live, move, and have your being; therefore, your heart, mind, and body are sanctified to produce life always. Follow us @hschool for inspiring contents throughout this month of April and get your family, friends and loved ones to do the same. Thank you and God bless you! #dhconfessions #healingstreams #healingtothenations
Photospeaks- Foundation school Graduation at Christ Embassy South East Zone 2- Asaba Centre #ceasaba #sez2
DIVINE HEALTH CONFESSIONS 4th April I was saved, but with the precious blood of Christ,as of a lamb without blemish and without spot Visit:www.enterthehealingschool.org/dhr to listen to the daily divine health podcast #Faithproclamations #Dhconfessiones #healingtothenations
#ItsEasterSuperSunday #RhapsodyOfRealitiesToday 📌 THE PROOF OF HIS LOVE When we say, "God loves you," many think it's just a generic communication about God's love for everyone. Yes, He does love everyone, but He thinks of, and relates to you like you're the only one on the face of the earth. Each one of us is uniquely valuable to God; as valuable to Him as Jesus is. This is so huge a truth that it takes understanding the Word of God and the thinking of the Spirit to accept it. God proved His love for you with the price He paid: the life of Jesus. The Bible says, "But God commendeth his love toward us, in that, while we were yet sinners, Christ died for us" (Romans 5:8). If you were the only one on earth that needed salvation, Jesus would have still come to die for you. He didn't come because we were many. Luke 15:7 says, "I say unto you, that likewise joy shall be in heaven over one sinner that repenteth, more than over ninety and nine just persons, which need no repentance." If that's the truth as it is, I want you to think what it means to the Father for anyone to go to hell. 2 Peter 3:9 tells us, "The Lord is not slack concerning his promise, as some men count slackness; but is longsuffering to us-ward, not willing that any should perish, but that all should come to repentance." He wants everyone to know, embrace, and walk in the truth of His love. He's entrusted us with the message of His love, to share it with the whole world. Remember, He saves you and makes you His partner in saving others—a soul winner. Therefore, make this Easter count for someone in your world who hasn't yet known the Lord. The responsibility is on you to reach those in your sphere of influence with the news of Christ's love and saving power. Think about what the apostles of Christ did for us regarding this glorious Gospel; they gave everything and even their lives because they thought it was worth that much. They wanted to make sure that the Gospel went to others, until it got to us. Let it be your ultimate passion, joy, love and pride to give of your finances, time and energy for the spread of the Gospel around the world. It's such a great honour and privilege to be a part of something so sublime and so divine. Glory To God! Make This Easter Count For Someone Sponsor, Share Rhapsody Of Realities 👉 http://bit.ly/34ShUOd PRAYER Dear Father, what a blessing it is to know that it was not with perishable things such as silver or gold that I was saved, but with the precious blood of Christ, as of a lamb without blemish and without spot. I go all out with the Gospel, and see others through your eyes of kindness and love, reaching out to them with the good news of salvation, in Jesus' Name. Amen #CELVZ #TheYearOfPreparation #Easter #HappyEaster #RhapsodyOfRealities
HAPPY EASTER 🎄🎄🎆🎉🎁 THE APRIL 2021 GLOBAL SERVICE WITH PASTOR CHRIS IS HERE As we celebrate the miracle of Christianity and the sublime ministry of reconciliation to which we have been called, we are ever so grateful to the Lord for the privilege to work with our Dear Man of God, Rev Dr. Chris Oyakhilome in the greatest army of Global Evangelization, reaching over 5.3 BILLION SOULS. The month of March was indeed our month of CHANGE, and as declared by our Man of God, we experienced significantly striking CHANGES both in our lives and the world over. Through our prayer, we set in disarray the evil plans of mercenaries to wreck havoc in the nations, and birthed an extraordinary harvest of SOULS in those camps and all around the world. And now APRIL is the MONTH of?????? Get set to receive that RHEMA word and guidance that will set you on course for unprecedented accomplishments in the month of April as you join our Dear Man of God, Rev (Dr) Chris Oyakhilome at the APRIL GLOBAL SERVICE today, Sunday 4th April 2021, at 4:00pm GMT +1, 11:00am EST. It will indeed be a time of the Supernatural. Remember to: 👉Write your expectations for the Global Service 👉Spend time in prayer for the Global Service 👉Invite everyone you know and get them to attend the Global Service Participate live through any of our Loveworld Network Stations, CEFLIX, LIVE TV, Ministry Websites and Mobile Platforms. See you there! #globalcommunionservice #pastorchris #ministryprogramswithpastorchris
Happy birthday Sis Jane Odetola. A woman sent from God.Thank you for being a helper of the war, so dedicated and full of love. Thank you for all you do for church and ministry. Thank you for always saying "DONE DEAL Sir". You fly on the wings of the spirit. Hurray!
#prayingnow #pclprayathon2021 #prayathon2021 #iampriestinoffice #WEVZ1 #CENetherlandsAlmere
HAPPY EASTER! 👩‍👩‍👧‍👧👩‍👩‍👧‍👦💥💫💫💫 #hscyberchurch #dhconfessions #faithproclamations Halleluyah!!