The Haven Nation: Celebrating Our Dear Dcn Ola on KingsChat Web
Celebrating Our Dear Dcn Ola Adedeji Of The Haven Zone B1. Happy Birthday!! We love and appreciate you. From all of us in The Haven Nation. #HavenZoneB1 #TheHavenNation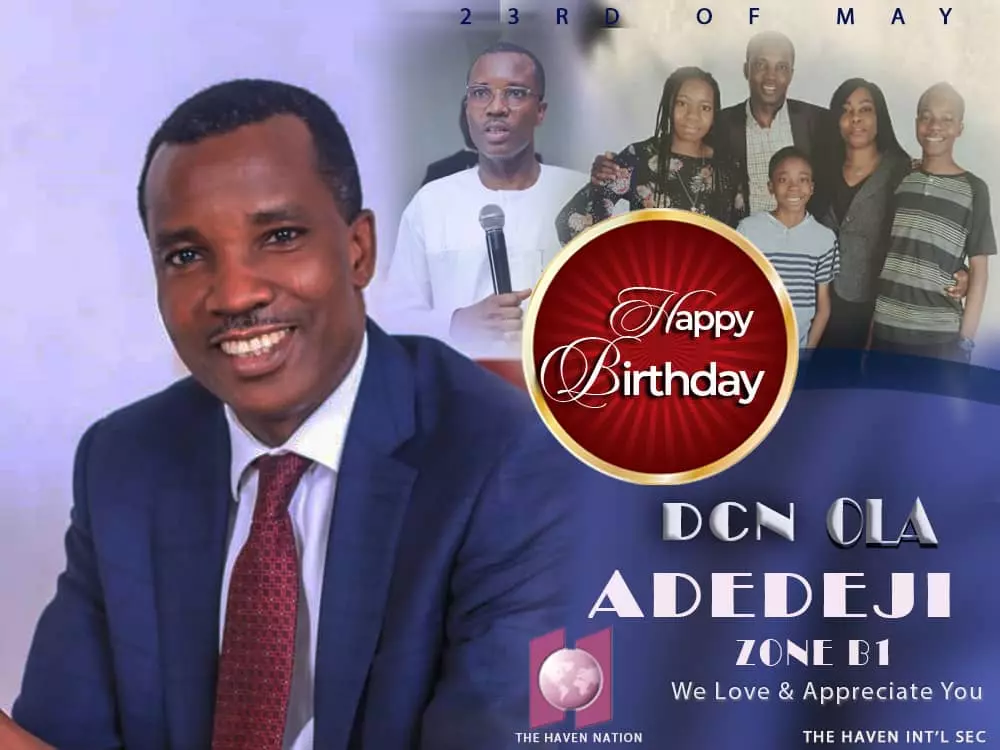 GIDEON SHINNING
commented:
Happy birthday deacon sir.thank you sir for all that you do for God and us the people of God .God's presence will continually be upon u sir to do greater works.... Happy birthday my highly esteemed Governor.
Wale Aleshinloye
commented:
Wow,wow,wow!!! Happy birthday dearest deacon. I love you dearly.
🔥Don't miss this!! Reposted from @lmam_uk 🔥📍LESS THAN 2 HOURS TO GO📍 . A CONCERT LIKE NONE OTHER! 👩‍🎤🤸🏽‍♂️👨‍🎤🤸‍♀️✨✨ . Shout it Loud! Tell everyone on your contacts list! 🗣️👤 🗣️👤 . This is one concert you don't want to miss! 🔥🔥🔥 Get ready for the Miraculous! 💃🕺 . 🌟 Time: 4PM (GMT+1) 📍 LIVE streaming links: . 🛑 LWUK Zone 1 https://loveworldukzone1.com/ . 🛑 YouTube LINK IN OUR BIO . 🛑 CeFlix ▪️https://ceflix.org/videos/watch/1849500 . 🛑 Facebook ▪️https://www.facebook.com/blwukz1/ . 🛑 www.lmamuk.com - #regrann
#Wordfest #wordfest2020 #wordatwork #abujazone When I met Jesus, I arrived home and my search ended. He made me an associate of His Kind. Oh! Am immortal, glory to God.
Son of God means God in a human body #wordfest #wordfest2020 #campusministryrocks #blwemu
#wordfest #ceaz #wordatwork #abujazone
Sensational Gospel Artist, Ada Lawrence released her first album titled; Jesus My Rock in 2015. As a follow up, she shot an released her first musical video titled; celebrate. Here is her video titled; celebrate, YouTube link: https://youth.be/ 7C4Dz1Qcgx8
Our Zonal Director Pastor Euginia ministering!!!!! #happeningnow #london1subzone #anewdispensationofgrace #thehavenze1 #thehavennation
Praise God , more knowledge #wordfest #Wordfest2020 # Wordatwork #ceukzone3
Create the Money Miracle See God as my source He is the one who knows where the money is My Zonal Director #thehavencentral #london1subzone #anewdispensationofgrace #thehavenze1 #thehavennation
AN INTRODUCTION TO 7 AMAZING BLESSINGS OF THE GOSPEL ON DAY 20 OF WORDFEST These Has Been Glorious Times Indeed Amazing Times With Our Man Of God Almost Daily...