Kiddies LoveWorld: IT'S NEW!! Just for KIDS, on KingsChat Web
IT'S NEW!! Just for KIDS, parents and wards!! THE 'I KNOW WHO I AM' ONLINE WORKSHOP FOR CHILDREN. Coming up this Saturday JUNE 13th, 2020. Get your children REGISTERED! Click on the LINK to register: https://kiddiesloveworld.org/new/workshop-registration It's a month of online FUN & ACTIVITIES for the kids in celebration of Children's Day!!. ----------------------------------------------- CONTACT US: +2347089995994 info@kiddiesloveworld.org ----------------------------------------------- To Get Our Wholesome Books for Children: https://play.google.com/store/apps/details?id=com.rhapsodyreader #cdc2020 #childrensday2020 #childrensday #childrensbooks #kids #children #children's #iknowwhoiam #lockdown #everychildalive #everychildismychild #cdc2020VRP #virtualreadingparty #applaudoursuperkids #klwvirtualreadingparty #childrensday #loveworld #loveworldchildrensministry #innercitymissionsforchildren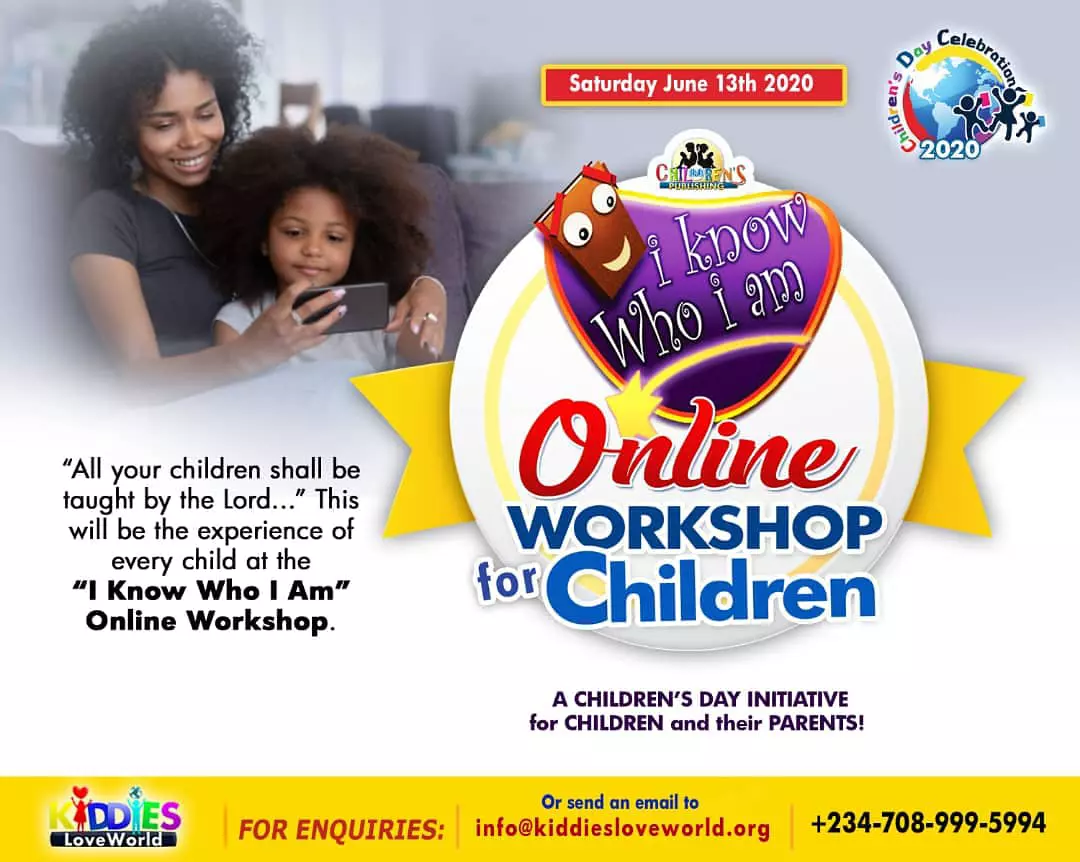 Debbie
commented:
Awesome. CEPH 3 kids are ready💃💃💃💃💃
Celebrating a beautiful silver jubilee of love & blissful marriage to our awesome & amazing Deacon & Deaconess... It's 25 beautiful years gone & many more years in blissful union to go... 🎊 🎊 🥂
Pray-A-Thon 2020 - Wed June 10 As a child of God, success is built into your spirit. Learn more in this Wednesday's Rhapsody. Remember to get your June edition from the Rhapsody app store, for adults, teens and kids. James 5:15 says, '...And the prayer of faith shall save the sick, and the Lord shall raise him up; and if he have committed sins, they shall be forgiven him'. At our prayer tines today, we'll intercede fervently in tongues of the Spirit, and also pray for Christians who are sick in their bodies, that great grace be directed toward them for healing, restoration and feeling of wellness; that their faith in the Lord and His provisions of divine health in Christ be strengthened. Remember it's our special month of prayer, and we pray daily for 15min by 12noon and 10pm (Local/GMT), and an additional 15min of choice, or along with your zone, when leading global prayers online. Also make sure to participate in your zone's special 'hour long' prayer, holding twice this month. God bless you.
#ceaccraghanazone #proceed2020 #10weeksofharvestweek1
#ceaccraghanazone #proceed2020 #10weeksofharvestweek1
Join us Live on LOVEWORD PLUS on Prayer Reguest Fest Day on Thursday 11th June . Time 9: 00pm #cesiluko1 #cemidwestzone #lovewordplus
#ceaccraghanazone #proceed2020 #10weeksofharvestweek1
#ceaccraghanazone #proceed2020 #10weeksofharvestweek1
Sammy seeks clarity from ex-team-mates on alleged racism Former West Indies captain Daren Sammy has sought clarification from his former Sunrisers Hyderabad team-mates over potentially racist language directed at him when he was part of the Indian Premier League franchise from 2013-14. https://www.skysports.com/cricket/news/12040/12003926/daren-sammy-ex-west-indies-captain-seeks-clarity-on-alleged-racism-at-sunrisers-hyderabad
SPFL Trust receives £3m donation to help clubs The SPFL Trust has reached an agreement with businessman James Anderson over a substantial donation in excess of £3m to help clubs and support their communities. https://www.skysports.com/football/news/12040/12003917/spfl-trust-receives-multimillion-pound-donation-to-support-clubs-in-scottish-football