Reon Youths International: COUNT UP! COUNT UP!! 🚀🚀🚀🚀🚀🚀🚀🚀🚀🚀🚀🚀 on KingsChat Web
COUNT UP! COUNT UP!! 🚀🚀🚀🚀🚀🚀🚀🚀🚀🚀🚀🚀 📣 IT'S #3DAYS TO THE GLOBAL DAY OF PRAYER WITH PASTOR CHRIS.🌏🌏🌏 👉 Let's make History together: One invitation could change someone's life! 👉 When you invite someone to participate in the upcoming Global Day of Prayer with you, you're inviting them to experience the life-changing power of God's Word. Start TODAY! 🎯 REGISTER NOW: reonyouth.org 🎯 SPONSOR AN OUTREACH!!! One Outreach equals 100 copies of Rhapsody of Realities. Impact the lives of 1.8 Billion youths around the world with Rhapsody of Realities. http://1millionoutreaches.org/reonyouths 🎯 Invite 100 youths to participate in the Session. Kindly share your expectations with us On The comment Section. ⏰🗓️: Starting 6:00pm GMT +1, 1:00pm EST FRIDAY 26th to SATURDAY 27th MARCH 2021. #globaldayofprayer #ropc2021 #rhapsody #reonyouth #reonyouths #reonyouthinternational #monthofchange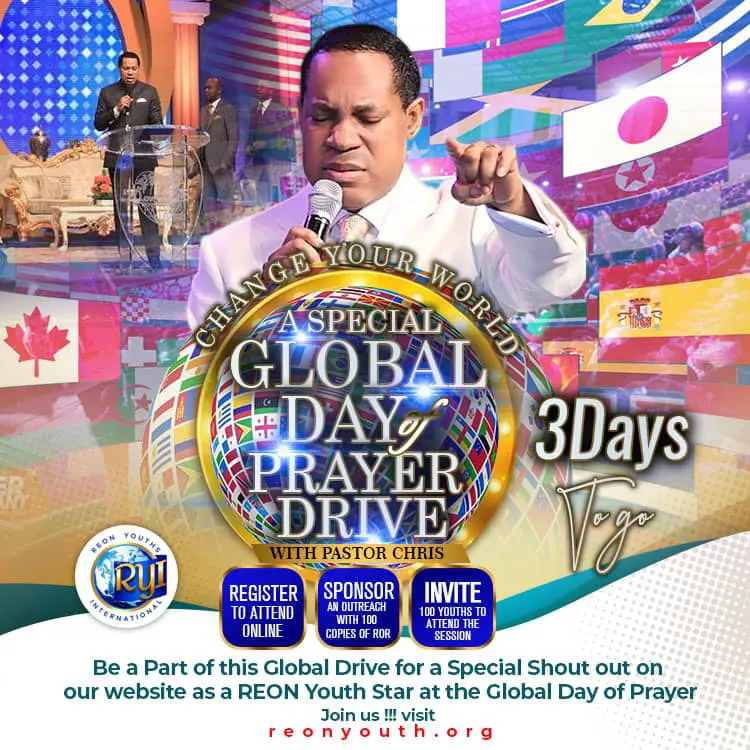 ASTUTE DCN JOE #celebratingdcnjoe@50 #cewarriministrycentre #centralchurch2much
Happy supernatural birthday to my swaggious boss! A boss full of compassion, love & zeal for the things of God. It's being a thing of Joy working with you. I love you so much ma. I love dearly ma.
Glooory!What a beautiful time of communing with the spirit for an hour,standing in the gap for the nations,leaders,all men,and the lost in Australia We have received all we have prayed for.1 hour went so fast,did not even want to stop!Glooory!! #CEAustralia #Global hour of prayer
📣 It's Day 9 of the 14-day Exposé on CHANGE. Watch Live or Download Free Using This Link 👇 https://pastorchrisdigitallibrary.org/exposeonchange/ceewcaz2 ♦️Message titled 'FAITH TO RECEIVE.' ✅ Download the Study Guide and remember to create your avatar upon completion of today's study. Spread the Word! Don't miss out. #GetitonPCDLTv #PCDLTV #ExposeOnChange #HappeninginMarch #watchonpcdltv #ewcazone2
3 Days to our All Night Service! Friday 26th of March is our first, yes power-packed, and anticipated Favoured Haven all-night tagged CELEBRATION NIGHT! Venue: PRC complex Time: 10pm Come with a strong desire to receive, set your expectations! Ours live will be transformed!
Get On board Today! 😎😎 On the Pastor Chris Digital Library access all messages of Your LoveWorld Specials with Pastor Chris on GOLD Subscription This March. #YLWSwithPastorChris #subscribe2GoldonPCDL #NowOutOnPCDL #ThankyouPastorChris
When we get to heaven, all that will matter is souls... What you did to save souls and to spread the Gospel of our Lord Jesus. Keep the main thing the main thing! 💪 #zoeyouthconnect #savinglivesmatters #tellsomeoneaboutJesus #saveasoul #soulwinning #cesazone4 #cellministry
CEYC Cape Town had a glorious time in his presence this past Sunday, highlights below: Join us this coming sunday for more glory, tell a friend to tell a friend. #CEYC #CESAZone4 #CESouthernAfrica
Happy Birthday Esteemed Pastor Sir, I Love You so dearly sir. #HBDPstYinkaOkunusi #ceenvirons2 #celz1rocks