JOEL OLAITO: HAPPY BIRTHDAY ESTEEMED PASTOR BISOLA on KingsChat Web
HAPPY BIRTHDAY ESTEEMED PASTOR BISOLA ADEYEMI. THANK YOU SO MUCH MA FOR ALL THAT YOU DO FOR US. WE LOVE YOU DEARLY MA. FROM: AIR FLOURISH TRAVELS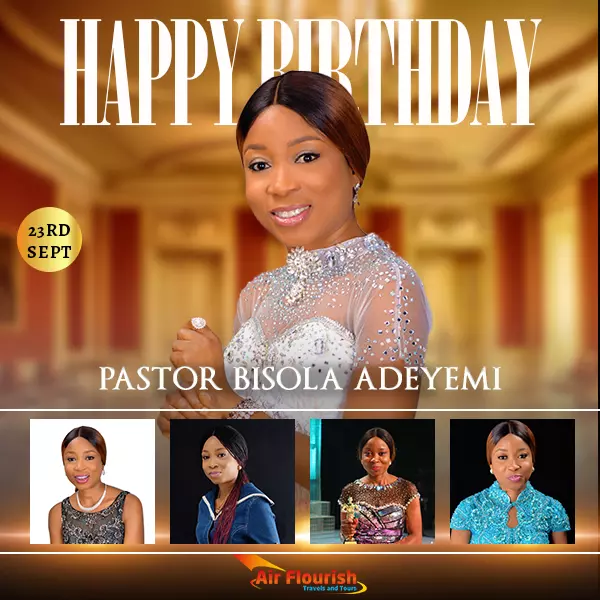 Chichiubiwa
commented:
Happy birthday Pastor Bisola. I love you
Create personalized entry for Deriso Gold International Concert https://inbranded.co/c/uru #THEGREAT28
Changing lives through prayer 🙏 🙌
Winning Souls for our Lord and King Jesus Christ 🙏
MY EXPECTATIONS FROM AROUND THE WORLD🌍 Join us @ prayer.enterthehealingschool.org WHAT ARE YOUR EXPECTATIONS?🤔 Write them down as you prayerful prepare. To participate live in the Global Day of Prayer with Pastor Chris, visit👇 prayer.enterthehealingschool.org or on the Healing School mobile app. Date/Time: Friday 25th September by 6pm GMT+1/1pm EST, to Saturday 26th September 2020. Like, share and comment. #globaldayofprayerwithpastorchris #healingstreams #hspn #healingtothenations
#blwzonej #prayeroutreaches #blwcampusministry
Praise God!!!! Highlights Of Prayer Outreach!! #BlwZoneJ #PrayerOutreach #BlwCampusMinistry
Happy Perfect Esteemed Pastor Bisola Adeyemi! Thank you for being a huge blessing to the body of Chris. Thank you for your outstanding commitment to the Bible Mandate. We love you dearly!
Prayer Outreach #46. We're making power available again. Thank you Pastor Sir for the opportunity. #ispreadprayer  #iamaprayerinfluencer #prayingnow  #pclprayathon2020  #prayathon2020  #iamapriestinoffice  #CeAccraGhanaZone  #CeAvenor  #AchieversPCF
Prayer Outreach #46. We're making power available again. Thank you Pastor Sir for the opportunity. #ispreadprayer  #iamaprayerinfluencer #prayingnow  #pclprayathon2020  #prayathon2020  #iamapriestinoffice  #CeAccraGhanaZone  #CeAvenor  #AchieversPCF
Happy Birthday Esteemed Pastor Bisola Adeyemi. Thank you for all that you do for us. We love you dearly ma. From: Air Flourish Travels