Affirmation Train: #AFFIRMATIONTRAIN 23RD NOVEMBER. I affirm on KingsChat Web
#AFFIRMATIONTRAIN 23RD NOVEMBER. I affirm that the Word of God dwells in me richly, causing me to know and walk in God's divine plan. I am filled with the knowledge of God's will in all wisdom and spiritual understanding. The Word of God is alive in my spirit, soul, and body; therefore, my life is full of beauty and excellence! The Rhema of God is in my heart and in my mouth today; and as I speak it forth, mountains are moved, hills are leveled, and the crooked paths are made straight. Nothing is impossible for me because the greater One lives in me. By His power, that is at work in, and through me; I create my victorious and prosperous life, from glory to glory. Hallelujah! My words are not empty, they are filled with divine energies. The anointing of God's Spirit is in my words; for the words that I speak, they are spirit and they are life. My words never fall to the ground without results. When I speak, angels are dispatched into action. My words are quick and powerful, and sharper than any two-edged sword. With my words, I cut down every challenge and situation that are contrary to the provisions of the kingdom. I refuse TO BE SMALL because I am the child of the monarch of the universe! With my mouth, I make my way prosperous. Glory to God. Hallelujah! Hallelujah!! SPEAK IN OTHER TONGUES NOW • Be bold to say the same things that God has said concerning you in His Word. That is what takes you beyond salvation, to enjoy the benefits of salvation ~ Pastor Chris Oyakhilome. You Can Now Reach Us On: • info@affirmation-train.org • www.affirmation-train.org God Bless You. #globaldayofprayer #monthofpraise #perfection #affirmationtrain #Insight #alignment #blessed #talkingsession #praise #excellence #imcc2020 #ippc2020 #prayathon2020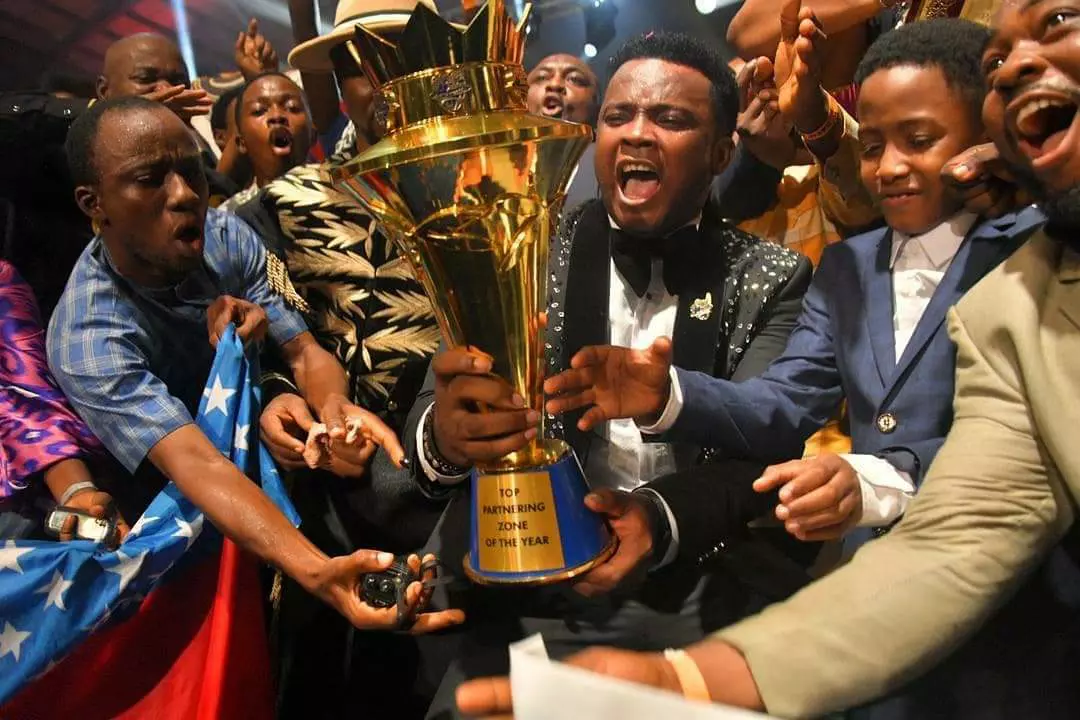 Happy birthday Dearest Saki I celebrate the grace of God upon your life even as you have begun a new year. The Lord has perfected all that concerns you, so walk like the perfected and immortal being that you are in Christ. I love you dearly 💋💕😘
Happy Birthday Amazing Esteemed Pastor Peter Odaba... A Pillar of Faith We love you dearly Sir... #NNCZ1 #CE_JOS #CEGOMBE #HAPPYBIRTHDAY
DIVINE HEALTH CONFESSIONS NOVEMBER 23 The Lord is my refuge and my fortress, He's my habitation; in Him I live and move, and have my being! Visit:www.enterthehealingschool.org/dhr to listen to the audio podcast. #Faithproclamations #Dhconfessiones #healingtothenations
PRAYER GUIDE FOR GLOBAL DAY OF PRAYER DECEMBER 1ST 2020 MONDAY 23RD NOVEMBER 2020 PRAYER FOR THE PROGRAM PUBLICITY STRATEGIES AND ALL PUBLICITY MATERIALS Mark 1:27-28: And they were all amazed, insomuch that they questioned among themselves, saying, What thing is this? what new doctrine is this? for with authority commandeth he even the unclean spirits, and they do obey him.  And immediately his fame spread abroad throughout all the region round about Galilee. PRAYER POINT Pray for all materials, strategies and efforts being deployed in the Publicity and awareness for the Global Day of Prayer. Declare that the anointing of the Spirit is upon all our publicity materials and as we spread them, News about the program will spread very quickly throughout all nations of the world. Declare that we are led by the Spirit in circulating the materials and all that receive them will be compelled of the Spirit to attend the Program. Declare that all our publicity strategies are highly effective, and produce the desired results, causing billions of people to attend the program. PROCLAMATIONS I PROCLAIM that all publicity materials and strategies for this program are highly effective, leading to the participation of billions from all around the world. I PROCLAIM that the news of this program spreads unhindered in all nations of the world, and the angels of God join in the spread and mobilization for this glorious program.
#AFFIRMATIONTRAIN 23RD NOVEMBER. I affirm that the Word of God dwells in me richly, causing me to know and walk in God's divine plan. I am filled with the knowledge of God's will in all wisdom and spiritual understanding. The Word of God is alive in my spirit, soul, and body; therefore, my life is full of beauty and excellence! The Rhema of God is in my heart and in my mouth today; and as I speak it forth, mountains are moved, hills are leveled, and the crooked paths are made straight. Nothing is impossible for me because the greater One lives in me. By His power, that is at work in, and through me; I create my victorious and prosperous life, from glory to glory. Hallelujah! My words are not empty, they are filled with divine energies. The anointing of God's Spirit is in my words; for the words that I speak, they are spirit and they are life. My words never fall to the ground without results. When I speak, angels are dispatched into action. My words are quick and powerful, and sharper than any two-edged sword. With my words, I cut down every challenge and situation that are contrary to the provisions of the kingdom. I refuse TO BE SMALL because I am the child of the monarch of the universe! With my mouth, I make my way prosperous. Glory to God. Hallelujah! Hallelujah!! SPEAK IN OTHER TONGUES NOW • Be bold to say the same things that God has said concerning you in His Word. That is what takes you beyond salvation, to enjoy the benefits of salvation ~ Pastor Chris Oyakhilome. You Can Now Reach Us On: • info@affirmation-train.org • www.affirmation-train.org God Bless You. #globaldayofprayer #monthofpraise #perfection #affirmationtrain #Insight #alignment #blessed #talkingsession #praise #excellence #imcc2020 #ippc2020 #prayathon2020
MY DAILY CONFESSIONS. MONDAY. CHRIST IS EXALTED IN ME! Christ is exalted in me—spirit, soul, and body. I have the light of life; there's nothing of darkness in me. I'm full of joy, peace, love, kindness, and continually filled with the Spirit, as I walk in the light of Christ. I've overcome the world, its systems and structures. My faith is strong and effective for continuous success, victories, and triumphs! I have no fear, for nothing is impossible unto me. My life is being constantly framed by the Word of God, resulting in ever-increasing praise and glory to the Father. Hallelujah! Download the Cetunes mobile App from Google Play Store or Apple App store, use the word "excellence'' as reference code to enjoy unrestricted access to 250+ Radio stations on the LoveWorld Radio networks. Android http://play.google.com/store/apps/details?id=org.lw.cetunes iOS https://apps.apple.com/us/app/cetunes/id1470300487 Kindly reshare! #saythiswithme #IPPC2020 #LOVEWORLDAWARDS2020
We celebrate liquid love personified. Thank you sir for the many years of great impact. Thank you for loving the Lord, our Man of God and us the way you do. HAPPY PERFECT BIRTHDAY SIR.