THANK YOU FOR YOUR VALUABLE PARTNERSHIP THIS MONTH OF JANUARY! Thank you, esteemed Pastor Soter Mapalo of The God Life Church, Zambia, for your unrelenting partnership with the International School of Ministry. Through your giving, millions of ministers of the Gospel and ministries around the world are transformed daily. It is our prayer that God will multiply the seed you have sown, so that the harvest of your generosity will continue to grow. May you be abundantly enriched in all things, as you have enriched others. Amen. We love and appreciate you greatly! #ism #thankyou #perfection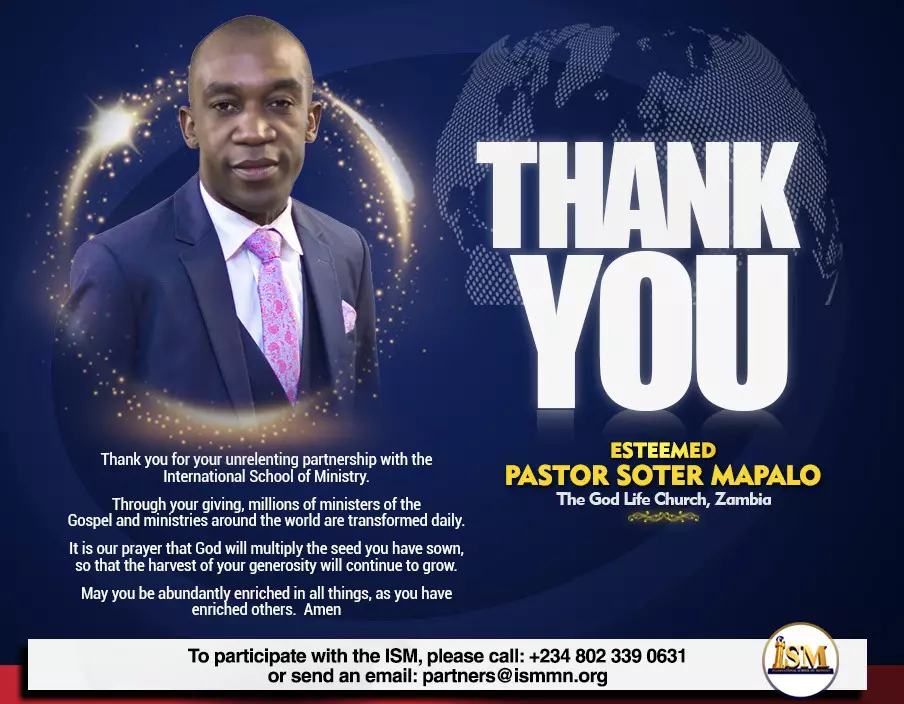 Pastor Lameck
commented:
Wow! Thank you Pastor Sir. Zambia indeed is blessed to have you. Your love, leadership, and Wisdom is Impacting Many Ministries. Love you Pastor Sir.
Amanda Khumalo
commented:
Because of you Zambia is moving forward Congratulations Pastor sir
Evelyn Abotsi
commented:
Congratulations Sir! Zambia will never be the same again. Hallelujah!
"The Holy Spirit lives in me. He has vitalized every fibre of my being; He's my life and everything I need to live joyfully always, and fulfil God's plan for my life gloriously" Hallelujah!
Pray-A-Thon 2020 - Wed Jan 29 @PastorChrisLive You're a God-carrying vessel! Hallelujah! Learn more in this Monday's Rhapsody. Study it and share with others. 2 Thessalonians 3:1-2 says, "Finally, brethren, pray for us, that the word of the Lord may have free course, and be glorified, even as it is with you: And that we may be delivered from unreasonable and wicked men: for all men have not faith". We'll pray fervidly in tongues of the Spirit, and interceding specially for the protection of children and youths in secondary and tertiary institutions of learning, that all mechanisms of the adversary to blind their minds from the truth be paralyzed, and that they be delivered from wicked and unreasonable men, who perpetrate Satanic doctrines and causes. Declare the light of the gospel shines in their hearts, and darkness will not prevail over them, in Jesus' Name. Amen. Remember to attend the midweek service today in church onsite or online. God bless you. #snoba2020 #ceabakaliki #perfection #thenextbigthing
Publicity in Progress #perfectlovewithpstemekaeze #celagoszone2 #dopemuteens
Get ready for a special time of fellowship! #SNOBA2020 #ceabakaliki
Jesus you are the center of my Joy! All that's good and perfect comes from you. You're the height of my contentment. You are why I find pleasure in the simple things in life. You're the source and finish of my highest dreams. Forever yours my king♥️ #hislovecompelsme
In anything you do, when you are trained you do it much better. So get ready to be train for a better result. Glory to God. #SeniorCellLeadersTraining #CalMC #TeamCalabarRocks
THANK YOU FOR YOUR VALUABLE PARTNERSHIP THIS MONTH OF JANUARY! Thank you, esteemed Pastor Andrew Mutondoro of Oasis Christian Assembly, South Africa, for your unrelenting partnership with the International School of Ministry. Through your giving, millions of ministers of the Gospel and ministries around the world are transformed daily. It is our prayer that God will multiply the seed you have sown, so that the harvest of your generosity will continue to grow. May you be abundantly enriched in all things, as you have enriched others. Amen. We love and appreciate you greatly! #ism #thankyou #perfection
Happy Birthday Esteemed Brother Daniel Ayuk, thank you for all you do in ministry. I love you sir.