Reon International: PASTOR CHRIS LIVE PRAY-A-THON Join on KingsChat Web
PASTOR CHRIS LIVE PRAY-A-THON Join the Pastor Chris Live Prayer Network and receive prayer posts from Pastor Chris PRAYER POINT: Prayer for Ministers of the Gospel All Around the world Colossians: 4:3: "Withal praying also for us, that God would open unto us a door of utterance, to speak the mystery of Christ" Click here to participate: https://cdn.internetmultimediaonline.org/241F21/prayerlive/PCPrayerLive2019.m3u8 #reon2020 #monthofprayer #prayathon2020 #pclprayathon2020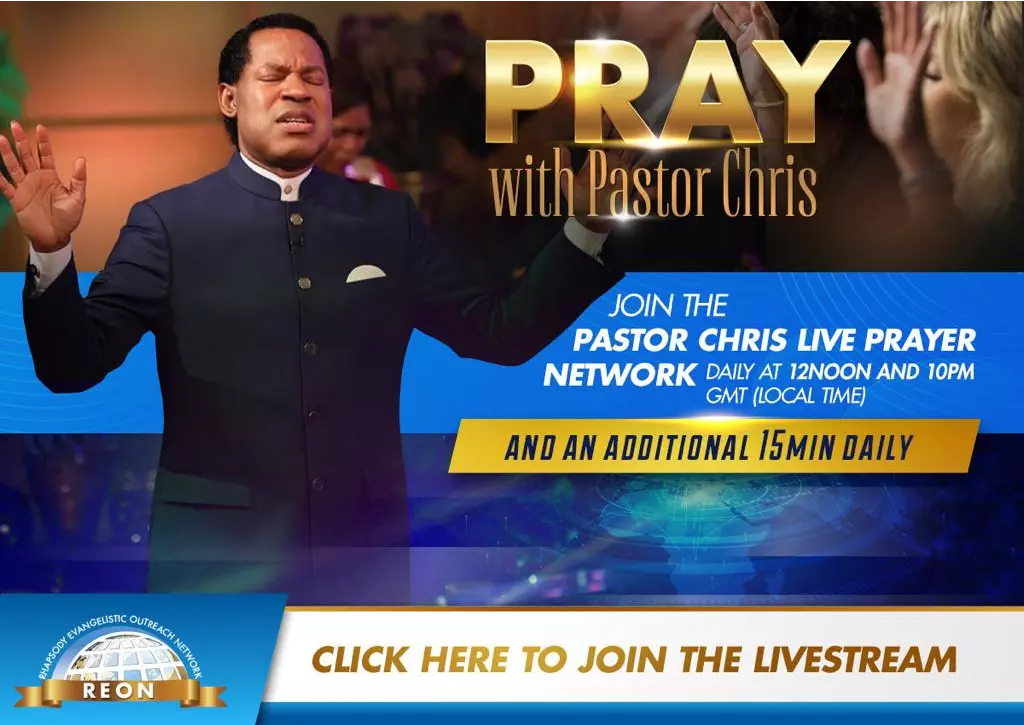 I have done my study for day3 On the exposé on prayer #exposeonprayer #a21daystudyonpcdl #watchonpcdltv #sez2 #ceasaba
Isaiah 49:8 -(KJV) "Thus saith the LORD, In an acceptable time have I heard thee, and in a day of salvation have I helped thee: and I will preserve thee, and give thee for a covenant of the people, to establish the earth, to cause to inherit the desolate heritages..
Happy Birthday Dearest Pastor Comfort Okon Thank You for all that you are and do in the work of the ministry and in the Zone. Thank You for your exemplary leadership and doggedness for the things of God. You indeed are a priceless gift to us. Happy!! Happy!! Birthday... Cheers to another 365days🍷🍸🍷🍸🍾 #Cephzone2
It's just 10 days to our Global Day Of Prayer, with Pastor Chris 🥁🥁🥁🥁🥁📢📢📢📢📢 kicking off this June from Friday 26th to Saturday 27th 6pm(GMT+1) 1 pm Eastern time, Showing live on all LOVEWORLD NETWORKS, #exposeonprayer #a21daystudyonpcdl #watchonpcdltv #globaldayofprayer
I maintain inspiration through the prevailing prayer and keep focus.Glorrry
Happy birthday dear esteemed Dcns kilsy. May your new year be filled with joy, peace and prosperity. We love you dearly. Enjoy your perfect day of celebration. Dcn Austine and family.
10 days to go... Join the Brethren in Christ Embassy Eastham as we get ready for the Global Day of Prayer with our Man of God Pastor Chris on the 26th of June @ 6pm GMT+1 👌🏿👌🏿👌🏿👌🏿👌🏿👌🏿👌🏿👌🏿👌🏿👌🏿 #UkR2Z4 #CEEastHam #prayingnow #prayathon2020 #junethemonthofprayer
#day3 #exposeonprayer #a21daystudyonpcdl #watchpcdltv #cesazone2 #pretoriagroup
Are ready top pray!! #prayingnow #pclprayathon2020 #prayathon2020 #iamapriestinoffice #iamaprayerinfluencer #ispreadprayer. #blwcampusministryrocks #blwzoneF