Rhapsody of Realities: Join the Esteemed Pastor Ifeoma on KingsChat Web
Join the Esteemed Pastor Ifeoma Chiemeka @ DAY 3: RIN Advance! Summit RELOADED! 💃😍🎉🎊 rin.rhapsodyofrealities.org Todays topic: The One Million Outreaches Fiesta Strategy and the Role of an Influencer. It's HOT🔥🤗 Don't miss out. TIME: All day-Watch at your convenience! 🤗 PARTICIPATE ALSO ON: 👉 RIN Website rin.rhapsodyofrealities.org 👉 Rhapsody English App: bit.ly/getrhapsodyapp You don't want to miss this!!! 👀 🎤Spread the News! God bless you.🙏 💓❣️ #digitalrevolutionreloaded #rinadvancesummit #forcefuladvancement rin.rhapsodyofrealities.org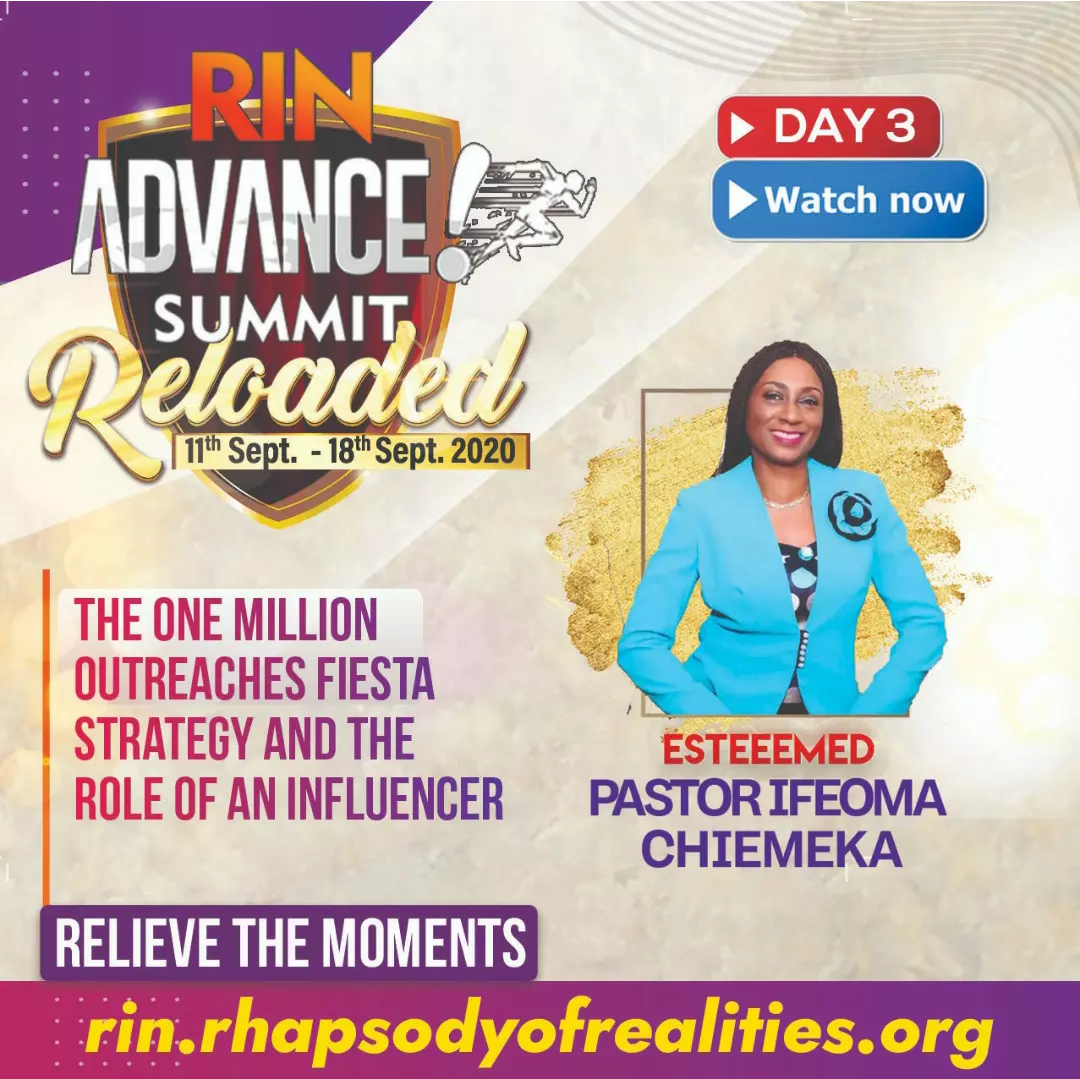 evangelist shedrack
commented:
Calvary greetings. Am by name evangelist shedrack. Please we need your help. No amount is too small or big.( When the Christian gives, he may give to individuals or to the church, but in the final analysis in doing so he is giving to God). account number.(3052473098) polaris
5 Days to go...💃💃💃💃💃 Loveworld Ladies Network Advance Forcefully... 18th Sept 8pm GMT+1 19th Sept 7pm GMT+1 Register - loveworldladies.org #LLN #LLNInuaguralMeeting #loveworldladiesnetwork #TheNextBigThing #UKR2Z1 #CEUKZone1
Check out my inspiring post on Yookos!
Super Sunday Service With Pastor Eunice 2nd Strategic Session Topic: SERVING THE LORD AND GIVING ATTENTION TO YOUR SPIRITUAL LIFE. What does it mean to serve the Lord?, serving the Lord simply means demonstrating your undiluted love for the master and mankind, everything you do in your everyday life must be towards the love for the Master, it must be done perfectly and not lustfully. Focus your energy on the expansion of God's kingdom not in the things of the world. #ceabakaliki #prayathon #supersunday #yourloveworld #globalimpactoutreach2020
We are very expectant and ready to receive all the blessings!!! #LLN #LLNInuaguralMeeting #loveworldladiesnetwork #TheNextBigThing #CENorkemParkChurch #CEKemptonparkGroup #CESAZone2
HAPPENING NOW SUNDAY SERVICE WITH PASTOR MAUREEN #cemidwestzone #silukomodelgroup #cesilukomodelgroup #silukomodel #cesilukomodel
HAPPENING NOW SUNDAY SERVICE WITH PASTOR MAUREEN #cemidwestzone #silukomodelgroup #cesilukomodelgroup #silukomodel #cesilukomodel
HAPPENING NOW SUNDAY SERVICE WITH PASTOR MAUREEN #cemidwestzone #silukomodelgroup #cesilukomodelgroup #silukomodel #cesilukomodel
HAPPENING NOW SUNDAY SERVICE WITH PASTOR MAUREEN #cemidwestzone #silukomodelgroup #cesilukomodelgroup #silukomodel #cesilukomodel