The Healing School : IT'S LESS THAN 1 HOUR on KingsChat Web
IT'S LESS THAN 1 HOUR TO GO! HEALING STREAMS FESTIVAL OF MIRACLES💯 Participate Live on: www.healingstreams.tv Get ready for a time of the Spirit, as we count up to the last minutes leading to Day 7 of our special 10 days Healing Streams Festival of Miracles on Healing Streams Testimonies Live. Tell someone now to participate with you in the live broadcast by 4pm (GMT+1) on www.healingstreams.tv, all Loveworld Networks and on the Healing School mobile app. See you there! #healingstreams #healingstreamstv #festivalofmiracles #healingtothenations #livehealingserviceswithpastorchris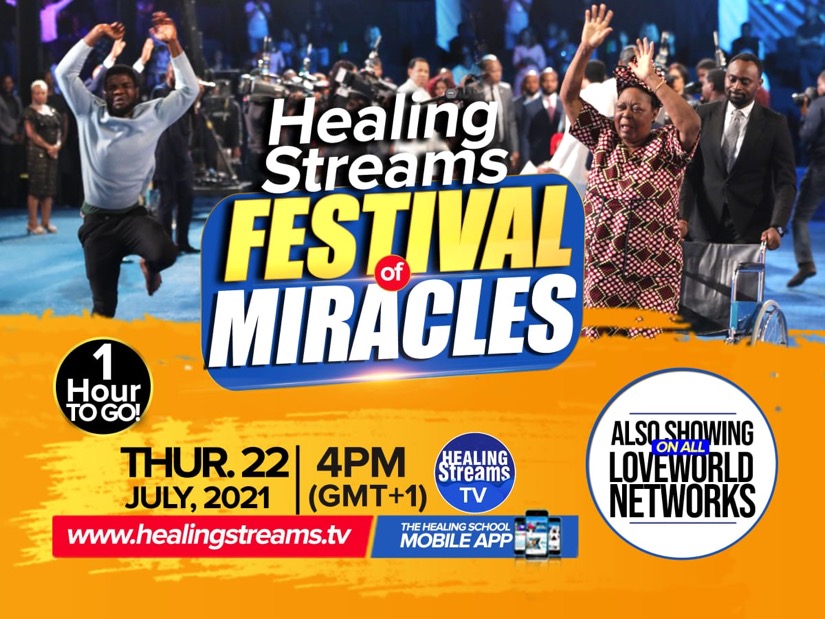 troy
commented:
Earn better and quite your office stressful job, With the minimum investment of $300 you can get profits of about $3,000+ with my fast and trusted platform ... $300 to get $3,000 weekly. $400 to get $4,000 weekly. $500 to get $5,000 weekly. $600 to get $6,000 weekly. $800 to get $8,000 weekly. $900 to get $9,000 weekly. $1000 to get $10,000 weekly. Whatsap me on +16469790962 for more info
Akando
commented:
If you have bank account or coins wallet, I can teach you how to earn $5000+ with minimum start up amount of $500 just 7DAYS without sending money to me 100%percent legit profit secure, fast widraw with out no delay Ask me how....hity me up on WhatsApp+1 (678) 834-9786 and let's start winning... remember you're not paying any money to me, I only own 10% of your profits recoverd...
Lucia M
commented:
I have a business proposal for you... +1 (415) 549-3935 dm me on Whatsap. No experience needed. $500 to earn $5,000+ $1,000 to earn $10,000+ $1,500 to earn $15,000+ $2,000 to earn $20,000+ $5,000 to earn $50,000+ on weekly investment. Ask me how?
💥🌍10 DAYS HEALING STREAMS FESTIVAL OF MIRACLES💥🌍 ARE YOU READY FOR TODAY'S FESTIVAL? Participate live @ www.healingstreams.tv #healingstreams #healingstreamstv #livehealingserviceswithpastorchris #healingtothenations #festivalofmiracles #hsinfluencers
1 Day to go. I will be participating, will you ? #loveworldprayernetwork #cemontrealcanadaregion
🥁🥁🥁The Count up continues #cmdph29 #blwzonec #blwgroup2
🥁🥁🥁The Count up continues #cmdph29 #blwzonec #blwgroup2
After LSD training, comes the feast #LoveFeastAtStaffChapel #BlueEliteCommunity #CELagosZone2 #FestacGroup
Happy Wedding Anniversary Brother George and Sister Ejiro Jones. We celebrate your union today as you marked your 15 years Wedding Anniversary. We wish you many more years of endless prosperity and bliss. We love your family so dearly.
💥🌍10 DAYS HEALING STREAMS FESTIVAL OF MIRACLES💥🌍 ARE YOU READY FOR TODAY'S FESTIVAL? Participate live @ www.healingstreams.tv #healingstreams #healingstreamstv #livehealingserviceswithpastorchris #healingtothenations #festivalofmiracles #hsinfluencers
This is LoveWorld News UPDATE! Count up to Your LoveWorld Specials with Pastor Chris (Season 3, Phase 6) — 4️⃣ Days to go. 💃💃💃 It's closer now than ever. Join Pastor Chris again from Monday, July 26th to Friday, July 30th live on all LoveWorld Networks and various internet platforms at 7pm GMT+1 daily for this special series. It's another exclusive time of illumination by God's Word. Spread the news everywhere. Stay connected for more sizzling UPDATES. |Like||Comment||Share| #YourLoveWorldwithPastorChris #LoveWorldNews #PastorChrislive
Happy Birthday to a sister so dear to our heart.😍😍💞 It's been such a joy serving Our Father with you😊. We love and celebrate you dearest Sister Juliet Okocha. Lots of love, kisses and hugs from Lagos Road Partnership😘😘💓💓🎂🎂🍾🍾🍾🍾🍷🍷
💥🌍10 DAYS HEALING STREAMS FESTIVAL OF MIRACLES💥🌍 ARE YOU READY FOR TODAY'S FESTIVAL? Participate live @ www.healingstreams.tv #healingstreams #healingstreamstv #livehealingserviceswithpastorchris #healingtothenations #festivalofmiracles #hsinfluencers