𝗣𝗔𝗦𝗧𝗢𝗥 𝗖𝗛𝗥𝗜𝗦 𝗔𝗖𝗖𝗢𝗥𝗗𝗜𝗡𝗚 𝗧𝗢 𝗧𝗛𝗘 𝗚𝗢𝗦𝗣𝗘𝗟 𝗢𝗙 𝗦𝗔𝗡𝗗𝗥𝗔 𝗨𝗡𝗟𝗜𝗠𝗜𝗧𝗘𝗗 𝗙𝗼𝗿𝗮𝘀𝗺𝘂𝗰𝗵 as many have taken up writing and singing to set forth in order a declaration of who you are to us of which are most surely believed among us, 𝗘𝘃𝗲𝗻 𝗮𝘀 the CEC, our Senior Pastors, and Foundational Leaders delivered them unto us, which from the beginning were eyewitnesses, and first recipients of your love and great grace; 𝗜𝘁 𝘀𝗲𝗲𝗺𝗲𝗱 𝗴𝗼𝗼𝗱 𝘁𝗼 𝗺𝗲 𝗮𝗹𝘀𝗼, having had perfect understanding of all your exploits, calling, convictions of the gospel, life of faith and your love for the Master from the very first, to write about thee in order, most excellent Rev. Dr. Chris Oyakhilome, D.Sc DD 𝗧𝗵𝗮𝘁 𝘁𝗵𝗼𝘂 𝗮𝗻𝗱 𝘁𝗵𝗲𝘆 𝘁𝗵𝗮𝘁 𝗿𝗲𝗮𝗱𝗲𝘁𝗵 mightest know the certainty of my affection for you, my acknowledging of the good things in you in Christ, and my commitment to follow You in all the things wherein I have been instructed: FOR, 𝗧𝗵𝗲𝗿𝗲 𝗶𝘀 𝗮 𝗿𝗲𝗮𝘀𝗼𝗻 𝗯𝗶𝗹𝗹𝗶𝗼𝗻𝘀 𝗳𝗹𝗼𝗰𝗸 𝘁𝗼 𝗵𝗲𝗮𝗿 𝘆𝗼𝘂 𝘀𝗽𝗲𝗮𝗸, And this reason is for a far greater purpose than that which made the Queen of Sheba go on excursion to King Solomon's palace. 𝗧𝗵𝗲𝗿𝗲 𝗶𝘀 𝗮 𝗿𝗲𝗮𝘀𝗼𝗻 𝗺𝗶𝗹𝗹𝗶𝗼𝗻𝘀 𝘄𝗵𝗼 𝘀𝗵𝗼𝘂𝗹𝗱 𝗯𝗲 𝗱𝗲𝗮𝗱 𝗮𝗿𝗲 𝗮𝗹𝗶𝘃𝗲 𝗮𝗻𝗱 𝘄𝗲𝗹𝗹 𝘁𝗼𝗱𝗮𝘆, And this reason exists in a far greater fashion and format than the days our Lord walked the old testament earth. 𝗧𝗵𝗲𝗿𝗲 𝗶𝘀 𝗮 𝗿𝗲𝗮𝘀𝗼𝗻 𝘄𝗲 𝗰𝗲𝗹𝗲𝗯𝗿𝗮𝘁𝗲 𝗬𝗼𝘂, 𝗦𝗶𝗿, 𝗶𝗻 𝗴𝗮𝗹𝗹𝗮𝗻𝘁 𝗹𝗶𝘃𝗶𝗻𝗴 𝗰𝗼𝗹𝗼𝘂𝗿𝘀, And this reason shows up in the countless testimonies of your eternal impact in the lives of all of the world's people, for whom Christ died. Gʀᴀᴄᴇ ᴀɴᴅ Pᴇᴀᴄᴇ ʙᴇ ᴍᴜʟᴛɪᴘʟɪᴇᴅ ᴛᴏ Yᴏᴜ, Sɪʀ, ᴍʏ Pᴀsᴛᴏʀ ᴀɴᴅ Mʏ Tᴇᴀᴄʜᴇʀ. HAPPY BIRTHDAY PASTOR CHRIS❤ 07.12.2020 INSPIRED BY THE GOSPEL ACCORDING TO LUKE #Offer7 #Dec7 #PastorChris #HappyBirthdayPastorChris PLEASE FEEL FREE TO SHARE THIS😘 #KINGINGwithPastorUyi FOLLOW THIS SUPERUSER ACCOUNT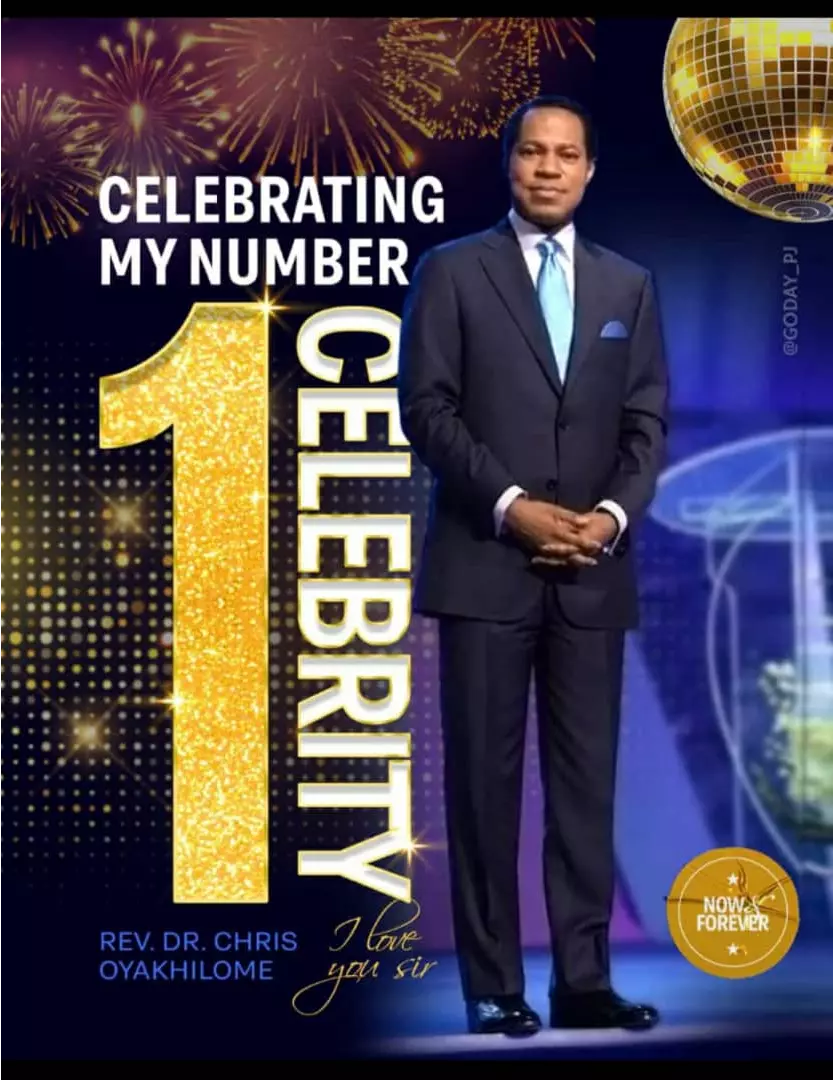 (Jeremiah 3:15 KJV) And I will give you pastors according to mine heart, which shall feed you with knowledge and understanding...Today we celebrate a man sent from God. We know that we know, when you were born God had us in mind. Love you dad! #Offer7 #TheHavenNation #HavenZA4
Celebrating my father Happy Birthday sir
It's happening this DECEMBER & it's 7 DAYS to go 😍🤩 https://healingstreams.tv/reg/HSPI #healingstreams #hsinfluencers #healingtothenations
Wow...Pastor Chris Sir, you are God's gift to us. You are a blessing to the entire world. Your teachings have made us to be chanpions. We cannot thank you enough. We truly love and appreciate you Sir. Enjoy your perfect year.💌💓💗💟 #Dec7th #Offer7 #Godsgeneral #Texaszone1.
Happy glorious n perfect birthday Pastor. Thanks for all these years of teaching me the word.The way I speak, give and praise God is different because of your teachings.God continue to strengthen you and grant you the boldness to keep doing what you do.We love you #PCObirthday
Had fun celebrating Dad.... #offer72020 #ceeket #SSZ2
#DEC7 #vmcorps #vmcgooddeeds VMC UYO PROVIDES MATERNAL AND NEWBORN HEALTH CARE SERVICES As part of the ongoing #ids2020 activities; volunteers with the VMC Uyo Chapter are providing free obstetric scans to 100 pregnant women and covering the delivery bills for all babies born today in five VMC-affiliated hospitals. www.volunteermedicalcorps.org/gooddeeds
Happy birthday My Father, mentor and brigde builder. The Lord keep and strengthen you more for His Glory.
Happy Birthday Pastor, we love you so much. Congratulations Sir!