CE BAYELSA NATION: Christ Embassy Nigeria South South on KingsChat Web
Christ Embassy Nigeria South South Virtual Zone 1 Presents 👇👇👇 🌟STAFF REFRESHER TRAINING PROGRAMME WITH OUR HIGHLY ESTEEMED VIRTUAL ZONAL PASTOR, PASTOR OBI UMEASIEGBU (#TLB). 📅DATE: Monday 7th - Friday 11th January, 2019 🕹VENUE: CENTRAL CHURCH 1 AUDITORIUM It's going to be a week of Training, Inspiration and Empowerment for all our staff members. #SRTP #TLB #CEBAYELSA #THELANDOFGRACE #NSSVZONE1 #NSSR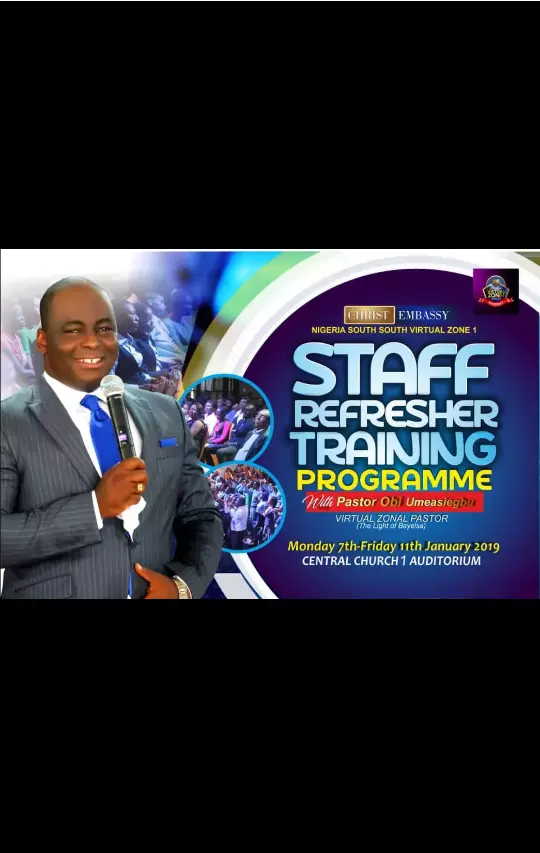 Rita Gbadebo
commented:
Ready to be catapulted to another level
Pst Kola
commented:
Wow.. so expectant. Thank you PASTOR SIR for this
Christ Embassy Nigeria South South Virtual Zone 1 Presents 👇👇👇 🌟STAFF REFRESHER TRAINING PROGRAMME WITH OUR HIGHLY ESTEEMED VIRTUAL ZONAL PASTOR, PASTOR OBI UMEASIEGBU (#TLB). 📅DATE: Monday 7th - Friday 11th January, 2019 🕹VENUE: CENTRAL CHURCH 1 AUDITORIUM It's going to be a week of Training, Inspiration and Empowerment for all our staff members. #SRTP #TLB #CEBAYELSA #CEUGHELLI #CESAPELE #NSSVZONE1 #NSSR
THE GLORY OF GOD IS COVERING THE WHOLE NORTHERN NIGERIA AS THE WATERS COVERS THE SEA! #amazingcekaduna #NWVZ1 #PLPCAMPMEETING2019
@dcn Austin warned us b4 ... He was fearless..
⭐A Refreshing Thought For You Today ⭐ Sunday, 6 January 2019. His divine blood speaks your divine health. That blood is greater than any drug or syrup; it's effectual and effective against any kind of sickness or infirmity. Read full article 👉http://bit.ly/2gTR2pB
https://www.kingsch.at/p/L01vVVQ
Happy Happy Birthday Darling. Thank you Pastor for all you are to Sandra. You have made her all is is today. It's 9 years now and we are grateful. God bless you Sir.
Father thank you for bringing me into the divine life of glory; as I take the communion, my mind is constantly ignited for salvation of souls, as an illuminator in Christ Jesus! Hallelujah. #Warriministrycentre