Dear Pastor Omoh, thank you for being such a loving and inspirational example of faith and love, the incarnation of God's never-ending grace and multi-faceted wisdom. You are a true daughter of our man of God, Rev. Dr. Chris Oyakhilome, and your uncanny ability to make ministry work so enjoyable is a delightful spectacle to behold and experience. I celebrate your life as I wish you a happy birthday, I love you dearly! Pastor Ruth Musarurwa Zonal Pastor, SA Zone 5, D.S.P.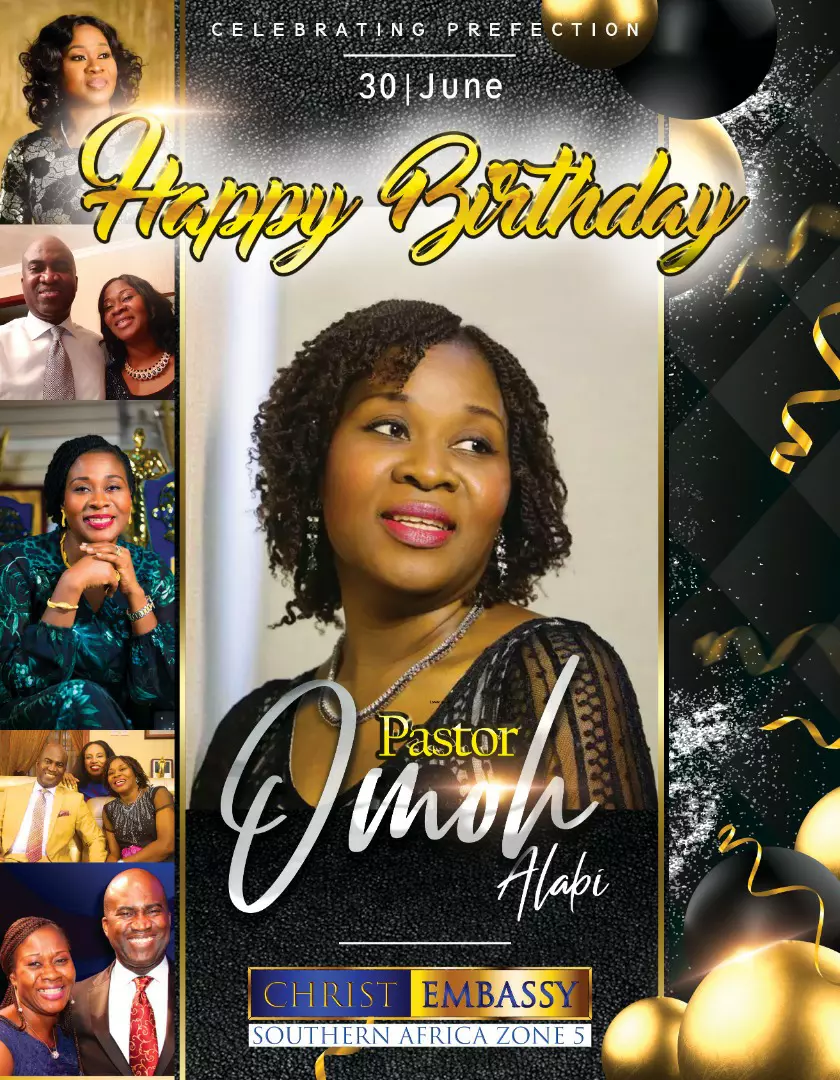 Jill Mutsa Tahwa
commented:
Happy birthday Pastor Omah #cesazone5 #cebelvederegroup #cemasvingosubgroup #cechiredzi
Had esteemed pastor MA ur inspiring nd exemplary life of faith is worth emulating Thank u so much ma for d opportunities dat u gave me to serve nd d trainings over d years. You will continually experience victory of God. #POA630 #childrenschurchrocks #Childrensministry #NWZ2 .
HAPPY birthday esteemed pastor cy,i join the host of heaven to celebrate an amazing personality, full of Gods love ,thank you for your unwavering commitment and consistency in ministry and phzone3, grace and peace be multiply to you, Glory to glory,i love and appreciate you.
#E707 #Imalive #Ceifie #SVG #Warriministrycentre
#Alert: It's Day 17 of the 21-day special study tagged, "EXPOSÉ ON PRAYER" 🛑The message for today is SPIRITUAL WARFARE (Keys of the Kingdom Part 3) 🛑 You can watch/listen to the message at no cost on the PCDL TV via the link: https://pastorchrisdigitallibrary.org/exposeonprayer/ceaccrazone 🛑 Create your global Day of Prayer avatar via the link: https://pastorchrisdigitallibrary.org/livetv/gdop-avatar.php 🛑Also remember to create your avatar upon completion of each day's study and inspire others to do same via the link: https://pastorchrisdigitallibrary.org/exposeonprayer/avatar.php Gain insight into the mysteries and secrets of effective prayer as you participate in this awesome study plan. God bless you #CeAccraGhanaZone #ExposeonPrayer #PCDLTv
... PRAY WITHOUT CEASING. #ewcazone2
I have been given power to bind devils and to cast them out in the name of Jesus. #ExposéOnPrayer #a21daystudyonpcdl #watchliveonpcdl #loveworldextra #lwextra #ewcaz4 #CEBrazzaville #CONGO
#CE Kensington children church #CE S/A zone 2
#iamaprayerinfluencer #ispreadprayer #prayingnow #pclprayathon2020 #prayathon2020 #iamapriestinoffice #campusministryrocks #LWKenyaZone
#MEASIA REGIONAL 1-HOUR-NONSTOP PRAYER Date: Wed 1st Jul Time: 8am - 9am ( UAE time) Link up on https://ceflix.org/videos/watch/1849383