CE USA REGION 2: #GREATNEWS A Special Gift from on KingsChat Web
#GREATNEWS A Special Gift from our Dear Man Of God, Pastor Chris to us all. Enjoy 30 days of unlimited access and watch over 400 messages FREE! To enjoy this FREE GIFT on Pastor Chris Digital Library, 1. Visit: https://pastorchrisdigitallibrary.org/campaigns/gold/ceusareg2 2. Enter your email and password 3. Receive your FREE gift 4. Log into your PCDL account and use your FREE gift Don't have an account on PCDL? Visit https://pcdl.co/users/signup to create an account. God Bless You! #Ceusaregion2 #FreegiftPastorChris #ProudlyGoldOnPCDL #ThankyouPastorChris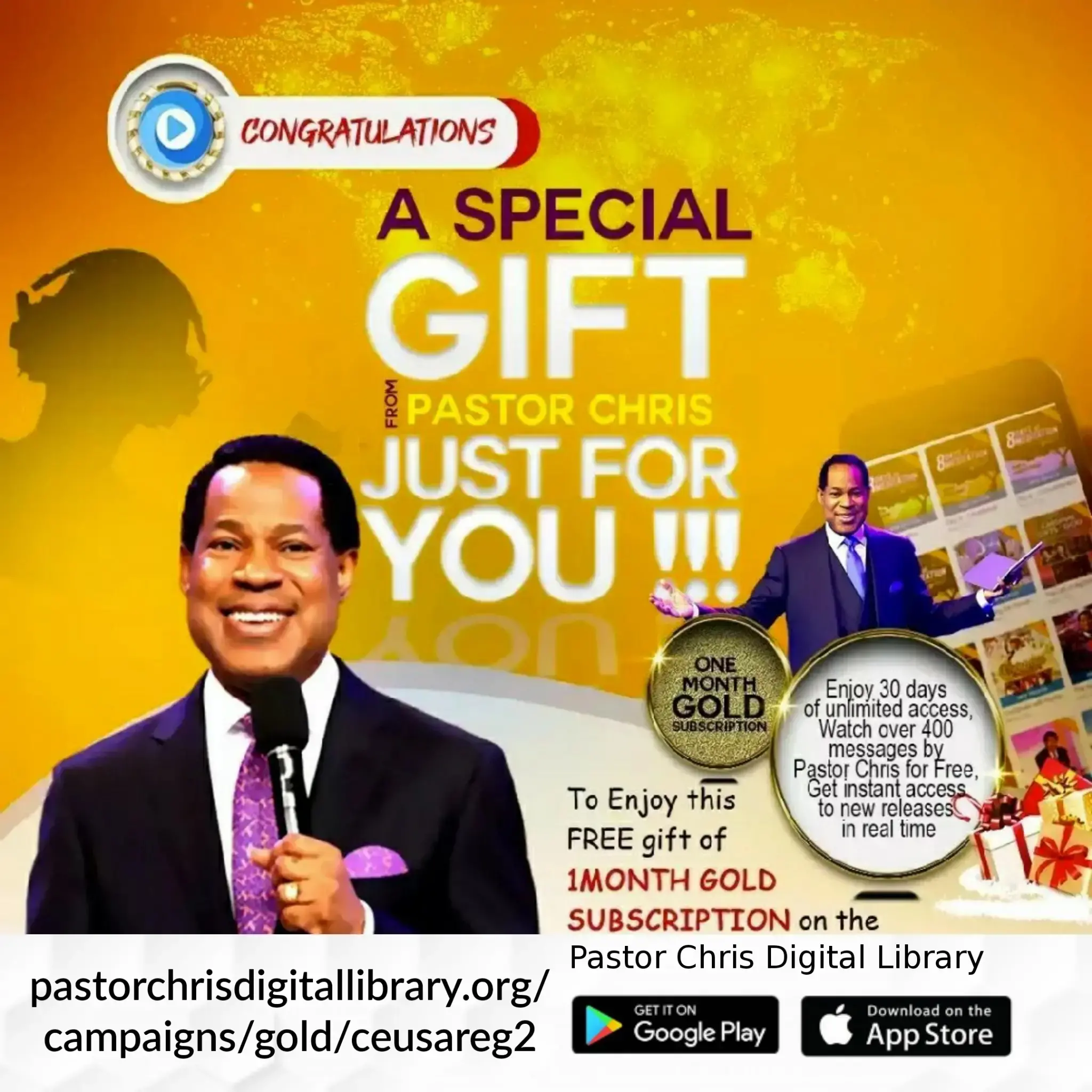 Happy Birthday Ma Thank you for your great heart for ministry. Truely selfless and a mega giver. Thank you for your care toward my family. I appreciate you for your tutorship over the years. Enjoy your day!
GLORY!!!!! CELEBRATING SOMEONE SO SPECIAL 🥁🥁🥁🎷🎷🎷🎵🎵🎵🎺🎺🎺🎻🎻🎻🎶🎶💃💃💃🎁🎁🎁🕺🕺🕺🍾🍾🍾🎉🎉🎉🎤🎤🎤🎼🎼🎼 HAPPY BIRTHDAY DEAR ESTEEMED DCN TONY GABRIEL!!!!! THANK YOU FOR ALL YOU DO IN MINISTRY & IN THE ZONE.... WE LOVE AND APPRECIATE YOU SO DEARLY!!!!! #CELAGOSZONE2 #2020THEYEAROFPERFECTION
Daily Juice🥤 Pastor Chris, It may cost you to do that which is right but it'll cost you more when you do that which is not right. Saul altered the instructions.What You Fail to Destroy Will Eventually Destroy You # This is very true#
Happy Birthday Dear Brother Matthew. It's the beginning of a glorious new year for you and the Lord perfects all that concerns you. I love you. God bless you.
God is my source. This is my confidence in YOU oh Lord!
👉👉👉PART 2✋✋ 📢📢📢The cities might be on a lockdown, but you cannot lock down the Word of God in our Spirit. 👇👇👇👇 Nothing in the world will stop us from learning the word of God. Enjoy this video 🎥 👇 👇 #loveworldchildrensministry #childrenschurchrocks
Wow what a Beutiful Birthday am having ... Thank you Pastor Ose Ma for the time of prayer. #cesaregion #cesazone3 #cebotswanagroup #cemolepolole #royalpriestcell
It still seems unbelievable and i can't express my gratitude Mr Nelson David Mamonova, keep the good work and God bless you for helping so many lives on daily basis. Still can't believe my €500 initial investment has earned me €5,500. Thank you ma'am.