Pastor Chris Digital Library: #wordfestextravaganza on pcdl.tv and on on KingsChat Web
#wordfestextravaganza on pcdl.tv and on other social media platforms @ come Friday 30th - Saturday 31st October 2020 at 6pm GMT - 6pm GMT.🕺💃 Ministering live is the Highly Esteemed Rev Tom Amenkhienan 🤸‍♀️🤸‍♂️ #watchonpcdltv #wordfest2 #wordatwork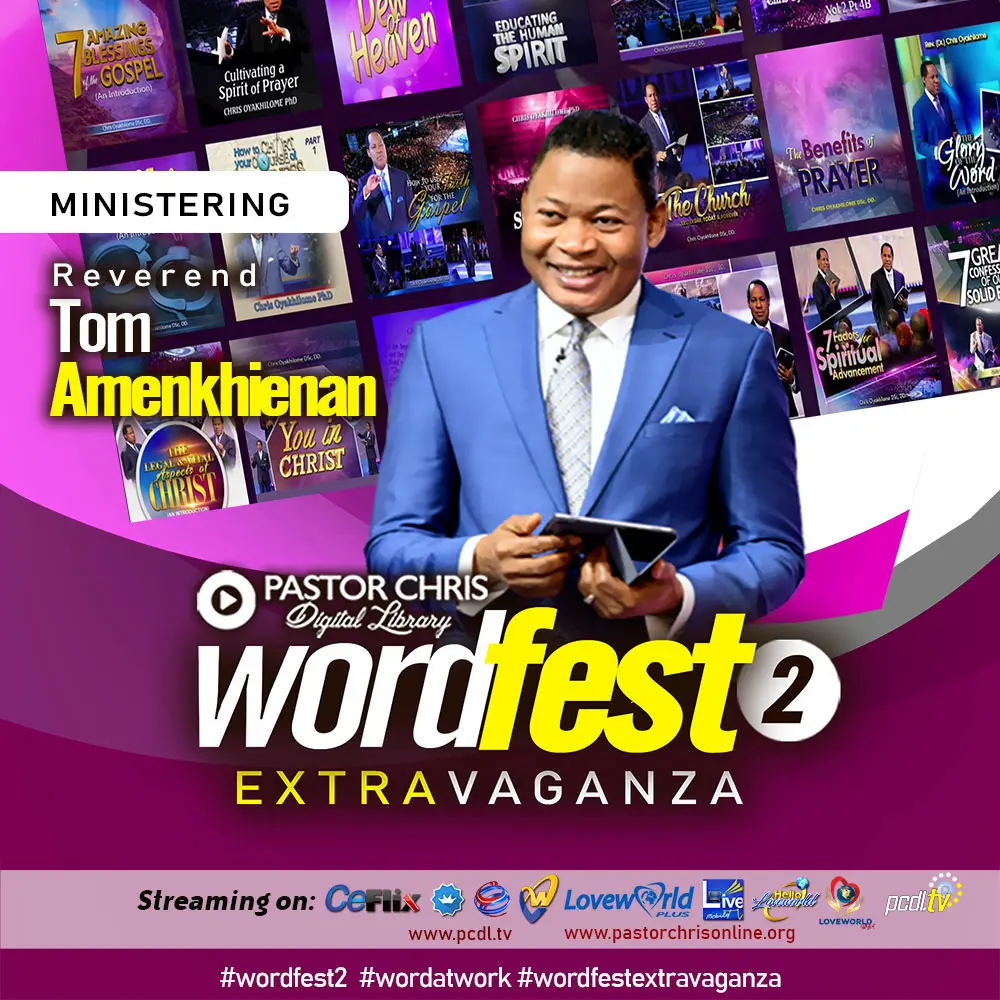 Ashraff Mamman
commented:
Such honour we have to be so accessible to the word in these times.
I have received the abundance of grace and blessings ! #myproclamations #myaffirmationoftruth #mymonthofproclamation
#MYAFFIRMATIONSOFTRUTH God is my source. The Word of God is my supply. I am blessed and I have all my needs abundantly supplied according to God's riches in glory in Christ Jesus. I am prosperous and successful. I am prosperous and enjoy good health. I've already been made rich.
Yippee!!!🥳🥳🥳 It's my Pastor's Birthday 💃💃💃💃 Glorrrrrrrryyyyyy. Thank you Highly Esteemed Pastor Ma for giving me God's word & showing me that it works. I love you superrrrrrrrr big. #ExceptionallyPerfect #2910 #CEIjuEnvirons #CELZ5
Ready to kick off tomorrow💃💃💃💃 is WordFest2 Extravaganza in a grand style. Bigger, hotter and better with Our Esteemed Pastors ministering live and giving us God's Word for 24-Hours🔥🔥🔥🔥🔥🔥 #wordfest2 #wordatwork #wordfestextravaganza
Happy Perfect Birthday to my amiable Esteemed Pastor Deola Philips, CEO Loveworld Nation. The Grace of God is resting Mightily upon u. May this new year bring in greater tidings for u, thank u 4 what u'r doing in d body of Christ. I love u so dearly Ma. Age gracefully 😘🎉🎊💖
💃💃💃💃CELEBRATING PERFECTION: MY ROLE MODEL, MY BOSS, MY LEADER, MY DIRECTOR, MY PASTOR.... I LOVE 💕 YOU DEARLY MA✨✨✨ #Exceptionallyperfect #CELZ5