PDaniels: I'm a full and confirmed on KingsChat Web
I'm a full and confirmed member of the Glorious and Triumphant Body of Christ. Therefore, I'm Indestructible; no matter what happens, I Win, because the eternal Word of God puts me over and...I Reign and Rule with Christ, now and always, in Jesus' Mighty Name. Amen.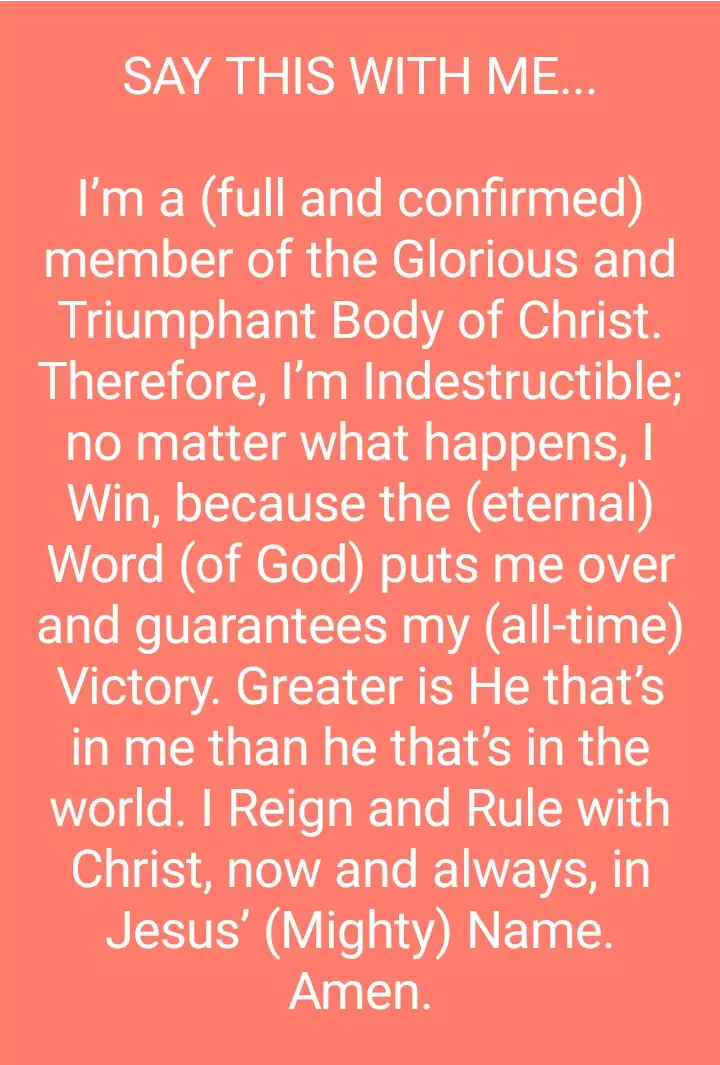 *We're forever victorious. We crush every opposition and conquer every adversity. That's the blessing upon the Church. The Holy Spirit is the Boss of the Church, and He's God. It's impossible for us to fail. *http://kenespoint.com/2020/01/18/always-victorious/
RHAPATHON WITH PASTOR CHRIS Watch this video to learn some more. #rhapsody #rhapsody2020 #rhapathonwithPstChris #cebeninzone
Happy anniversary sweet heart.
20 THINGS TO DO BEFORE RHAPATHON With Pastor Chris: No.14:  ARE YOU READY FOR THE NEXT BIG THING? SAY YES!! DATE: 20th -24th January 2020. TIME: 10 am & 5 pm (GMT+1) daily. Rhapathon will broadcast on the Rhapsody platforms below as well as across all LoveWorld Networks. Rhapsody Website: http://rhapsodyofrealities.org   Rhapsody App: http://bit.ly/getrhapsodyapp REON Website: http://reoninternational.org   Rhapsody Web TV: http://rorwebtv.rhapsodyofrealities.org Spread the news! Create your picture e-card (avatar) now on http://rhapsodyofrealities.org and share it on all your networks. God bless you. #rhapsody #rhapathon2020 #Celebrating20YeasrofImpactwithRhapsodyofRealities http://rhapsodyofrealities.org
Sister is READY for Rhapathon with our Man of God, Pastor Chris. Are you ready?