A TRANSFORMATION BY THE WORD. IT'S TIME TO MOVE!!! #TFH #TheFavouredHaven #TheHavenZA5 #TheHavenNation #CELVZ #kingschatrecommends #ICLC2021 #ICLC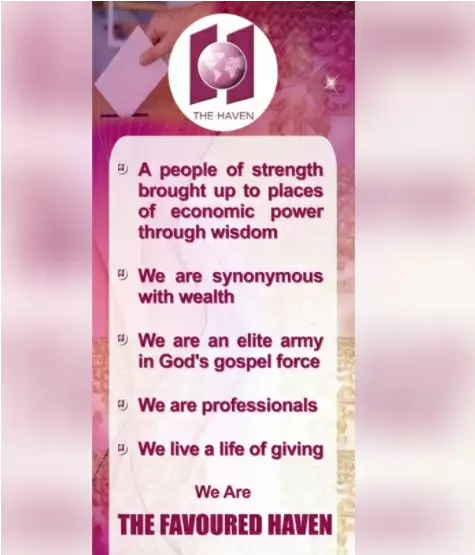 troy
commented:
Earn better and quite your office stressful job, With the minimum investment of $300 you can get profits of about $3,000+ with my fast and trusted platform ... $300 to get $3,000 weekly. $400 to get $4,000 weekly. $500 to get $5,000 weekly. $600 to get $6,000 weekly. $800 to get $8,000 weekly. $900 to get $9,000 weekly. $1000 to get $10,000 weekly. Whatsap me on +16469790962 for more info
Pamela Emilius
commented:
#RHEMAFORTODAY 30TH JUNE, 2021 HE IS MY EXTRAORDINARY STRATEGIST… Say these with me, 'I am a champion forever. I am mightily graced by the Spirit of God; for such a time as this! I am bold, strong, and very courageous, for the Lord my God is in and with me. He is my Extraordinary Strategist and I always know what to do! I win always! My mind is blessed; I can't think of failure, I can't think fear, I can't reason like a victim, I can't think defeat; because my mind has been renewed by God's word. I am the righteousness of God in Christ Jesus. I don't walk according to my senses, but according to the Spirit; for the righteousness of the law is fulfilled in me. I walk in the consciousness of my righteousness today. I don't get frightened because there are no fright files in my system anymore as they have all been deleted. I can only think thoughts of success, victory, and progress because that's the way I've been programmed by the Word of God. I am the seed of Abraham; the world belongs to me, the future belongs to me. Hallelujah! It doesn't matter the nation or state that I live in, MY VOICE AND INFLUENCE WILL BE FELT around the nations of the world. I am not just a face in the crowd; I AM THE VOICE OF GOD. I am a burning and a shining light, a person of influence, born to influence my world for Jesus. Hallelujah. Glory to God! Nothing happens in your life except that which you've voiced with your mouth. Your prosperity, health, success, victory, progress, and promotion in life are the result of what you say with your mouth. ~ Pastor Chris Oyakhilome.
Happy father's day Rev Sir. A father like no other. the light of the whole world, a creator and a God. Thank you for your fatherly love always. Am forever gratful. I love you Sir.
🕧🕧COUNT UP ALERT -- IT IS 18 DAYS TO THE MOST ANTICIPATED HEALING STREAMS LIVE HEALING SERVICES WITH PASTOR CHRIS🕜🕜 HAVE YOU REGISTERED? REGISTER NOW @ healingstreams.tv/3days #livehealingserviceswithpastorchris #healingstreams #healingtothenations
From the 9th to 11th July 2021. invite your family, friends, colleagues and neighbors to be a part of this. 📌Kindly use our unique Zonal Link below to register today & get others to do the same.👇👇👇👇👇👇👇 Southern Africa Zone 2 prayer.enterthehealingschool.org/reg/SA2
NEW LANGUAGES ALERT ⚠️ 🚨 'How to Be a Success for Jesus' now in Tonga and Jukun Wappan language! Yaay💃💃🔥💥 Tonga (The official language in Tonga) and Jukun Wappan (a local language in Northern Nigeria) Glorrrrrry!💃💃 With this, more youths who speak these languages will hear God in their native languages. Glory to God! Do you want to be a success for Jesus? Use the link below to watch and share with people who understand the language. Bless up! Tonga: https://www.globalyouthleadersforum.org/success/lang/ton/ Jukun Wappan: https://globalyouthleadersforum.org/success/lang/juk/ To sponsor a translation of the message visit www.globalyouthleadersforum.org/donation or kindly call +2348025013854, +2348033882790 #gylf.
🕧🕧COUNT UP ALERT -- IT IS 18 DAYS TO THE MOST ANTICIPATED HEALING STREAMS LIVE HEALING SERVICES WITH PASTOR CHRIS🕜🕜 HAVE YOU REGISTERED? REGISTER NOW @ healingstreams.tv/3days #livehealingserviceswithpastorchris #healingstreams #healingtothenations
THE HEALING STREAMS LIVE HEALING SERVICES WITH PASTOR CHRIS IS 18 DAYS AWAY😇😇😇 Do you know your role in the program? This program affords us the opportunity to evangelize our world and take healing to the sick. Perhaps, this program may be our last opportunity to reach the whole world, what will you do differently? Everyone of us has a four thronged responsibility towards this program: 1. Registration: Register yourself and everyone in your sphere of contact. you may register via the link: healingstreams.tv/zone/ABMC  2. Publicity: Publicize the program, ensure to use our publicity materials to reach as many as you can. 3. Healing Centers: Set up both physical and virtual healing centers. During registration, indicate that you want to set up virtual healing centers, copy your unique link and share on all your social media platforms. Decide the location you would want to set up a physical healing center, take action to secure the place. 4. Giving: We want to reach 6 billion people through this program and it is not cheap to organize. Give like you've never given before. For more information, please call 08121697419. God bless you. #CEMCABUJA
Making power available... #prayingnow #1monthnonstopprayer #ceaccraghanazone #cekorlebu #Wealth1Cell2