📢📢IT'S ONE DAY TO GO!!!!!!📢📢 Global Day of Prayer with Pastor Chris and Pastor Benny!!! The Highly Esteemed Chief Operating Officer of Loveworld Inc. and Campus Ministry Director, The Esteemed Pastor Chike Ume is ready!!! Are you ready ...? #GlobalDayOfPrayer #IstandInTheGapWithPastorChris #ITakeMyPrayerStandWithPastorChris #FALA #FALF #IMPACTAFRICA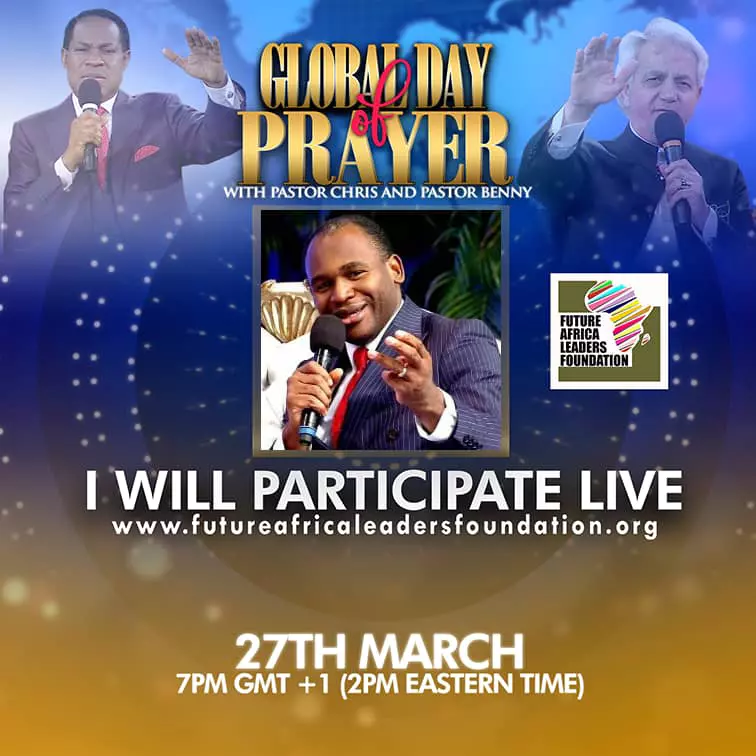 #MimshackCell#CEOkwe#CEAsaba#NSEV2
GLOBAL DAY OF PRAYER My contacts shall know about it& participate tomorrow.1000people reaching 1000contacts means 1million pple reached, imagine what we can all do together using just our contacts &followers🙏,surpass 10million!! Imagine 1billion pple praying tomorrow. Possible!
WMC Partners are ready! ready! Thank you so so much Highly Esteemed Pastor Sir for this great opportunity to join you & Dearest Pastor Benny Hinn in Prayers🎷🎷🎷I love you Sir! #letsdoitbigger #globaldayofprayer #gdopwithpastorchrisandpastorbenny #warriministrycentre
Register now let end covid-19 #cable #ceasaba #sez2
It's all about the delectable PFA #TheBlessedPFA #PFA@50
ARE YOU READY? % #GDOP #GlobalDayOfPrayer #GDOPonRadio #GDOPonRadioNetworks ARE YOU IN OFFICE? IT'S TIME TO EFFECT CHANGES THROUGH PRAYER !!!! https://cetunes.org/events?id=global-day-of-prayer BE IN OFFICE!!
📢📢IT'S ONE DAY TO GO!!!!!!📢📢 Global Day of Prayer with Pastor Chris and Pastor Benny!!! Are you ready????? #GlobalDayOfPrayer #IstandInTheGapWithPastorChris #ITakeMyPrayerStandWithPastorChris #FALA #FALF #IMPACTAFRICA
📢📢IT'S ONE DAY TO GO!!!!!!📢📢 Global Day of Prayer with Pastor Chris and Pastor Benny!!! Are you ready????? #GlobalDayOfPrayer #IstandInTheGapWithPastorChris #ITakeMyPrayerStandWithPastorChris #FALA #FALF #IMPACTAFRICA
WMC Partners are ready! ready! Thank you so so much Highly Esteemed Pastor Sir for this great opportunity to join you & Dearest Pastor Benny Hinn in Prayers🎷🎷🎷I love you Sir! #letsdoitbigger #globaldayofprayer #gdopwithpastorchrisandpastorbenny #warriministrycentre