C E Abuja Zone: TO A FATHER INCOMPARABLE! FOR on KingsChat Web
TO A FATHER INCOMPARABLE! FOR ALL THE SELFLESS YEARS OF TRAINING, TEACHING, LEADING, GUIDING... WE CELEBRATE YOU SIR. Like clay in the hand of a potter you have moulded and shaped us. Today we are distinguished and celebrated for our uniqueness. IN ABUJA ZONE, WE JOIN THE HOST OF HEAVEN THIS GLORIOUS DAY TO BLESS THE FATHER FOR GIVING US A PRICELESS GIFT AS YOU. HAPPY BIRTHDAY SIR! #December7th #abujazone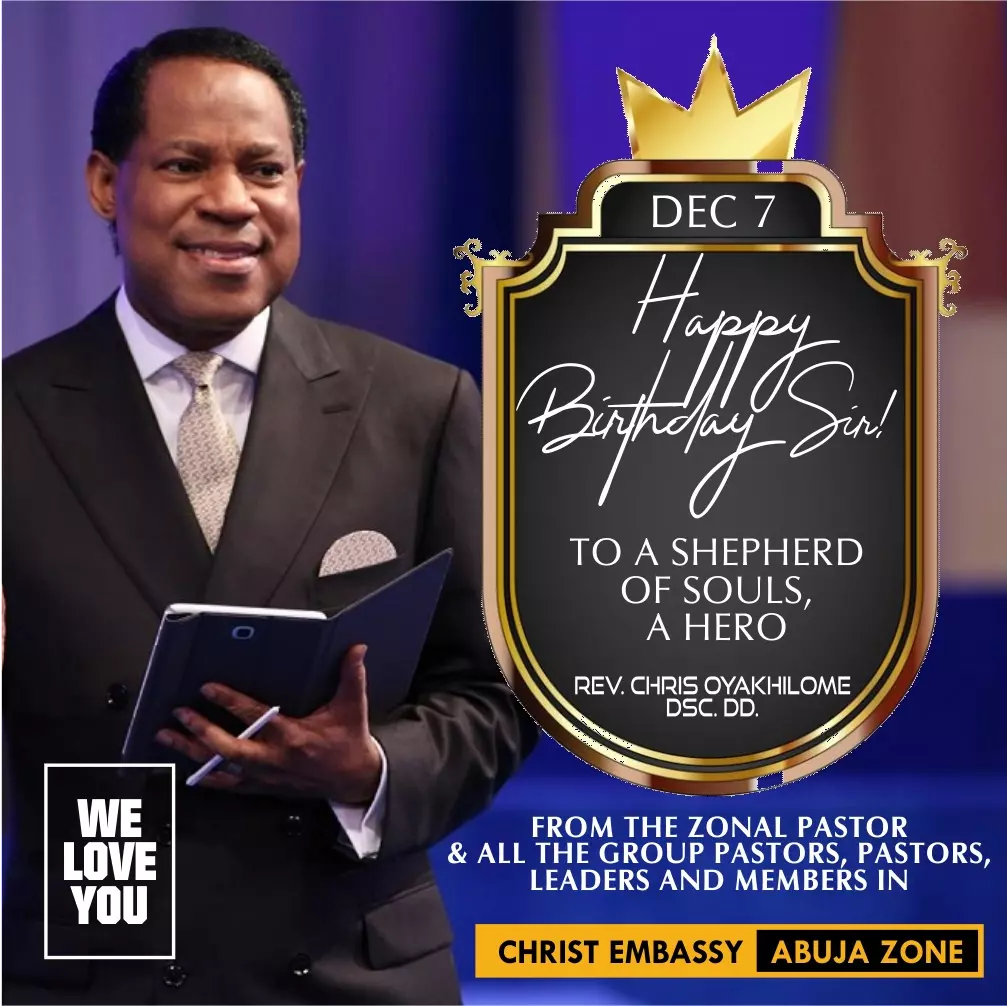 What a day today, a day of celebrating our Pastor our Prophet, true hero our father, the revelation of true life, #myspecialblessingfromGod #dec7 #december7 #IDS2019 #LWinternationalDayOfService #cesazone5 #cemasvingo #zimbabwe
Happy Birthday my mentor, my life coach, my role model, I love you Sir. Thanks for all that you done my family, now we re shining through the Gospel of Lord Jesus Christ that you received and gave to us. Thanks my Father. HAPPY Birthday Sir #CeUjevwu #
Dearest Daddy, thank U so much sir for praying for all D pregnant women at D Oct Global Communion Service. I can boldly say that those words were specifically 4 me considering d many challenges But I WON I, d mother is fine Baby, healthy & hearty We Luv u sir #countingmyblessings
It's your birthday Dear Sir. This tender image says it all. Celebrating you, is all year round until rapture. Happy birthday My Dear Pastor Sir, Rev Dr Chris Oyakhilome DSc DD, president & founder, Believer's LoveWorld Nation, aka, Christ Embassy. I LOVE YOU FOREVER.
Celebrating the president of the world, my teacher and mentor, Thank you Sir for blessing me so much, agelessness Sir.
Happy birthday pastor Chris I love you sir
Happy Birthday to God's General, words cannot describe how your words have blessed me, Thank you for saying yes to God! I love u sir #AHG #CEGALILEE1ST
My word is my word Do a transaction and you will be the one to testify to others
LIVE at the Moment! The 'Light Up Your Style' party in honor of our man of God, Reverend (Dr.) Chris Oyakhilome kicks off amidst glam and electrifying music. Stay connected to LoveWorld News for exclusive updates as the party climaxes.