LoveWorld News: This is LoveWorld News UPDATE! on KingsChat Web
This is LoveWorld News UPDATE! The grand finale of 'Your LoveWorld Specials with Pastor Chris' (Season II, Phase V) takes airwaves in a jiffy. Tune in to any LoveWorld TV station or log on to www.pastorchrisonline.org, www.loveworldnews.org at 7pm GMT+1 (2pm EST) to participate live. You can also watch via the LoveWorld News SuperUser story on KingsChat. Stay tuned for more UPDATES. #YourLoveWorldwithPastorChris #LoveWorldNews #PastorChrislive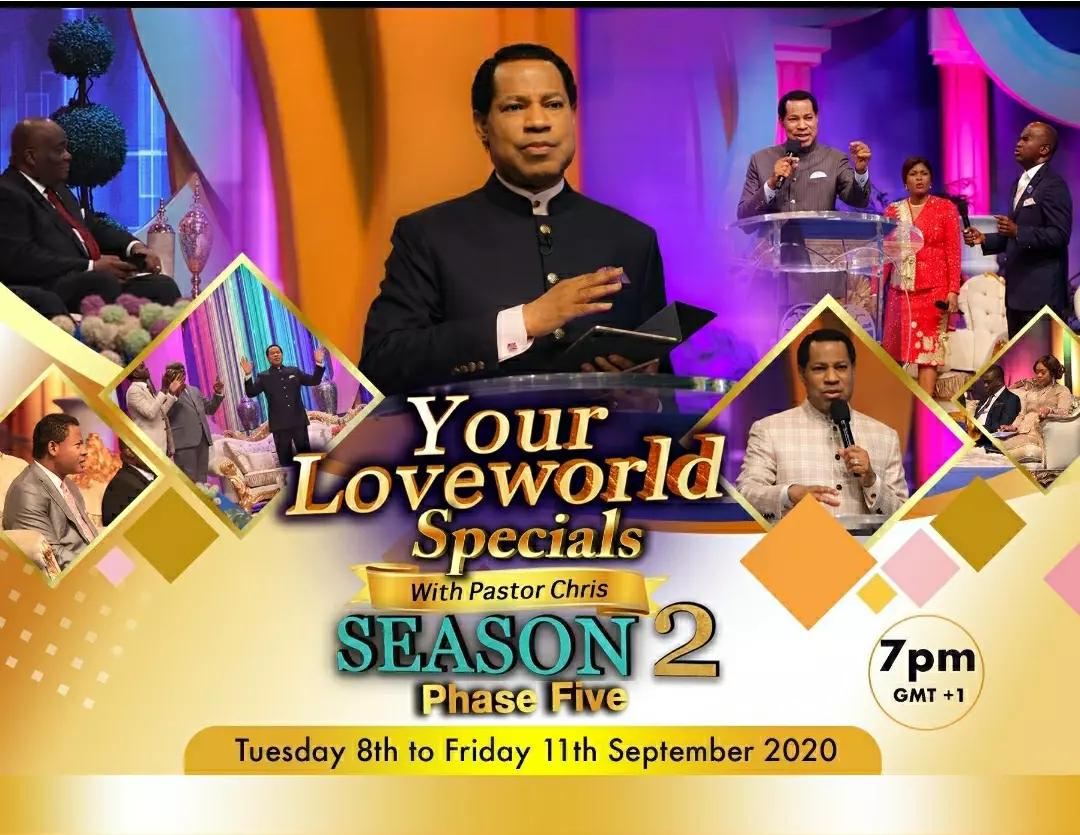 What are you pioneering in the kingdom of God?? #LGGCwithPastorChris #LGN #LGNGlobalConnect #LGNRules #CELZ1ROCKS
Loveworld ladies Advance........ we're ready.... Spiritually & Physically.... A season to remember......... Register Now 👇 http://loveworldladies.org #LLN #LLNInuaguralMeeting #loveworldladiesnetwork #TheNextBigThing #CEEKET #NSSZ2 #NSSREGION #Pastorchrislive
Are you also excited for our Loveworld Ladies Network Conference?
Celebrating a father mentor etc#PGB Oladeji.Thank u Sir for all your investments in my life for loving my family specialy & so mindful of my success.Your personality of simplicity & excellence is rare.Thank u 4 pushing God's agenda fwd. U r in God's heart.I love & apprec u Sir❤🙏
Ladies adding value to the world. We are unstoppable!
#LLN #LLNinauguralmeeting #CEFrankfurt #WEZ4 #loveworldladiesnetwork #TheNextBigThing
IT'S A FEW MINUTES THE GRAND FINALE *Your Loveworld Season 2*Phase 5 Day 4 With Pastor Chris http://cloveworld.org/news?v=5d3f42799761f8c7w4vgi0hzr Download CLoveWorld 👇 Ref code jessangel Android https://goo.gl/Zww1Ap iOS https://apps.apple.com/us/app/cloveworld/id141145690
CELEBRATING THE TOP 4 PARTICIPATING ZONES 💃🎖️😍 rin.rhapsodyofrealities.org 🎯 Position 4: Lagos Zone 1 🎉 Congratulations 🎊 🎉 Thank you for your resounding participation at the RIN Advance! Summit 🤗❤️ God bless you! 😍 💓 #digitalrevolutionreloaded #RinAdvanceSummit #forcefuladvancement rin.rhapsodyofrealities.org