HISTORY MAKER Do you Know Eliud Kipchoge of Kenya is the first person to run a marathon in less than two hours in Australia. He was quick to refer to another jaw-dropping athletic milestone reached more than 50 years ago.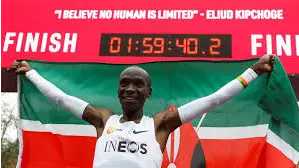 #Prayingnow #MonthOfMinistry #MyMinistryOfReconciliation #AminOffice #WEVZ4 #Muncih #Germany
MORE PICTURES FROM THE SUPER SUNDAY, CHRIST EMBASSY MAIDUGURI MANY SOULS WERE ADDED TO GOD'S KINGDOM AS MANY WERE LIBERATED UNTO THE GLORY OF THE LORD!! PRAISE GOD!!
🎻🎻🎻🎻🎻🎻🎹🎹🎹🎼🎼🎼🎼🎶 No one knows, like i know What you've done for me That's why i praise you the way i do Your favour surrounds me like a shield Your love amazes me Your grace has lifted me 5. Grateful for ALL the Lord has done for me. #theresomethingaboutOct19 #1910
Happy birthday to you dear group and waiting zonal pastor Amboss, Sir God bless you for all your inspiration and inspiring teaching
If you have never met the glamorous Mary Mutyo, make it a prayer point on your prayer 💃💃list to meet her and if at all this year elapses when you have not met her, make it a New Years resolution to meet her in 2020 because the day you meet her, your life will never be the same
The CHOSEN. GLORY GLORY GLORY. The CHOSEN. I AM READY FOR THIS GREAT and MIGHTY WORSHIP MINISTERS TO TAKE ME TO THE NEXT LEVEL OF GLORY. I ALREADY GOT MY TICKET.
#prayingnow #cechinhoyi #cesazone5 #thisishowidoministry #Iaminoffice
https://www.catvindia.com/stb/dvb-s2/srt-227 SMART FULL HD DIGITAL FREE TO AIR WIFI SET TOP BOX WITH USB RECORDING Cash On Delhivery
#endchildpovertynow  #watchchallenge www.theinnercitymission.ngo/endchildpovertynow
#endchildpovertynow  #watchchallenge www.theinnercitymission.ngo/endchildpovertynow