Loveworld Ladies Network: ♦️LOVEWORLD LADIES NETWORK♦️ ♦️PRAYER GUIDE on KingsChat Web
♦️LOVEWORLD LADIES NETWORK♦️ ♦️PRAYER GUIDE FOR THURSDAY 15TH APRIL 📌 PRAY AND BOLDLY DECLARE THE SUCCESS OF OUR SOUL WINNERS SUMMIT, THERE WILL BE CLARITY OF VISION AND PURPOSE AS EVERY LOVEWORLD LADY TAKE THEIR PLACE IN MINISTRY EXPLORING EVERY AVAILABLE STRATEGY TO WIN MORE SOULS FOR CHRIST. "And the LORD answered me, and said, Write the vision, and make it plain upon tables, that he may run that readeth it." ‭‭Habakkuk‬ ‭2:2‬ ‭KJV‬‬ "But rise, and stand upon thy feet: for I have appeared unto thee for this purpose, to make thee a minister and a witness both of these things which thou hast seen, and of those things in the which I will appear unto thee; delivering thee from the people, and from the Gentiles, unto whom now I send thee, to open their eyes, and to turn them from darkness to light, and from the power of Satan unto God, that they may receive forgiveness of sins, and inheritance among them which are sanctified by faith that is in me." ‭‭Acts‬ ‭26:16-18‬ ‭KJV‬‬ 📌PRAY FOR ALL OUR SENIOR MINISTERS, AS THEY TEACH AND TRAIN LOVEWORLD LADIES DURING THIS SOUL WINNERS SUMMIT, THERE WILL BE AN IMPARTATION OF KNOWLEDGE AND GRACE. "And my speech and my preaching was not with enticing words of man's wisdom, but in demonstration of the Spirit and of power: that your faith should not stand in the wisdom of men, but in the power of God." ‭‭1 Corinthians‬ ‭2:4-5‬ ‭KJV‬‬ "Thou therefore, my son, be strong in the grace that is in Christ Jesus. And the things that thou hast heard of me among many witnesses, the same commit thou to faithful men, who shall be able to teach others also." ‭‭2 Timothy‬ ‭2:1-2‬ ‭KJV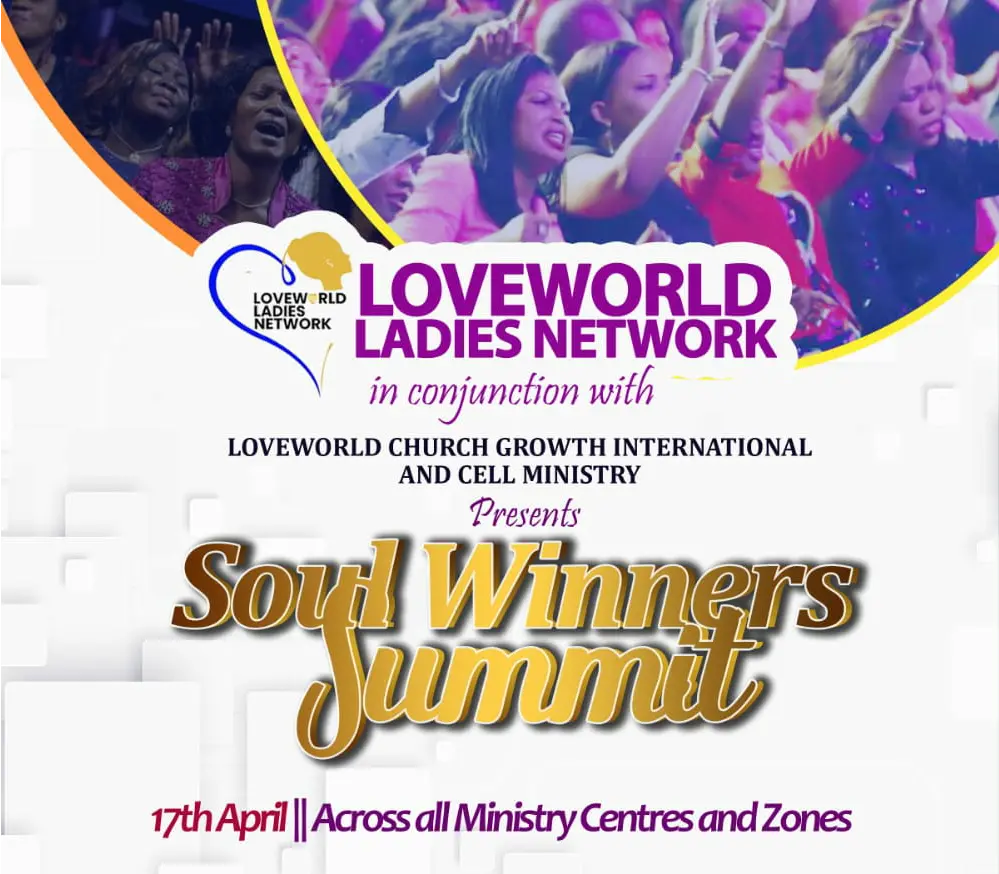 Happy birthday to esteemed pastoral Moses Uware Enetomhe @ Ce jeddo osubi group thank you for all you do in ministry. #Mosene #Cejeddo #Osubigroup #Warriministrycenter
Rebroadcasting now on Celoveworld Download the link below to watch 👇🏾👇🏾 https://play.google.com/store/apps/details? ref code: 158469 #yourloveworld #loveworldradio #yourloveworldspecials
TOTAL EXPERIENCE IS HAPPENING ALL ACROSS THE ZONE..... 💃💃💃💃 YES, ITS HAPPENING IN KANO, JIGAWA, KATSINA & MAIDUGURI..... ARE YOU READY??! #cekano #nnwz2 #northernregionnigeria #TE2021 #PJOA15
📢╰☆☆A͛N͛N͛O͛U͛N͛C͛I͛N͛G͛☆☆╮👇🏼👇🏼 #HappeningthisSunday The Global Children's Church Open Day🔊 Yay! It's something to shout about!💃🏻🥳🥳 All our parents, guardians, aunties and uncles are specially invited! 🗓 Date - Sunday 18th April 2021 🚸 Venue - Children's church See you there 🤸🤸🤸🤸 #Cemidwestzone #loveworldchildrensministry #childrenschurchrocks
TOTAL EXPERIENCE IS HAPPENING ALL ACROSS THE ZONE..... 💃💃💃💃 ARE YOU READY??! #cekano #nnwz2 #northernregionnigeria #TE2021 #PJOA15
REBROADCASTING NOW ON CETUNES! YOUR LOVEWORLD SPECIALS WITH PASTOR CHRIS! Season 3 Phase 3 Day 3! LANGUAGE OPTIONS 👇 English https://cetunes.org/events?id=Your%20Loveworld Arabic http://cetunes.org/channel/lwregypt Spanish http://cetunes.org/channel/lwrespana
CELEBRATING OUR 2021 FIRST QUARTER CHAMPIONS Thank you Highly Esteemed Pastor Biodun Lawal and the committed Partners of Christ Embassy Accra Ghana Zone for your continuous partnership towards the RISE Project and the sponsorship of Global Ministry Programs on Multiple Radio Stations and Networks in the first quarter of the year, 2021. We Love and Appreciate You Sir!
3 DAYS TO GO🤚🤚🤚 👇👇👇 The Global Children's Church Open Day 🔊 Yay! It's something to shout about!💃🥳🥳 We are Ready!!💃 Date: Sunday 18th April 2021 Venue: All Christ Embassy children's church See you there🤸🤸🤸🤸 #CEBVZ #loveworldchildrensministry #childrenschurchrocks
Do you know you can create whatever you want with words, just like your heavenly Father?😍 Learn this and more in today's Rhapsody of Realities Have u downloaded the updated version of our no.1 daily devotional ROR App? Do that now using this link 👇 https://bit.ly/37hjB91.
#blwzonec #soulwinning #SpreadingTruth #blwcampusministryrocs#blwgroupC.