Pray-A-Thon 2021 - Lun 19 avril Louez le Seigneur pour la phase 3 de la saison 3 de la semaine dernière de Your Loveworld Specials, et les vérités profondes qui nous ont été révélées des Écritures par l'Esprit. N'oubliez pas de revoir vos notes et de méditer sur la Parole que vous avez reçue. Dans la Rhapsodie de ce lundi, nous apprenons la puissance et le caractère des Écritures. Étudiez-le et partagez la Parole. Visitez http://rhapsodyofrealities.org. Psaume 149: 5-9 dit: «Que les saints tressaillent de joie dans la gloire; qu'ils chantent fort sur leurs lits. Que les louanges élevées de Dieu soient dans leur bouche, et une épée à deux tranchants dans leur main, Pour exécuter la vengeance sur les païens, et châtier les peuples ; Pour lier leurs rois avec des chaînes, et leurs nobles avec des fers ; Pour exécuter sur eux le jugement écrit: Cet honneur est pour tous ses saints. Louez le SEIGNEUR.» À nos heures de prière aujourd'hui, nous adorerons et louerons avec ferveur le Seigneur dans les langues de l'Esprit pendant 15 minutes. Dieu vous bénisse.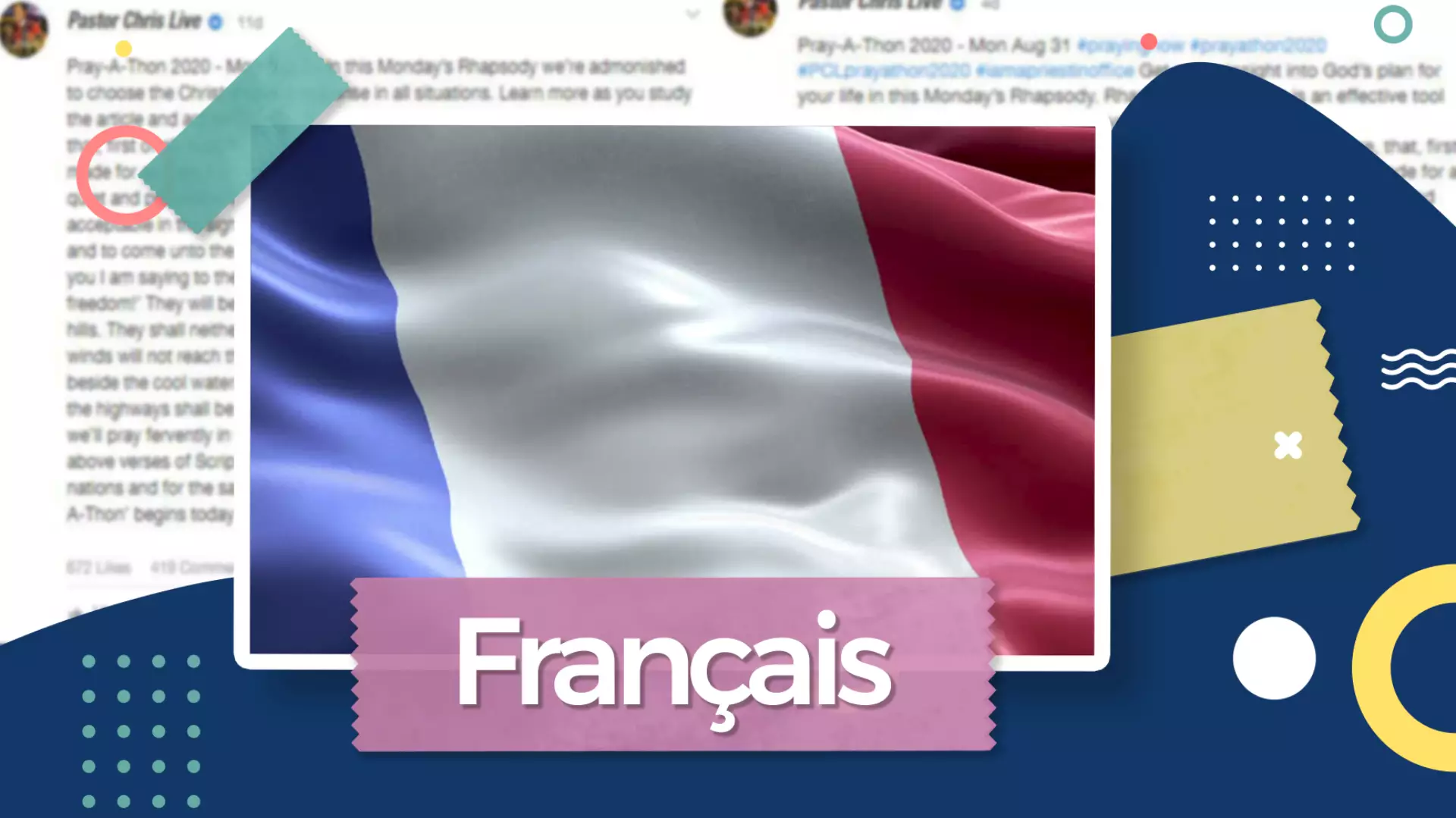 #EveryDayAnOutreach #photohighlights: More highlight on Grace over Grades seminar @ CSS AMADI SENIOR SECONDARY SCHOOL, from CE LIMITLESS TEENS CHURCH.
Photo Speaks... Fitness For Duty Day 1🔥 🔥 🔥 #BlwCampusMinistryRocks #Blwfitnessforduty #BlwZoneK #BlwUniAbuja
Still celebrating a gracious sister & friend, a wonderful collaborator and helper of the war... Pastor Claire, it's a glorious new level of propserity, peace and global impact! Thank you for all you do at NMT & ministry at large. I love & appreciate you very dearly.
#PCDLTV PRESENTS DAY 9 OF EXPOSE ON TRUTH 🏄‍♀️ ✍️ For the Lord giveth wisdom: out of his mouth cometh knowledge and understanding Proverbs 2:6 KJV MESSAGE TITLE: THE WISDOM OF THE JUST LEARN MORE 👉🏽 https://bit.ly/exposeontruth #CEBENINZONE1 #WATCHONPCDLTV #EXPOSEONTRUTH
Happy Birthday my beautiful Pastor Toun A true reflection of God's Love Her hugs and smiles are contagious I join the host of heaven to celebrate an Icon,the word of God personified, a true soldier for Christ I am so honoured to call you my Pastor #cestreatham #UKR2Z3 #PT19APRIL
CELEBRATING A PARTNERSHIP CHAMPION !!! HAPPY BIRTHDAY DEAR ESTEEMED PASTOR GODSENT BALLAH THANK YOU FOR CHANGING LIVES THROUGH YOUR GIVING, WE CELEBRATE YOU #celagoszone2 #partnershipdepartment
#mydailyconfessionswithrhapsody
#PCDLTV PRESENTS DAY 9 OF EXPOSE ON TRUTH 💥💥💥💥💥🏃🏃🏃 ✍️ For the Lord giveth wisdom: out of his mouth cometh knowledge and understanding Proverbs 2:6 KJV MESSAGE TITLE: THE WISDOM OF THE JUST LEARN MORE 👉🏽 https://bit.ly/exposeontruth #CEBENINZONE1 #WATCHONPCDLTV #EXPOSEONTRUTH